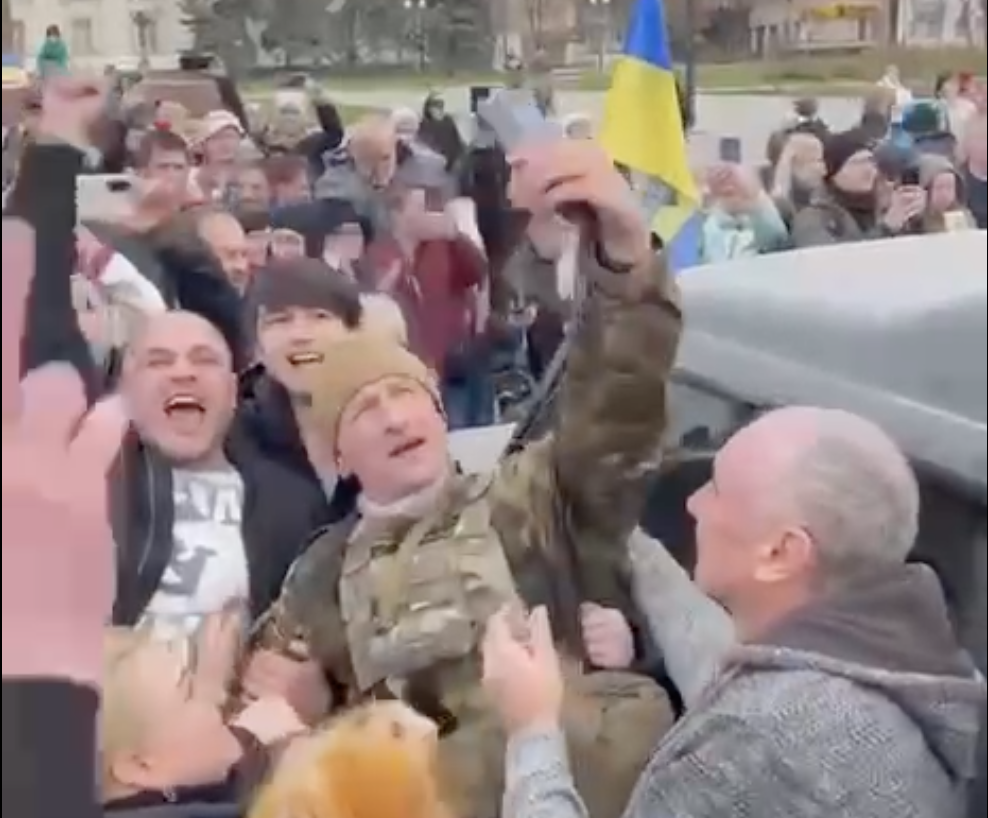 Ukrainian soldier snapping a selfie in central Kherson in the crowd of welcoming locals. Photo: screenshot from a video. 
Videos circulating on social media confirm that the Ukrainian troops are entering the city of Kherson, which was the only Ukrainian regional capital occupied by Russia during its full-scale invasion of Ukraine.
https://twitter.com/EuromaidanPress/status/1591065229420793858?
People in Kherson go out with Ukrainian flags to meet Ukrainian army
Meanwhile, the Ukrainian army's Main Directorate of Intelligence confirmed in its address to the Russian soldiers left behind on the western bank of the Dnipro that the Ukrainian military is entering Kherson:
"Kherson returns under the control of Ukraine, units of the Armed Forces of Ukraine are entering the city. The retreat routes of the Russian invaders are under the fire control of the Ukrainian army. Any attempts to oppose the Armed Forces of Ukraine will be stopped," HUR wrote.
Khersoners welcomed the first Ukrainian soldiers to reach the city's central square:
https://twitter.com/EuromaidanPress/status/1591060079456841728
Meanwhile, the DeepState interactive map based on the confirmed OSINT data put out an update showing most of the western-bank part of Kherson Oblast under Ukrainian control:
The latest DeepState map update shows most of the western bank Kherson Oblast under the Ukrainian control (blue) with a small swath of the grey area in the middle.

Map: https://t.co/j68ewCv2J5 pic.twitter.com/Lifdvkxpnh

— Euromaidan Press (@EuromaidanPress) November 11, 2022
Tags: Kherson, liberation