Putin announced partial military mobilization, supported the referenda in occupied territories and hinted at the possibility of using nuclear weapons. 215 Azov regiment fighters, including 124 officers, are exchanged and returned to Ukraine. 5 commanders will stay in Türkiye till the end of the war. Ukrainian forces likely continued offensive operations around Lyman. Ukrainian forces conducted strikes north and east of Kherson City, attacking Russian logistics chains in Kherson Oblast. The Russian army launched 8 missiles and 16 air strikes, fired 115 anti-aircraft missiles at military and civilian objects in Ukraine, damaging the infrastructure of more than 40 settlements.
Mobilization and "referenda": Russia escalates the confrontation with the West
Daily overview — Summary report, September 22
A map of the approximate situation on the ground in Ukraine as of 00:00 22/09/22. pic.twitter.com/sgO3ezaHkD

— War Mapper (@War_Mapper) September 22, 2022
The General Staff's operational update regarding the Russian invasion as of 06.00 am, September 22, 2022 is in the dropdown menu below.
[toggle]
The two hundred-eleventh (211) day of the heroic resistance of the Ukrainian people to a russian military large-scale invasion continues.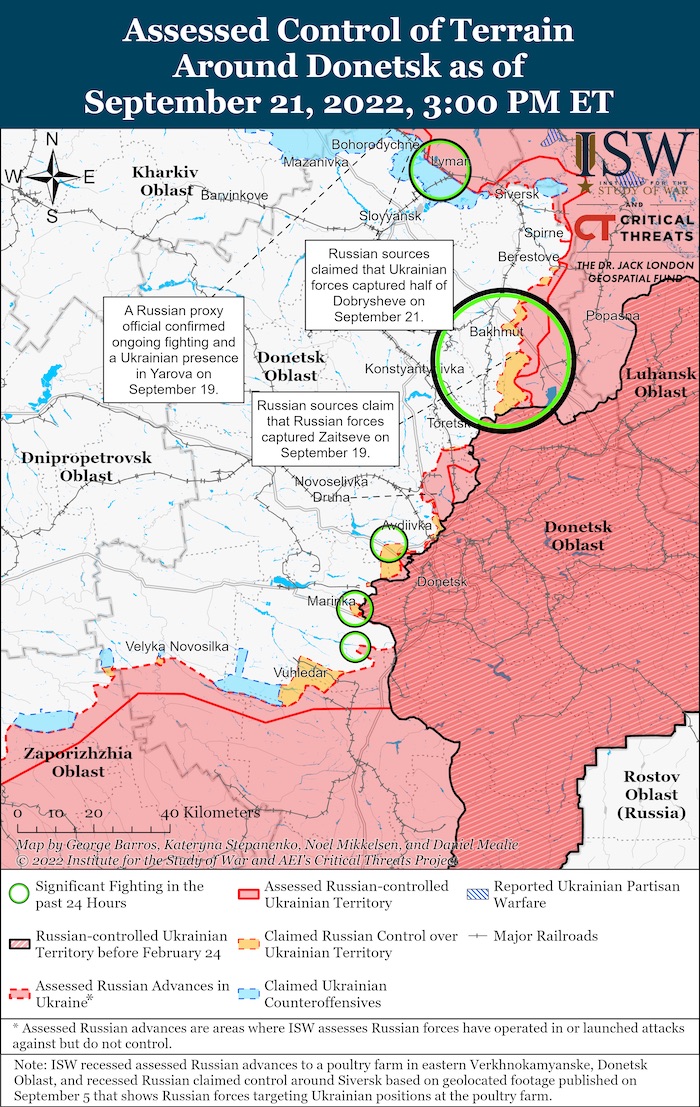 The enemy continues to focus its efforts on attempts to fully occupy the Donetsk oblast, organize defense and maintain the captured territories, and also tries to disrupt the active actions of the Defense Forces in certain directions. It ires at our positions along the contact line, takes measures to regroup his troops, and constantly conducts aerial reconnaissance.
Over the past 24 hours, the enemy has launched 8 missile and 16 air strikes, fired 115 anti-aircraft missiles at military and civilian objects on the territory of Ukraine, violating the norms of international humanitarian law, the laws and customs of warfare. As a result of the attacks of the russian troops, the infrastructure of more than 40 settlements was damaged. These are, in particular, Siversk, Maryinka, Vesele, Neskuchne, Yehorivka, Bezymenne, Bilohirka, Myrolyubivka, and Visokopillya.
The threat of air and missile strikes remains on the entire territory of Ukraine.
The situation has not changed in the Volyn and Polissya directions.
In other directions, the enemy fired from tanks, mortars and artillery of various calibers:
in the Siversky direction – in the areas of Senkivka and Huta-Studenetska settlements of Chernihiv region;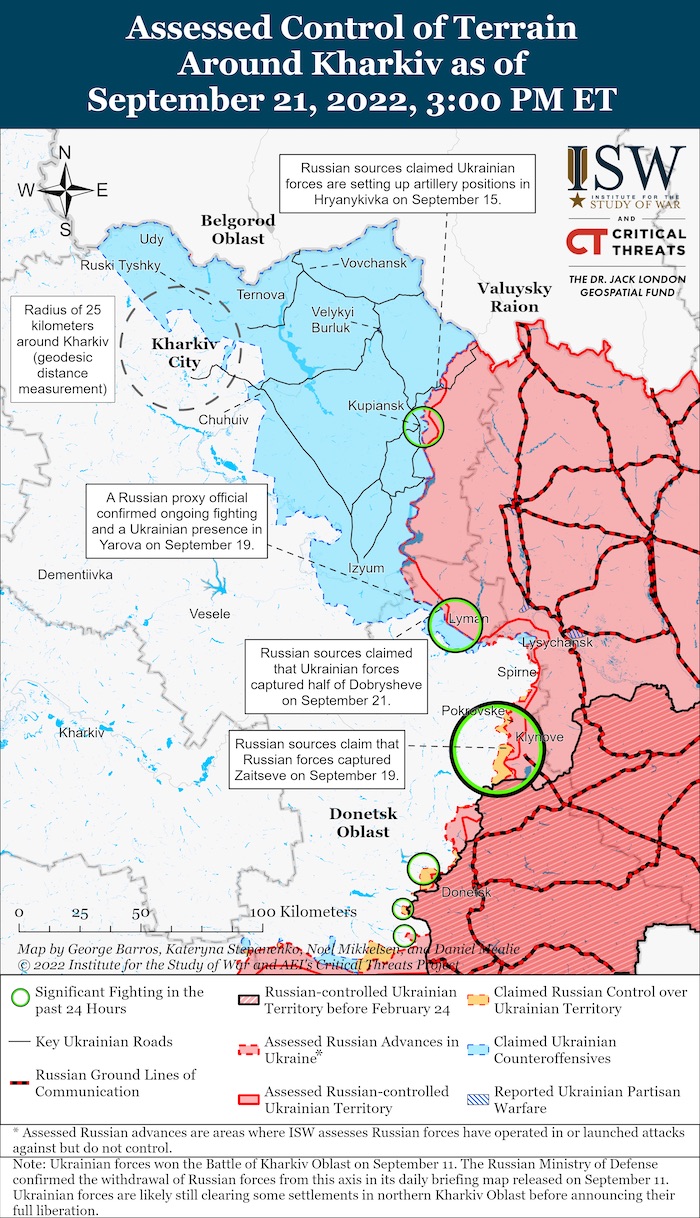 in the Slobozhansk direction – in the areas of the settlements of Strelecha, Hlyboke, Morokhovets, Hatyshche, Vovchansk, Kamyanka, Kupiansk and Osykovo;
in the Kramatorsk direction – Sloviansk, Koroviy Yar, Bohorodychnye, Oleksandrivka, Yarova, Pryshyb, Dibrova, Donetske and Raihorodok;
in the Bakhmut direction – Mykolaivka, Soledar, Bakhmutske, Bakhmut, Rozdolivka, Opytne, Yakovlivka, Bilohorivka and Mayorsk;
in the Avdiyivka direction – Krasnohorivka, Avdiyivka, Kamianka, Opytne, Maryinka and Vodyane;
about 16 settlements were affected by fire in the Novopavlivsk and Zaporizhzhia directions. Among them are Vuhledar, Prechystivka, Hulyaipilske, Neskuchne, Vremivka and Novopil.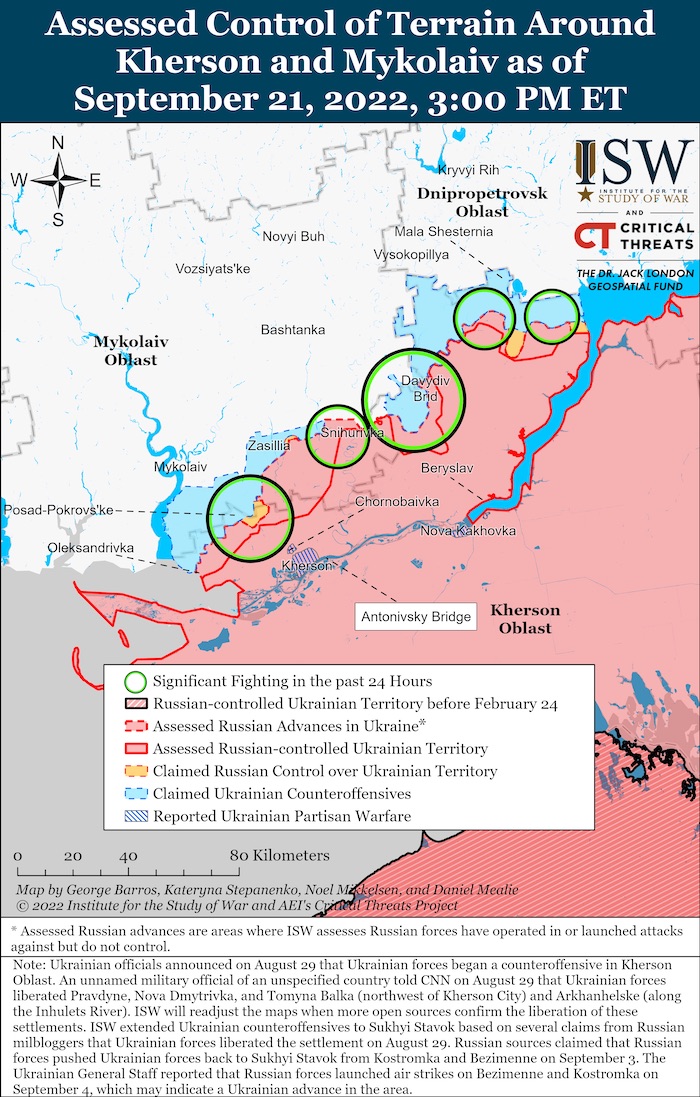 More than 25 settlements along the contact line were shelled in the South Buh direction. In order to carry out reconnaissance, adjust fire and launch strikes on civilian infrastructure objects, the enemy made more than 30 sorties of UAVs.
Violation of the norms of International Humanitarian Law and customs of warfare remains the norm of the behavior of russian servicemen in the temporarily occupied territories. Thus, in the Svativ district, in order to hide the engineering equipment of the territories, the occupiers forcibly evicted the residents of Honcharivka and Kuzmenivka settlements from their homes and took them deep into the temporarily occupied territory of the Luhansk region. In the Mykolayiv oblast, the occupiers seized milk trucks from territorial communities and used them to covertly deliver fuel to the war zone.
Over the past day, units of our troops repelled enemy attacks in the areas of Zaitseve, Odradivka, and Novomykhailivka settlements.
To support the actions of the Land groupings, the Air Force of the Defense Forces carried out 41 strikes on enemy positions. It was confirmed that 21 areas of concentration of manpower and military equipment of the enemy, 4 strongholds, and 15 positions of anti-aircraft missile systems were destroyed.
Missile troops and artillery over the past day inflicted fire damage on 24 enemy objects. In particular, for 4 control points of different levels, 4 areas of concentration of personnel, weapons and military equipment, 7 warehouses of ammunition and fuel and oil materials, warehouses, 4 air defense facilities and artillery fell into the affected area.
The total losses of the enemy are being clarified.
Let's keep our weapons strong! We believe in victory! We believe in the Armed Forces! Glory to Ukraine!
[/toggle]
Military Updates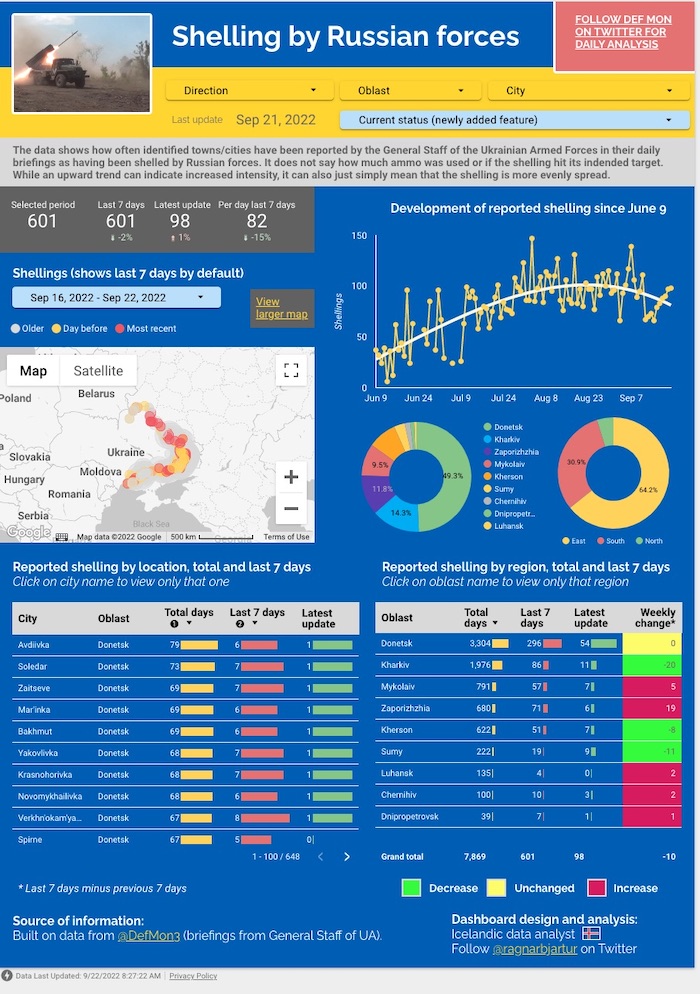 Ukroboronprom and a NATO member country to build a factory for the production of ammunition

Ukroboronprom, a strategic manufacturer of weapons and military hardware in Ukraine said that the military equipment would be produced according to NATO standards https://t.co/OUG7NAUQvV

— Euromaidan Press (@EuromaidanPress) September 21, 2022
Regional Updates 
Exhumation continues in Izium, Kharkiv Obl: 263 bodies of dead removed from mass burial site,police inform

There are 450 burials of murdered Ukrainians in this forest site. Upon visual inspection,some bodies show signs of torture,eg tied hands,stab wounds https://t.co/j0WBWoJO7Q pic.twitter.com/DBbr3T72LU

— Euromaidan Press (@EuromaidanPress) September 21, 2022
In the Kharkiv Oblast, the Russians fired at the residential area, the fire started in a one-story non-residential building. No casualties. Over the night, the Russian army hit the railway station, destroying refrigerated cars with the bodies of Russian soldiers.
One person killed, 2 injured in Russian shelling of Dnipro Oblast in the evening of Sep 21, Oblast Head reports

Also, Russian troops launched 5 missile attacks on Zaporizhzhia in the afternoon today hitting resid.📷, infrastr objects. At least 3 victims https://t.co/DleVMddilN pic.twitter.com/QJGG2Vaz6Z

— Euromaidan Press (@EuromaidanPress) September 21, 2022
In the Dnipropetrovsk Oblast, in Nikopol, the Russian army fired about 20 Grad shells. 1 killed. 17 high-rise buildings and private houses, a gas pipeline, power lines, two hospitals, a school, a football field, a museum, administrative buildings, several shops and a market damaged.
In the Zaporizhzhia Oblast, Russians launched 5 missiles in three districts of Zaporizhzhia city. Infrastructure facilities and houses of the private sector hit. Two shells hit a field on the outskirts of Zaporizhzhia.
Khersoners report alleged Ukrainian strikes on Russian barracks, base, two crossings within 30 minutes

📹Sounds of explosions in occupied Kherson at about 19:45, source: https://t.co/O52JohhY1q https://t.co/6l0R5IMvnM pic.twitter.com/jiA8kMU0qD

— Euromaidan Press (@EuromaidanPress) September 21, 2022
In the Mykolaiv Oblast, the Russian military seized milk trucks from territorial communities and used them for the covert transportation of fuel to the combat zone.
In Russia, in the Kursk region, reservists are forbidden to leave the region from September 21. Those liable for military service in the reserve must obtain permission to leave the region at the military registration and enlistment office. Immediately after Putin's speech, all direct tickets for September 21 to Istanbul, Tbilisi and Yerevan from Russia were sold out.
Tickets prices from Russia increased sharply since Putin announced mobilization

Shortest flights to Georgia cost about $2,000, to Azerbaijan — $ 4,000. On Sep 21, all direct flight tickets sold in the most popular destinations, incl Yerevan and Istanbul https://t.co/z0HT7nRNdd

— Euromaidan Press (@EuromaidanPress) September 21, 2022
According to British Defence Intelligence, (last 48 hours): 
On 21 September 2022, Russia's Putin announced a 'partial mobilization' to support operations in Ukraine. Russian Defence Minister Shoigu later confirmed this would involve the mobilization of 300,000 reservist troops.
Russia is likely to struggle with the logistical and administrative challenges of even mustering the 300,000 personnel. It will probably attempt to stand up new formations with many of these troops, which are unlikely to be combat effective for months.
Russia is likely to struggle with the logistical and administrative challenges of even mustering the 300,000 personnel. It will probably attempt to stand up new formations with many of these troops, which are unlikely to be combat effective for months.
Losses of the Russian army 
Alleged Ukrainian HIMARS strike destroys Russian ammo dump in Luhansk's north this morning – media

More details: https://t.co/432AKE0vBN
📹via @rescuero pic.twitter.com/uykrR3zqaq

— Euromaidan Press (@EuromaidanPress) September 21, 2022
As of 18 September, the approximate losses of weapons and military equipment of the Russian Armed Forces from the beginning of the war to the present day:
https://mobile.twitter.com/KyivIndependent/status/1572477977027350528
Humanitarian 
The Russian military damaged and looted a lot of medical equipment from hospitals that were under occupation in Kharkiv Oblast

"Losses in technical means are 95%," director of the regional Department of Health Maksym Haustov said https://t.co/EHu80IgPRp pic.twitter.com/YcF8SWVlvk

— Euromaidan Press (@EuromaidanPress) September 21, 2022
215 Azov regiment fighters, including 124 officers, are exchanged and returned to Ukraine.  They were exchanged for Viktor Medvedchuk, Putin's close ally.
Five commanders of the Azov regiment were exchanged for 55 Russian prisoners and will be in Türkiye until the end of the war under the protection of Erdogan. The Russians handed over five Britons, one Moroccan, one Swede, one Croat, and two Americans to Saudi Arabia. Saudi Crown Prince Mohammed bin Salman acted as an intermediary in the negotiations and communicated directly with Moscow and Kyiv. British Prime Minister Liz Truss confirmed that five British citizens who fought for Ukraine and were captured in the east of the country were released thanks to the mediation of Saudi Arabia.
Russia released 10 int prisoners of war following mediation by Saudi Crown Prince Mohammed bin Salman, Saudi official acc to Reuters

The list includes American, British, Swedish, Croatian, Moroccan nationals; the plane carrying them landed in the kingdom https://t.co/MGuPd0Gv84

— Euromaidan Press (@EuromaidanPress) September 21, 2022
Environmental 
IAEA Director General Rafael Grossi announced another visit to Ukraine and, possibly, Russia, to discuss the situation at the Zaporizhzhia nuclear power plant. He also said that the IAEA has begun negotiations with Ukraine and Russia on the parameters of the security zone around the Zaporizhzhia nuclear power plant.
8 ships with 170.3 thousand tons of agricultural products left the ports of Odesa, Chornomorsk and Yuzhny in the direction of Asia and Europe,
Legal 
Russian occupiers plan to announce a turnout of about 70% of voters in Kherson pseudo-referendum, of which about 75% will allegedly vote "yes", according to information of Deputy Chairman of Oblast Council Yuriy Sobolevskyi https://t.co/ngtbazLGtv

— Euromaidan Press (@EuromaidanPress) September 21, 2022
Latvia will not issue humanitarian or other types of visas to those Russian citizens who evade mobilization and will not change the border crossing restrictions for Russian citizens with Schengen visas introduced on September 19.
#Russia needs sham 'referendum' in occupied parts of #Ukraine to forcibly mobilize #Ukrainians as cannon fodder#Donbas #Zaporizhzhia #Kherson #StandWithUkraine #RussiaWarCrimes #StopRussiahttps://t.co/m0B5s836yj pic.twitter.com/z9XMOJh3oQ

— Halya Coynash (@halyapuff) September 22, 2022
Support 
UK ready to provide financial support to Ukraine for purchase of gas and to promote involvement of British business in development of Ukrainian gas production sector,🇺🇦PM said after meeting🇬🇧PM in New York https://t.co/1wANca7QBA pic.twitter.com/1kVqbmSRW0

— Euromaidan Press (@EuromaidanPress) September 21, 2022
In 2023, military assistance to Ukraine from the UK will exceed the amount provided to Ukraine in 2022
,
according
to the new British Prime Minister Liz Truss. According to Truss, in 2023 the amount that London will allocate for military support to Ukraine will reach or exceed a record £2.3 billion. What will be included in the support of Britain next year will depend on the needs of the Ukrainian Armed Forces.
The Pentagon ordered Switchblade 600 long-range kamikaze drones for Ukraine, with a flight range of 40 kilometers.
New Developments 
Mobilization in Russia and Russian sham referenda "are signs of weakness, of Russian failure," United States Ambassador to Ukraine commented https://t.co/1gTSmb2Y2u

— Euromaidan Press (@EuromaidanPress) September 21, 2022
Putin instructed to ensure the safety of "referendums" in the Kherson, Zaporizhzhia, Donetsk and Luhansk Oblasts.
He stated that these are "historical lands of Novorossiya."
"Our positions do not change because of the noise or announcements somewhere," Zelenskyy commented on mobilization in Russia

"More support to the Armed Forces of Ukraine and to everyone who is gradually restoring our territorial integrity" pic.twitter.com/OGp9U3mPgG

— Euromaidan Press (@EuromaidanPress) September 21, 2022
Russian losses in war against Ukraine are only 5937, Russian minister of defense Sergei Shoigu stated. However, 300,000 reservists are planned to be drafted during mobilization, he added according to Russian TASS

According to Ukraine's GenStaff, Russian losses amounted to 55,000 pic.twitter.com/mFgucufo5H

— Euromaidan Press (@EuromaidanPress) September 21, 2022
Putin signed the decree on partial mobilization.
"Only citizens who are currently in the reserve and, above all, those who served in the Armed Forces, have certain military specialties and relevant experience, will be subject to conscription. Those called up for military service will undergo additional military training without fail, taking into account the experience of a special military operation, before being sent to units.
"Putin's speech demonstrates that he war is not going according to President Putin's plans. He has made a big miscalculation," NATO chief Stoltenberg said adding it is "an escalation but not a surprise…we will stay calm and continue to support Ukraine." pic.twitter.com/VLa52IULRZ

— Euromaidan Press (@EuromaidanPress) September 21, 2022
300,000 reservists will be drafted in Russia
,
according
to the Russian Minister of Defense Shoigu.
Putin has already carried out partial mobilization, although announced it only now, Zelenskyy told Bild

"UA special services &allies already reported of this, eg of mobilization of cadets…Putin wants to drown🇺🇦in blood,but also in blood of his soldiers" https://t.co/VsHI9YDDnQ pic.twitter.com/Rt249ZweoN

— Euromaidan Press (@EuromaidanPress) September 21, 2022
Putin spoke about the possibility of using nuclear weapons,
"to protect Russia and our people, we will use all available means," he said.
"This is a desperate, panicky &foolish move," Estonian Foreign Minister @UrmasReinsalu tweeted commenting on mobilization in🇷🇺

"We must not give in to Putin's blackmail& support🇺🇦as much as we can.🇷🇺is as dangerous to Europe today as Nazi Germany was,"Latvian FM @edgarsrinkevics

— Euromaidan Press (@EuromaidanPress) September 21, 2022
Protests against the mobilization
failed
 in Russia.️  The police detained up to 1,000, and police violence was
reported. 
Anti-mobilization rally in Moscow. Protesters chant "No to war", "Putin to trenches". The rallies have been planned for 19:00 Moscow time this morning after Putin announced partial mobilization with a call to go to central squares in all cities pic.twitter.com/Iu0huTitS2

— Euromaidan Press (@EuromaidanPress) September 21, 2022
Assessment 
On the war. 
The Institute for the Study of War has made the following assessment as of 21 September, 2022:
Russian President Vladimir Putin's announcement of "partial mobilization" on September 21 reflected many problems Russia faces in its faltering invasion of Ukraine that Moscow is unlikely to be able to resolve in the coming months.[1] Putin's order to mobilize part of Russia's "trained" reserve, that is, individuals who have completed their mandatory conscript service, will not generate significant usable Russian combat power for months. It may suffice to sustain the current levels of Russian military manpower in 2023 by offsetting Russian casualties, although even that is not yet clear. It will occur in deliberate phases, Russian Defense Minister Sergei Shoigu said in an interview on September 21, likely precluding any sudden influx of Russian forces that could dramatically shift the tide of the war.[2] Russia's partial mobilization will thus not deprive Ukraine of the opportunity to liberate more of its occupied territory into and through the winter.
Putin and Shoigu emphatically said that only reservists who have completed their initial military service will be mobilized, making clear that Russia will not be expanding conscription. Shoigu also declared that students will not be affected and told them to go about their studies without concern.[3]  These comments were clearly intended to allay fears among the Russian population that "partial mobilization" was code for general conscription.
It is not clear how much of the Russian reserve has already been deployed to fight in Ukraine. Western intelligence officials reportedly said in November 2021 that Russia had called up "tens of thousands of reservists" as part of its pre-war mobilization.[4] Ukrainian military officials reported in June 2022 that Russian forces had committed 80,000 members of the mobilized reserve to fight in Ukraine.[5] The Russian military likely called up the most combat-ready reserves in that pre-war mobilization effort, which suggests that the current partial mobilization will begin by drawing on less combat-ready personnel from the outset.
Russian reserves are poorly trained to begin with and receive no refresher training once their conscription period is completed. Russian mandatory military service is only one year, which gives conscripts little time to learn how to be soldiers, to begin with. The absence of refresher training after that initial period accelerates the degradation of learned soldier skills over time. Shoigu referred to the intent of calling up reservists with "combat experience," but very few Russian reservists other than those now serving in Ukraine have any combat experience.[6]
Reports conflict regarding how much training reservists called up in the partial mobilization will receive.  Shoigu described a deliberate training process that would familiarize or re-familiarize mobilized reservists with crew, team, detachment, and then platoon-level operations before deploying them to fight. That process should take weeks, if not months, to bring reservists from civilian life to war readiness. Federation Council Committee on Defense and Security head Viktor Bondarev reportedly said that mobilized reservists would train for over a month before being deployed.[7] A military commissariat in Kursk Oblast, on the other hand, reportedly announced that reservists under 30 would deploy immediately with no additional training.[8]
Putin emphatically did not say that the Russian nuclear umbrella would cover annexed areas of Ukraine nor did he tie mobilization to the annexation. He addressed partial mobilization, annexation referenda in Russian-occupied areas of Ukraine, and the possibility of nuclear war in his speech—but as separate topics rather than a coherent whole. The fact that he mentioned all three topics in a single speech was clearly meant to suggest a linkage, but he went out of his way to avoid making any such linkage explicit.
Putin framed his comments about the possibility of Russian nuclear weapons use in the context of supposed Western threats to use nuclear weapons against Russia. He claimed that Western officials were talking about "the possibility and permissibility of using weapons of mass destruction—nuclear weapons—against Russia." He continued, "I wish to remind those who allow themselves such statements about Russia that our country also has various means of attack…"  His comment on this topic concludes by noting that Russia would use all means at its disposal in response to a threat to "the territorial integrity of our country, for the defense of Russia and our people." That comment could be interpreted as applying in advance to the soon-to-be annexed areas of occupied Ukraine, but its placement in the speech and context do not by any means make such an interpretation obvious. Nor is Putin's language in making this comment different from formal Kremlin policy or from previous statements by Russian officials. Putin's speech should not be read as an explicit threat that Russia would use nuclear weapons against Ukraine if Ukraine continues counter-offensives against occupied territories after annexation.
Putin did not connect annexation with partial mobilization either, defending the need for partial mobilization by referring to the length of the lines along which Russian forces are now fighting and Western assistance to Ukraine. He noted that the front lines now stretch for more than a thousand kilometers to explain why more Russian forces are needed. He and Shoigu also heavily emphasized the false narrative that Russia is fighting not Ukraine but NATO and the West. This narrative is not new. It is not even markedly different from the initial false justifications Putin offered before ordering the invasion in February.[9] The formal Kremlin position has long been that NATO was pushing Ukraine to war with Russia, that NATO was preparing to give Ukraine nuclear weapons, and that NATO forces were taking up or preparing to take up positions in Ukraine. Putin's and Shoigu's repetitions of that line do not reflect an escalation in their rhetoric.
Russia's partial mobilization will not transform the war this year and may or may not have a significant impact on Russia's ability to continue operations at their current level next year.  Ukraine and the West should neither dismiss it nor exaggerate it.
Key Takeaways
Russian President Vladimir Putin's announced "partial mobilization" will not materially affect the course of the war in the coming months.
Putin did not explicitly threaten to use nuclear weapons if Ukraine continues counter-offensive operations to liberate occupied areas after Russian annexation.
Ukrainian forces likely continued offensive operations around Lyman.
Ukrainian forces conducted strikes north and east of Kherson City as part of an operational-level interdiction campaign against Russian logistics, military, and transportation assets in Kherson Oblast.
Ukrainian and Russian sources identified three areas of kinetic activity on September 21: northwest of Kherson City, near the Ukrainian bridgehead over the Inhulets River, and south of the Kherson-Dnipropetrovsk Oblast border around Vysokopillya.
Russian federal subjects (regions) are continuing crypto-mobilization efforts regardless of Russian President Vladimir Putin's declaration of partial mobilization.
Russian-appointed occupation administrators are likely increasing law enforcement and filtration measures in occupied areas of Ukraine in preparation for Russia's sham annexation referenda.