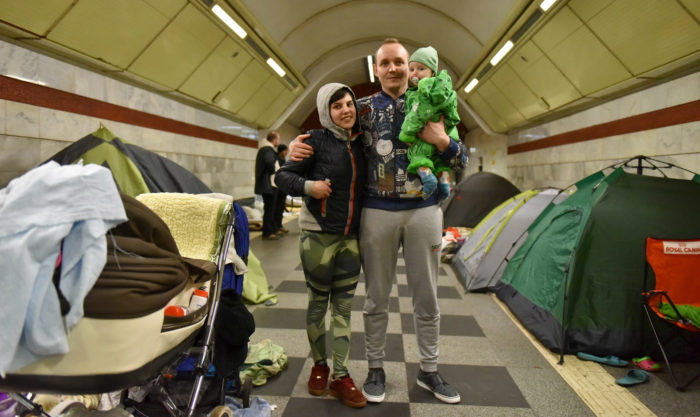 Photo: Oleh Petrasiuk 
Launched in the late 1940s and completed in the 1960s at the height of the Cold War, the Kyiv Metro system has deep underground stations that were designed to double as shelters in the event of bombing and/or an enemy attack.
Kyiv's network of 52 Metro stations is often regarded as one of the most impressive underground systems in Europe. Zoloti Vorota – one of the grandest stations in the city's underground system – boasts 80 stunning mosaics, colourful stonework and intricate chandeliers adorning platforms, hallways and passages. Arsenalna Station is said to be the deepest in the world, located 105.5m below ground. Each station can house up to 1,000 people and even more people can take shelter in the different passages. However, due to incessant bombing, these remarkable tourist hotspots have now become bomb shelters housing thousands of Kyiv residents.
"Permanent residents" appeared in the different stations of the Kyiv Metro from the first day of Russia's attack on Ukraine on 24 February 2022. There are people who spend days and nights underground and rarely venture out into the streets, others spend the night underground and return briefly to their apartment to change clothes, shower and stock up on food and other necessities.
Kyiv authorities regularly urge residents to take shelter in the nearest Metro station at the first sound of an air raid alert.
The first night of bombing and shelling on 24-25 February saw thousands of Kyiv residents huddling on the platforms. Metro workers and police officers provide assistance and basic medical care. A few days later, metro officials decided to leave one train at each station; they remain open all night.
People sleep on mattresses, tourist mats, folding beds and blankets. Kyivans have pitched their tents for more comfort, turning some stations into underground tent cities.
In a month of war, each underground station has become an "overnight colony" for residents of neighboring apartment buildings, who spend the night here and go back to their homes during the day.
Tatiana's family has spent eight nights in one of Kyiv's Metro stations. They decided to go underground when a Russian missile destroyed a nearby apartment building.
Tatiana nuzzles her Spitz dog, holding him closely in her arms.
"We were really scared when his barking became very high-pitched, especially during shelling and nearby explosions. Dogs are probably more sensitive than humans. That's when we decided to go underground."
Tatiana spends the night in the subway with her husband and 19-year-old son. Her 30-year-old daughter decided to stay in her apartment that night.
Kateryna is the mother of two small children. Oblivious to the surrounding noise, they sleep in their strollers.
"If it weren't for the children, my husband and I would've stayed at home. But, we decided that we couldn't risk their lives. Well, you know… the sirens would start, but we wouldn't have enough time to get the strollers down the narrow staircase and reach the shelter in time. There's no elevator in our building, and anyway, it's not recommended during an alert… That's why we've been spending our night here since the war started."
Her husband goes out for groceries during the day, but she remains underground with the kids. Kateryna's greatest wish is to go home. She admits she is very tired of running to the apartment every day for an hour or so, and then having to return.
Volunteers deliver food and medicine. People venture out daily to the nearest park where they fill containers with fresh water from the natural spring. The city authorities have installed thermo pots at all metro stations so that people have access to hot water at any time.
Natalia has no family; she spends the night in the Metro alone.
"Sometimes I go home. It's just across the street. I take a shower and change clothes. I'm really nervous and stressed. It's cozy and comfortable at home. But, it's safer here. I want to stay in my apartment, and yet something pulls me back here.
I've made some great friends – a whole community! We help each other out. And together we believe firmly in our victory. Ukraine will win. There's no other way!"
Related:
Tags: bomb shelters, Kyiv, Russian invasion