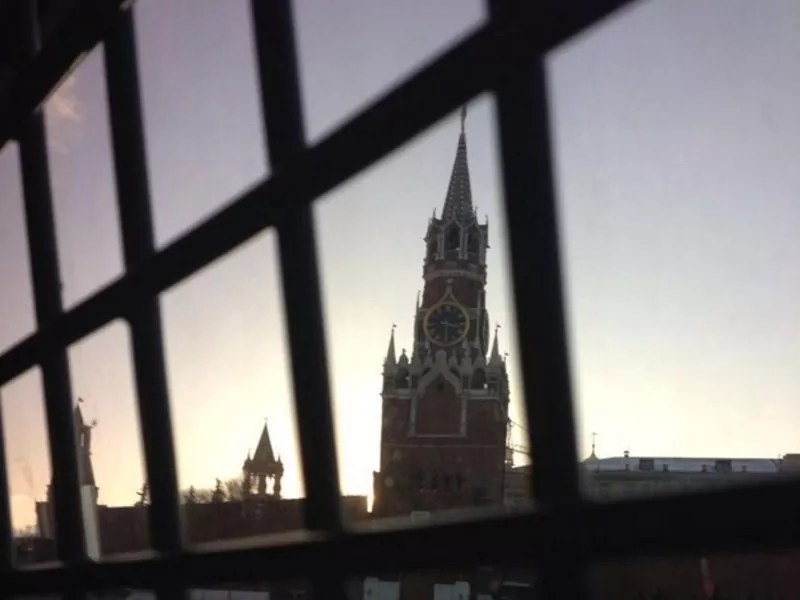 The Moscow Kremlin seen through iron bars (Image: Ilya Yashin / rosbalt.ru) 
Vladimir Osechkin, head of the Gulagu.net project which has provided video tape confirmation of torture in Russian prisons, says that Moscow which this evidence shows created a system of torture in its prisons and camps has now lost control over the public discussion of it.
Related: GULAGU.Net exposes systemic torture and rape of prisoners in Russia; regime responds with investigations and denial of service attack on portal
Osechkin and his most important colleague Sergey Savelyev are now in France, given the threat of persecution in Russia itself and the persecution that has already hit their coworkers and those in the prison system who have cooperated abroad, talked to Rosbalt about the situation they have created.
"We are certain," Osechkin says, "that the Russian special services have organized in various regions a torture system based on a common set of rules." That system was "constructed on the basis of secret directives regarding methods of work and the application of torture." It was not developed from below but rather imposed from above.
And he and his organization have now disseminated this evidence so widely that if something happens to him or Savelyev, "in any case, the Pandora's box is open, and people will soon find out the complete truth in its full extent." We hope that will lead to changes in Russia, and we know it will lead to changes in how Russia is viewed, he suggests.
Although at first glance it would seem that the Russian prison authorities' documenting and archiving their own crimes of torture and rape of prisoners on video is illogical, the purpose of these secret archives is simple and powerful. Russian law enforcement and special services use the threat of releasing videos of rape endured when a victim was detained or served time in the Russian penal system to blackmail him into cooperating or becoming an agent.
In this process, Osechkin continues, "the center for taking decisions" about all this no longer is in the Kremlin. The people there "have lost the initiative." They should have reacted sooner. But they didn't, and now "this case will be discussed at a very serious international level."
Related: Prisons central to Putin regime and films of torture in them a major political problem
"The Russian powers that be will be forced to react and to accept the fact that our video archive now will be in Europe and will be studied in various committees of the United Nations," he says. "Consequently, investigations will be carried out and measures will be taken on the basis of these facts."
Read More:
Tags: criminalization of Russian state, FSB (Russia's Federal Security Service), penal colony, Putin regime, Russia, Russia's crimes against humanity, Torture