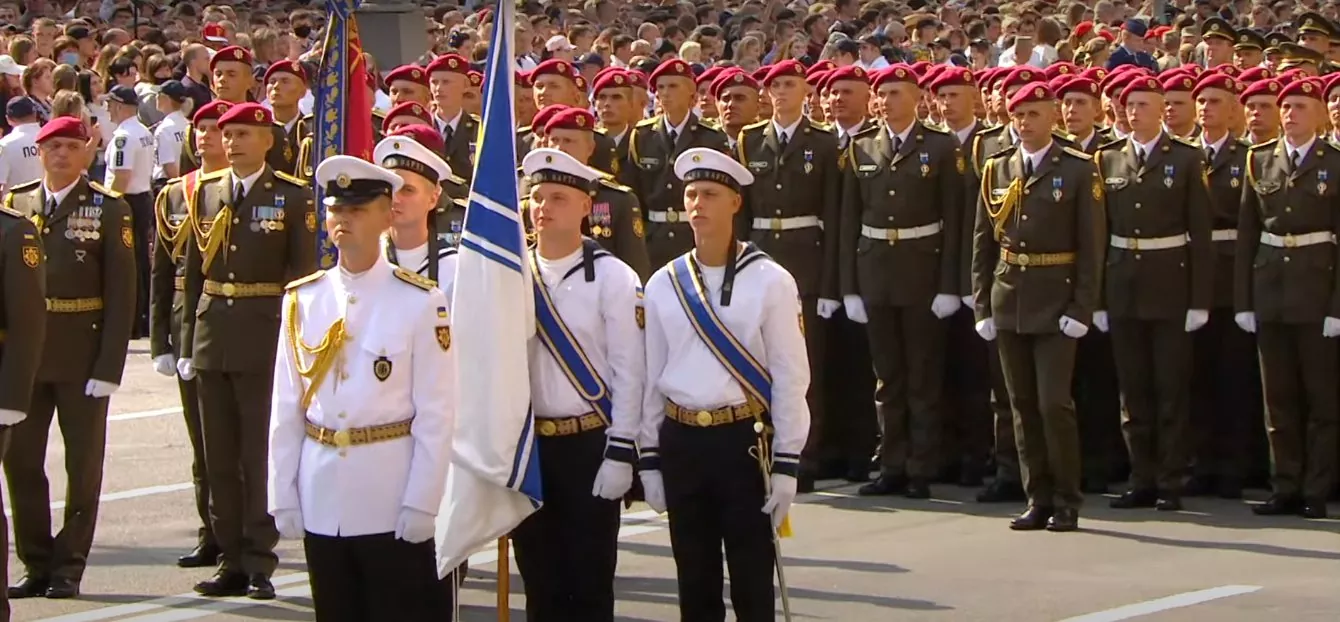 Independence Day Parade in Kyiv, Ukraine. 24 August 2021. Photo: Youtube 
For his first two years in office as President of Ukraine, Volodymyr Zelenskyy tried hard to present himself as a peace-making anti-militaristic leader, which included holding no military parades on Independence Day.
The parades on 24 August in which Ukrainian troops were marching alongside representatives of Ukraine's NATO partners used to be a yearly tradition in 2014-2018 during the tenure of his predecessor, Petro Poroshenko, amid the war with Russia in Ukraine's eastern provinces that has been cindering to this day since the late spring of 2014 and the ongoing Russian occupation of Ukraine's Crimean peninsula.
Zelenskyy's reasoning for replacing the parade with entertainment events was that the money spent for organizing a parade would be better used to pay bonuses to military staff (2019) and that a big parade should be held when Ukraine wins in the war (2020).
Both years, veterans, military volunteers, and families of KIA held their unofficial parades on Independence Day.
This year, on Ukraine's 30th Independence Anniversary, something changed. Military parades will be held in Kyiv, Dnipro, and Odesa, including in the Black Sea. For the first time, all the forces and equipment of Ukraine's defense sector will be involved — i.e. the Army, Navy, and Air Forces. In a break with the two previous years, Ukraine's international partners, namely from Canada, the USA, Estonia, the United Kingdom, Georgia, and Denmark participated as well.
Troops of Ukraine's international partners marching in Kyiv at the Independence Day parade:
Aircraft took part in the parade as well, including the world's largest plane, Antonov An-225 Mriya:
Odesa, the naval part of the parade:
Odesa, the naval part of the Independence Day Parade in Ukraine https://t.co/Y8cmVChtGo pic.twitter.com/veshwgq0ZR

— Euromaidan Press (@EuromaidanPress) August 24, 2021
Military equipment parading on Khreshchatyk St in Kyiv:
Land hardware and aircraft of Slovakia, Poland, and the UK participated in the parade as well:
https://twitter.com/UKinUkraine/status/1430120976709308438
https://twitter.com/USEmbassyKyiv/status/1430125452270739459
Meanwhile, the celebration of Independence Day continues:
Довго намагався придумати підпис, але хай так буде pic.twitter.com/Ww02nW08k6

— Кардинал SoF (@sofnesk) August 24, 2021
The unofficial March of Defenders has started in Kyiv:
Further reading:
Tags: military parade, Ukraine's Independence Day, Ukrainian military