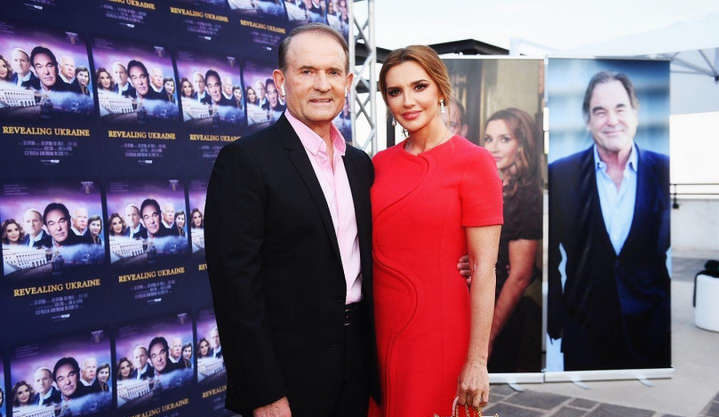 Pro-Russian politician Viktor Medvedchuk and his wife Oksana Marchenko are now under Ukrainian sanctions  
Ukraine has sanctioned pro-Russian politician Viktor Medvedchuk and his wife, the head of Ukraine's National Security and Defense Council Oleksiy Danilov said at a briefing on 19 February. The decision was made after a meeting of the NSDC attended by Ukrainian President Volodymyr Zelenskyy.
Medvedchuk is one of the leaders of the pro-Russian Opposition Bloc – For Life and is personally close to Russian President Vladimir Putin, who is the godfather of Medvedchuk's daughter.
Danilov stated that the sanctions are effective for three years and affect all of Medvedchuk's assets and detailed that they were introduced in the framework of the criminal proceedings that the Security Service opened against Medvedchuk and his wife Oksana Marchenko, who are suspected of financing terrorism in Russia's puppet "Luhansk and Donetsk People's Republics."
The exact details of the sanctions will soon be announced in a decree of the President of Ukraine, Danilov said. But according to Ukrainska Pravda, which obtained a copy of the decision, the sanctions include:
Asset blocking – temporary restriction of the right to use and dispose of property;
Restrictions on trade transactions;
Suspension of economic and financial obligations;
Revocation or suspension of licenses and other permits, receiving which is a condition for carrying out a certain type of activity, in particular, revocation or suspension of special subsoil use permits;
A complete ban on entry of foreign non-military vessels and warships into the territorial sea of Ukraine, its internal waters, ports.
In total, sanctions were applied to 8 persons (3 Ukrainian citizens and 5 Russian citizens) and 19 legal entities:
Konstantin Vatskovsky, Russian citizen;
Vitaly Domchenko, Russian citizen;
Nataliya Lavreniuk, Ukrainian citizen (common-law wife of Taras Kozak, a business associate of Viktor Mevdedchuk);
Sergei Lisogor, Russian citizen;
Oksana Marchenko, Ukrainian citizen (wife of Viktor Medvedchuk);
Aleksandr Maslyuk, Russian citizen;
Viktor Medvedchuk, Ukrainian citizen;
Mikhail Popov, Russian citizen.
Sources told Ukrainska Pravda that the five Russian citizens are managers of the assets of the Medvedchuk-Marchenko family.
Sanctions were also placed on companies registered in Russia, Moldova, and other countries. As well, sanctions were slapped on companies owning five planes that carried out direct flights from Kyiv to Moscow despite a ban on irregular direct air travel between the capitals.
As well, the NSDC decided to "take urgent measures" to return part of an oil pipeline, the sale of which was linked to Viktor Medvedchuk, to state ownership.
Sources told ZN.ua that sanctions against Oksana Marchenko, Medvedchuk's wife, and Nataliya Lavreniuk, the common-law wife of Medvedchuk's business associate Taras Kozak, were introduced because they are the owners of the Novoshakhtisnky oil refinery in Russia's Rostov Oblast, which funded the militants of Russia's puppet "republics" of eastern Ukraine. Marchenko owns 75% of the refinery, and Lavreniuk – 25%. Sanctions against Lavreniuk could also have been imposed on her as a foreign citizen, as she has a Russian passport.
—This article will be updated as more information comes in—
These sanctions come a little over two weeks after the NSDC sanctioned Taras Kozak, the owner of two pro-Russian TV channels linked with Viktor Medvedchuk and an MP in the pro-Russian Opposition Platform – For Life co-headed by Medvechuk.
Although the full text of the decision has not been made public, it is known that the sanctions were applied in connection with an investigation of the Security Service, which established that Kozak was involved in clandestine sales of coal from the Russian-occupied "Luhansk and Donetsk People's Republics." 
Medvedchuk and Kozak share huge profits both from the oil extraction industry in Russia, as well as illegally imported coal from the Russia-occupied "republics" into Ukraine. The wives of both play a major role in these business schemes.
Read more:
Tags: Sanctions, Viktor Medvedchuk