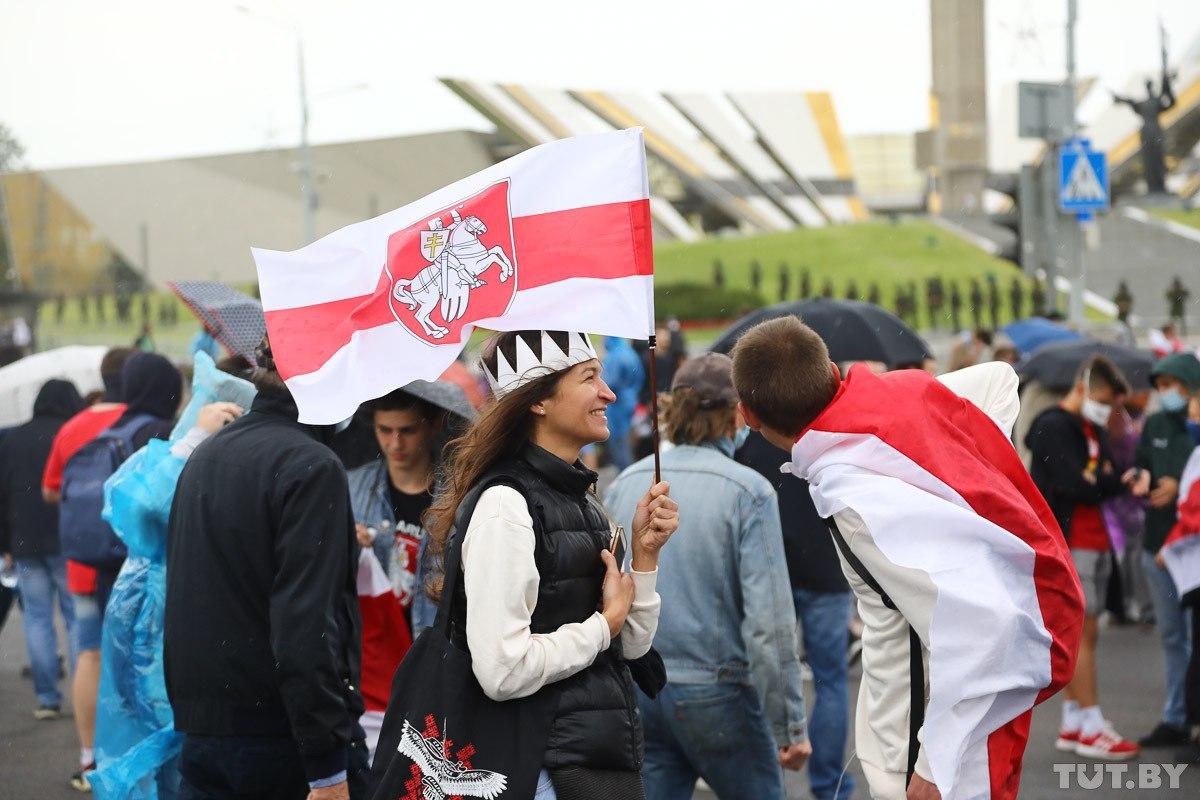 During one of the many protest rallies against rigged elections in Minsk, Belarus. Photo:tut.by 
History repeats itself; after Ukraine comes Belarus! A popular movement for freedom, democracy and the end of the corrupt post-soviet system arises, and once again we have the superhero, Vlada (Putin) who has taken it upon himself to back the dictator, serving the interests of Great Russia[1]. Meanwhile, a number of French politicians and experts are shamelessly indulging themselves in surprising prejudices.
The gold medal is undoubtedly held by the European Commissioner for the Internal Market, Thierry Breton, who declared that Belarus was not Europe, and negotiations with Putin would take into account the nature of Belarus. Unsurprisingly, this statement does not sit well with Poland and the Baltic States. Small wonder that the French can be perceived as unbearable among their European partners; arrogance can be taken just a step too far.
Even in well-respected French TV programs, it is not uncommon to hear a Parisian political scientist or expert saying that Belarussian identity is basically artificial, or that there is only a tiny difference between Belarussians and Russians. This demonstrates a poor knowledge of the history of Eastern European peoples and scant understanding of recent developments in their societies; we heard the same nonsense during the dramatic events in Ukraine from 2014 to 2017. Despite being Russian-speaking, Ukrainians from Southern Ukraine are intensely proud of being Ukrainian; for example, Odesa and Dnipro have remained loyal to the government in Kyiv and have wholeheartedly embraced European values.
Therefore, it is quite legitimate to pose the following questions: "What makes France more European than Belarus? Or Belarus less European than France? History? Culture? Population? Geography? Alphabet? Let's consider each in turn.
History
It is undeniable that France has played a central role in European history. Along with Spain and England, it was one of the first three modern European kingdoms to take shape, while Belarus lacked stable borders and was basically stripped of independent status and forcibly incorporated into large princedoms, kingdoms and empires: The Great Duchy of Lithuania, Poland, Austria, the Russian Empire and the Soviet Union. The inhabitants of this area have been identified through history as Rus (a mixture of Scandinavians and Slavs), then Litvins, Ruthenians, White Ruthenians, White Russians to eventually coming to be known as Belarusians.
An introduction to the White-Red-White flag of Belarus, and the Belarusian politics of memory
States and Culture
It was not until March 25th 1918 that the first Belarusian Republic was created. As with its neighbor Ukraine, the Belarusian independent state lasted only several months and the following year was incorporated by the Bolsheviks into the Soviet Union as a Soviet Republic. Belarusians had to wait for the dissolution of the USSR in 1991 to regain their sovereignty. Like the Russians, Belarusians in the East experienced absolute monarchy under the tsars, Leninism, Stalinism, the post-war apparatchiks' regime but, unlike the Russians, their ancestors did not suffer for centuries from the Mongolian yoke, which left an indelible mark on the Russian political system. As for Western Belarusians, they partly escaped from Bolshevik totalitarianism and Stalinist purges because their land was under Polish administration during the inter-war period.
It is important to point out that Belarusians have been influenced (and still are today) by both Lithuanian and Polish cultures. For many centuries, Belarusians had been of Catholic or Greek Catholic faith; the first book published in Belarusian was a bible, in 1517. However, unlike Ukrainians, they failed to maintain their religion due to harsh restrictions under the tsarist regime.
Thus, Belarus has not been created from scratch by obscure bureaucrats – as happened recently with certain French regions such as Pays-de-la-Loire. Belarus (бела | 'bela' means 'white' in Belarusian) has centuries-old cultural roots with a history more along the lines of Finland or Belgium, although Belarusians remain more homogeneous than Belgians or Finns.
Populations
If we defined Europe by its Indo-European settlements and by its Judeo-Christian culture, Belarus might actually be more European than a multicultural France whose most practiced religion may well be – according to some writers in Le Figaro –Sunni Islam[2], Catholicism being in free fall. Could it be that the European Union has effectively excluded Türkiye because of its Muslim culture, although officially it has been secular for the last 75 years?
Geography
[3]
.
The alphabet
Let's now turn our attention to the remaining issue of the alphabet. Mr. Thierry Breton must certainly have thought the use of the Cyrillic alphabet reason enough to exclude Belarus from Europe and to doom Belarusians to Russian control forevermore. Serbs and Montenegrins are now tending to abandon Cyrillic letters for Latin script in order to move closer to the west. Bulgaria being an exception. Are we yet again witnessing a Roman victory over Byzantium?
Can we allow the imposition of a vassalage?
Excluding Belarus from Europe and abandoning this sovereign nation to a state of vassalage under an authoritarian and aggressive power [4] is despicable, especially from a leader representing a pan-European institution whose motto is "United in diversity."
Each nation has the right to self-determination.
A French version of this article was published at form–idea.com.
---
Further reading