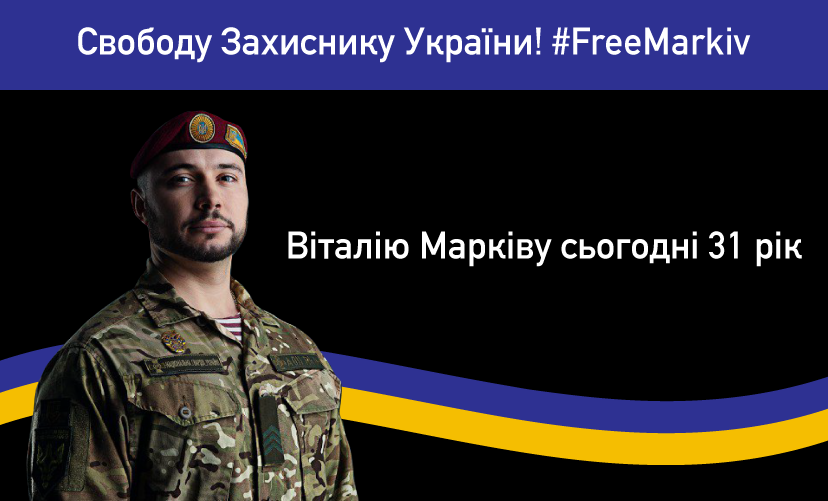 Today, National Guardsman Vitaliy Markiv celebrates his 31st birthday. He has spent three years of his life in an Italian prison.
Vitaliy is accused of complicity in the murder of Italian journalist Andrea Rocchelli, who was killed in May, 2014 during in the fighting between Ukrainian armed forces and Russian mercenaries near then-occupied Sloviansk. The facts speak for themselves:
✅  The Ukrainian National Guard and armed forces were deployed in a different surveillance sector.
✅  The Ukrainian fighters were armed with light weapons. The Italian journalist was positioned a good distance from the Ukrainian position on Mount Karachun and could only be reached by heavy and long-range weapons.
✅  The Russian-occupying forces were firing towards the area where Andrea Rocchelli was killed.
During the court hearings, Vitaliy's defense spoke of these relevant facts, raising many questions and doubts. Despite the lack of evidence of concrete guilt, Vitaliy Markiv was sentenced to 24 years in prison.
We believe in justice! We will not stop fighting for the truth! Vitaliy should spend his next birthday with his family and friends!
The appeal will begin in Milan on September 29. #FreeMarkiv
Read also:
"The truth is on our side and we will win." says mother of Ukrainian soldier Vitaliy Markiv
Italian podcast report on Ukrainian soldier Vitaliy Markiv ignores basic facys and evidence
Documentary on Markiv case to be screened in Italian Parliament
The Wrong Place: crowdfunding for the truth. Ukrainian/Italian film crew shooting doc on Markiv case
Facts and doubts in Italy's dubious trial of Ukrainian soldier Vitaliy Markiv
Tags: Court hearings, Italy, Russia's hybrid war, Russo-Ukrainian War (2014-present), Ukraine-Italy relations, Vitaliy Markiv