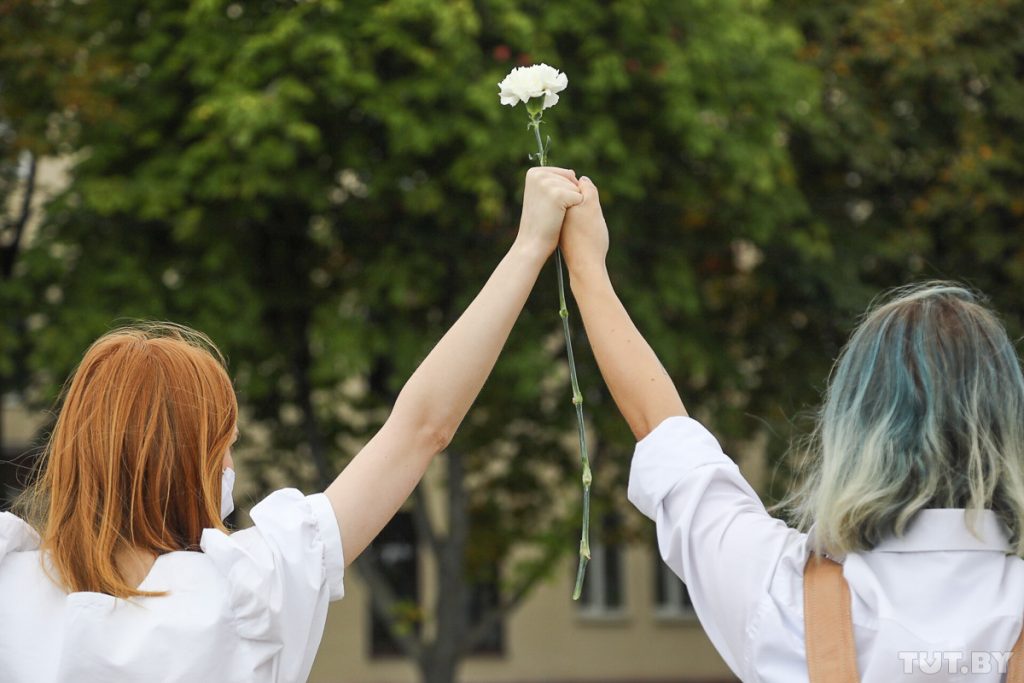 At the first "Ladies in White" protest in Minsk. Photo: Olga Shukaylo, tut.by 
Starting from August 12, the protests against a rigged vote in Belarus have taken a remarkable turn – women in white clothes carried flowers and formed chains in different cities to protest against unlawful detentions and violence of riot police. Such protests present a challenge to the brutal riot police — beating women would be shameful and undermine Lukashenka's regime further. Thus, police officers are faced with a moral dilemma.
After the first deaths of protesters during clashes with riot police, Lukashenka lost the remnants of his legitimacy. Understanding this, some police officers quit. Fascinating videos and photos appear where women hug riot police officers who lower their shields, indicating that they support the people, and even a policeman giving flowers to protesting women. All this culminated in a huge commemoration of the first victim killed by the riot police in Minsk on Saturday, 15th August.
The first human chain formed by women wearing white clothes started on 12 August in central Minsk. Hundreds of women gathered next to the Minsk Komarovsky Market. Four central subway stations were closed in Minsk by the authorities "for safety reasons." The internet was also shut down for some time. But this couldn't stop participation in the protests. The rally soon spread throughout the country.
"I'm here because I care. I feel pain because of what is happening, to both men and women. Lawlessness, arbitrariness. We all stand for the same thing here. We want people in our country to be respected,"
said one of the protesters. Many of them have personal motives to participate in the rally, to protect imprisoned and tortured relatives:
"I know that many of my friends were detained. I don't know where they are now. Nobody answers, they have no phones. If men are taken away, we will stay with the women here."
Two police officers tried to stop the demonstration, claiming it was not authorized. The women slowly turned around with their hands behind their heads, as if they were arrested, and walked in a column through Minsk. Then the movement spread to other cities throughout Belarus.
The main purpose of the rally was to protect those 6,000 protesters who were unlawfully detained on 9-12 August.
Pictures of beaten and tortured men and women circulated on the web as soon as the first detainees were released. Source: Tut.by
Pictures of beaten and tortured men and women circulated on the web as soon as the first Belarusian detainees were released in mid-August. Source: Tut.by
Women brought posters that say: "We want political prisoners back", "Stop tortures" and "Fair elections."