Atlas Weekend is a Ukrainian music festival held in Kyiv. During its four-year existence, the festival has hosted numerous world-famous musicians including Apocalyptica, The Prodigy, The Chemical Brothers, Martin Garrix, Placebo, Kasabian, Black Eyed Peas, and others.
Euromaidan Press met the founder of the festival at the Kyiv Investment Forum where he was voicing his ambitious goal to turn the festival into a calling card for Kyiv as well as the whole country. We decided to talk to him to find out what it is like to work in the entertainment business in a country at war, what risks investors should know about when coming to Ukraine, how the country's show business scene has changed since 2014, and what it takes to get international stars to come to Ukraine.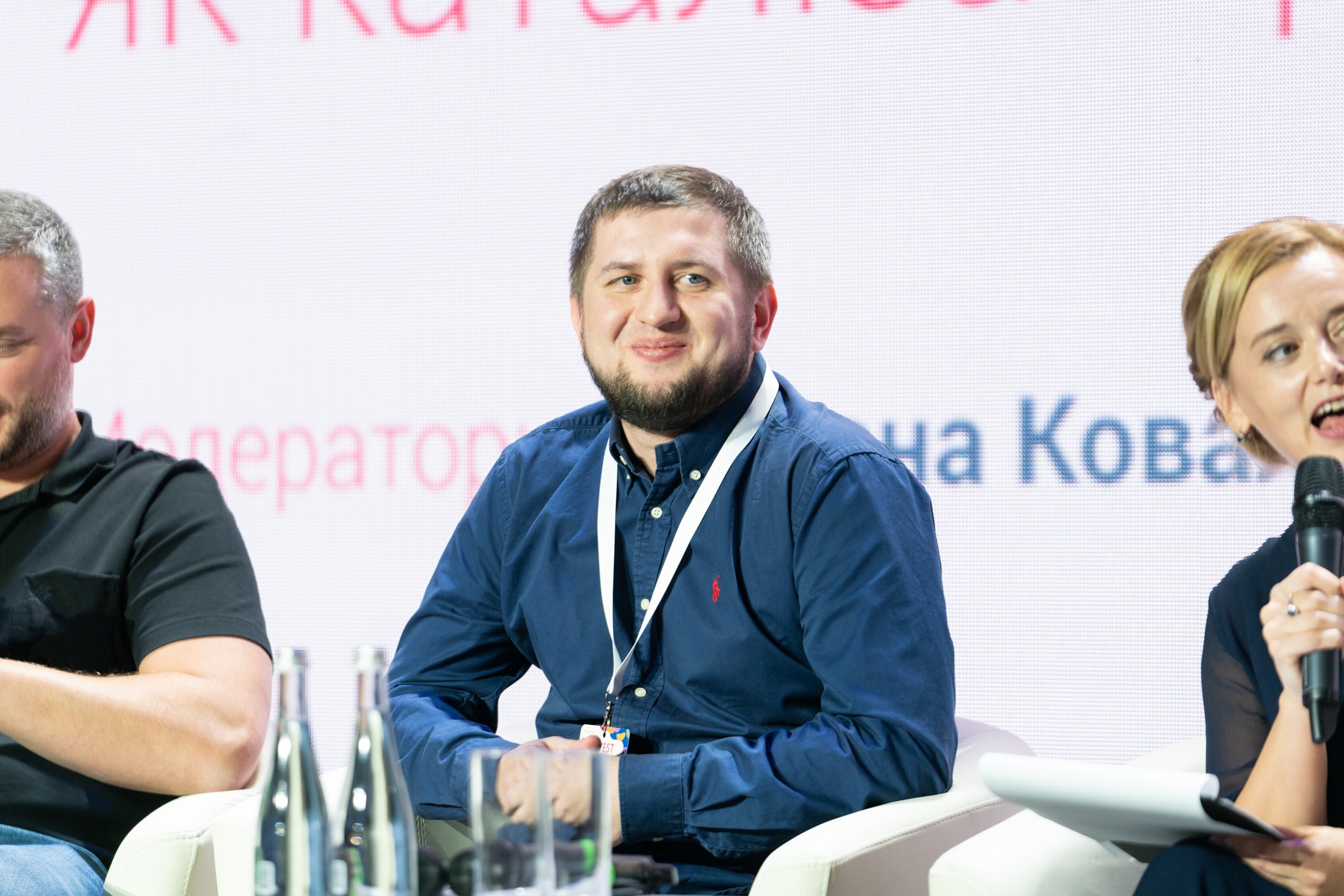 In his thirties, Dmytro Sydorenko already has a wealth of experience in entertainment and show business. He is one of the founders of the PMK Event Agency, the night club Atlas, and an open-air nightclub on the grounds of the Green Theatre, an open air theatre built in 1949 on the hills of the Dnipro river. However, the festival Atlas Weekend has developed into the largest project Sydorenko is involved in.
In 2014 there were almost no entertainment events because of the beginning of the de-facto war in Donbas. The first Atlas Weekend took place in 2015. How did you make up your mind and risk starting it in such a difficult period?
We had an idea to stage a festival long before 2014, but had no time to implement it.
2014 was indeed full of stress and very serious, but we got through it. That year many concerts were canceled. Not only by Western musicians, but local ones as well. So we could not even speak about a festival in 2014. In 2015, we were lucky. Usually, it takes about two to three years to become popular. When we had just launched it on a smaller scale, about 20,000 people attended it. The festival had only been announced a month in advance. It was a local Kyiv event. When we saw how popular it was, we decided to set a much higher bar for the following year. From a philosophical point of view it was the right step, as we set the bar higher than anyone else had ever done before. However, we were not ready for it; as a result there were lots of mistakes and significant financial losses. That time our friends and nearest and dearest supported us and we had a complicated year to rectify the mistakes [2016].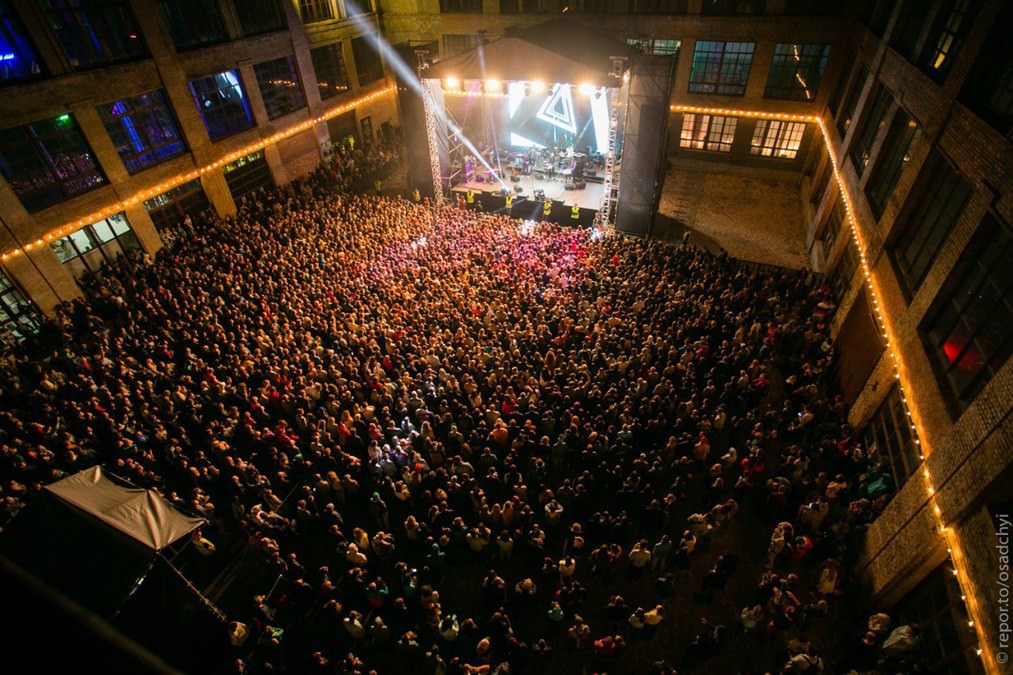 Why do you think you received such praise from the audience at the very beginning?
Because the festival niche was empty. We had no festivals in the European understanding of a festival. Even the first festival we held in 2015 had no right to be called a festival. Many events are called festivals. However, when there is one stage, a few bars, and food stands, it is not a festival. A festival is a philosophy, an atmosphere, many entertainers, a tent camp, and many other things. I don't want to offend Chaika or Global Gathering. They were the pioneers of what we have continued [in Ukraine]. For that time it was cool. However, we think that a new time has come. It came to Europe around 20 years ago. Now Ukraine is ready for festivals on a European scale. Our festival is the first which was included in the Association of European Festivals. For us it is important to move in a European direction, but also to set trends with our unique stories. We want to become a calling card.
Hosting entertainment events while the country is at war has on occasions been a controversial issue in Ukraine. Why do you think it is important to hold festivals?
It is important that people in this situation when some have suffered physically, others psychologically, those who have lost someone do not turn in on themselves. In no case are we saying that people should forget about war. But they should switch psychologically, rest a bit. It is important to prevent an emotional breakdown and rash actions. We don't launch fireworks at our festival. However, last year Martin Garrix, the number one DJ in the world for three years in a row, had fireworks. We had to explain to him that we can't have them in our situation. We try to stick to some rules. However, it is also very important to show the world community that apart from the war we have a stable state. It is possible to work here. A tiny minority of the country is at war, and it is possible to invest in [Ukraine]. The tourist sector which we want to promote is also an investment in money which everyone will see in 3-5 years. It won't be tens of thousands of tourists coming to our festival, but a couple of hundred thousand, and that hundreds will spread by word of mouth to millions.
For us in Ukraine it is obvious that the country is safe and we try to explain it to others. However, can you elaborate on the real risks a foreign investor can face here?
I have a negative personal experience. I have been dealing with the Green Theatre since 2011. I invested there five years and almost half a million dollars. It was absolutely all the money I earned during that five years in everything which was possible and also an amount I borrowed. However, at some moment the Prosecutor General's Office launched a trial. It was before the Euromaidan Revolution. Somehow the new prosecutor's office which came to power after the revolution did not stop the trial, but only enhanced it, despite its illegal grounds. They said that allegedly our toilets were stuffed with garbage. However, the place was working everyday, thousands of people were attending it and saw that nothing was stuffed there. On the basis of such laughable reasons the contract with us was terminated. It was pure prosecutors' lawlessness. We know how our prosecutor's office works. There are lots of examples. Probably, the easiest solution for me would be to leave everything and to move to a place where everything is fine. However, I got used to fighting to the end. In a few years I got the Green Theatre returned to me. I see that there are positive changes, but not in all areas. The most corrupt stories are the prosecutor's office and courts. Because of this me and other investors would feel insecure and this is the first thing that should be changed.
In one interview you said that for the festival you even had to sell the only apartment you owned. It is clear that you are not driven by money, but by what?
First, I believe that even in terms of money everything will be fine. Even if I estimate the investments, I have a positive balance. We earn with the agency, also we have a club, and thank God Atlas Weekend has become profitable. The question is a lack of operating capital for development. I have no doubt that we will have money as well. However, the first goal is something that is more important than money. It is making a calling card for Ukraine using Atlas Weekend. We also want to make the Green Theatre a calling card. There are many dungeons, the fortress itself is a cool cultural monument – many things can be done there. It can become a Kyiv maraschino cherry. We want our projects to have a very strong social component. At the festival, we try to increase social activity. For example, during the Kyiv Investment Forum I met guys who produce biodegradable plastic bags and dishes out of cornstarch. The price is in line with the plastic ones. Other countries motivate businesses to do this. Here, some impulse from the government is missed to change to biodegradable materials so our land won't be contaminated. We have to think of our children and grandchildren who will live here. It is important to consider this aspect in businesses even if it is sometimes detrimental to our economy.
The festival invited Amber Galloway Gallego who translates music for people with hearing problems. On the video Amber assists Ukrainian band Hardikss.
Before 2014 when the de-facto war with Russia started, Ukrainian show business was totally dependent on Russia's. In 2014, the situation changed. Can you describe what Ukraine's showbizz is like now?
What happened in 2014 was a turning point for the whole country, including for show business. It started to develop at a tremendous pace. Before, 60-70% of the market was occupied by Russian artists. Now in the majority of cases they have stopped coming here. When the rotation for Ukrainian musicians increased on TV and Radio stations, many of those who had been in the shadows managed to break through. Airtime was liberated, many people appeared who need to listen to something and it played a very serious role. If we compare the status of Ukrainian musicians now and five years ago, it is like night and day. Not only because they started to attract people; they finally started to earn money. The main problem was that our artists could not earn money because of the competition [with Russians]. Now they have also started to reinvest in themselves, to create better albums, better videos, to work on their shows. They managed to create materials which are competitive not only in Ukraine. Some artists like SINOPTIK, Stoned Jesus and Jinjer started to perform in Europe. Of course the numbers are not comparable with shows like Metallica or Pink, but our musicians have started to perform in Europe, the US and started to develop in terms of quality. For example, recently the band Odyn v Kanoe played sold-out concerts for three days in a row.
http://https://www.youtube.com/watch?v=gw2nclcoFNE
Odyn v Kanoe – I Have no Home
When quotas for Ukrainian TV and Radio content were introduced in 2016 some were complaining that it would spoil the focus-groups for the stations. However, you regard this positively, right?
There are no black and white things. Everything has drawbacks, but in general it worked for the good.
How do you select the artists for your festival. Do political aspects and political statements matter?
We are not interested much in political aspects regarding our Ukrainian artists. It is their own political stance. The main thing is for them not to state it from the stage. For us it is fundamental that we stay out of politics. Even for the huge money we were offered, we did not want to say anything.
You were offered big money by the parties prior to the June 2019 parliamentary elections, for the Atlas Weekend on 9-14 June?
Yes, huge amounts. For that money we could have settled all our debts immediately and buy many apartments. However, we are quite categorical regarding this. We think that people should come to us to get away from all the stuff they usually see on TV and everywhere else. Turning back to the selection of artists, for Ukrainian musicians, their statements are their own business unless they make them from the stage. Foreign artists at least should not say anything bad about [Ukraine]. Of course we would not invite an artist who recognized Crimea as Russian, or those who performed in Crimea. These and other things are also fundamental to us. Regarding the selection from the musical point of view there are a number of criteria. With regard to headliners for sure we choose artists who are already famous, fill stadiums, sing live rather than miming, and those who play music of a corresponding format. In terms of opening slots we select young artists from Ukraine, as well as from Europe. We also bring totally artists from the USA and Australia who are completely unfamiliar in Ukraine. We hope that someday we will have a similar story to what happened with the Glastonbury Festival where Ed Sheeran first performed. They just helped him to play guitar and to do some other things. At some moment he became a superstar, but the festival was a place where he started his career. For us the mission to introduce Ukrainian and European musicians is very important.
What are the main music genres represented at Atlas Weekend?
I would not specify any particular ones. A$AP Rocky [was announced at the Atlas Weekend, but did no not perform as he was arrested because a fight in Stockholm a few days before] is a hip-hop artist, Chainsmokers is a top IDM artist, Black Eyed Peas are just pop hit makers which everyone knows from childhood, Liam Gallagher is a cult rock performer. If we talk about the main stage, we are not trying to choose a main support. We want to evenly fill in all the most popular formats. Talking about all the other stages for us it is important to represent all the manifold of underground music. Starting from rock and ending with techno. For example the metal movement is declining in Ukraine, but we still have a stage where a metal band can perform.
Is the de-facto war in Donbas making it harder to invite Western musicians to Ukraine?
In 2014 it was a huge problem. Now, year by year it has become easier. When one, two or three musicians came, all the agents started to communicate with each other and agree that it is safe here and possible to perform. For some musicians, insurance or something else was needed. In general, security is not a problematic topic. The problem is in the financial aspect. We have to explain to many artists that the tickets for our festival are a quarter or a fifth of the price at other European festivals. Also the economic situation in our country is such that salaries are many times lower, so they cannot afford to pay so much. It is all interconnected. Still, we try to fit in our budget to bring top artists. In effect tourists will see that there is a festival of European scale here.
http://https://www.youtube.com/watch?v=yKQSzjtpCEw
Liam Gallagher sing Wonderwall at the Atlas Weekend
Was there something interesting or funny in the foreign artists' list of special needs?
There was a cool story with the Black Eyed Peas as they asked to play basketball. We organized a field in one of the pavilions of the VDNG [the expo center where the festival takes place]. They played together with our guys, the organizers. A$AP Rocky, who did not perform eventually, had two bags of printed money on their list as he wanted to throw it from the stage. The band Kasabian asked to put several sound systems in their dressing room. Five to ten minutes before their performance on stage they turned on the speakers at full volume and jumped. In effect, with this energy they jumped onto the stage. The floor was shaking in their room.
Another thing happened to Liam Gallagher. The airlines lost all his instruments and we had to look for replacements, asking all our friends, partners and renters we knew to save the situation. His performance could have fallen through. Thank God, eventually he performed.
Euromaidan Press asked Dmytro Sydorenko to name the five best young musicians from Ukraine who are on the brink of fame and have great potential. The founder of the Atlas Weekend doubted there are many of them and agreed to name those five which first came to mind. Among them were the rapper Alyona Alyona, the band Bakhroma, not such a young band, but Sydorenko says they deserve to become popular at last. The same with Fontaliza. Among the five there are also YEYO and Julinoza.