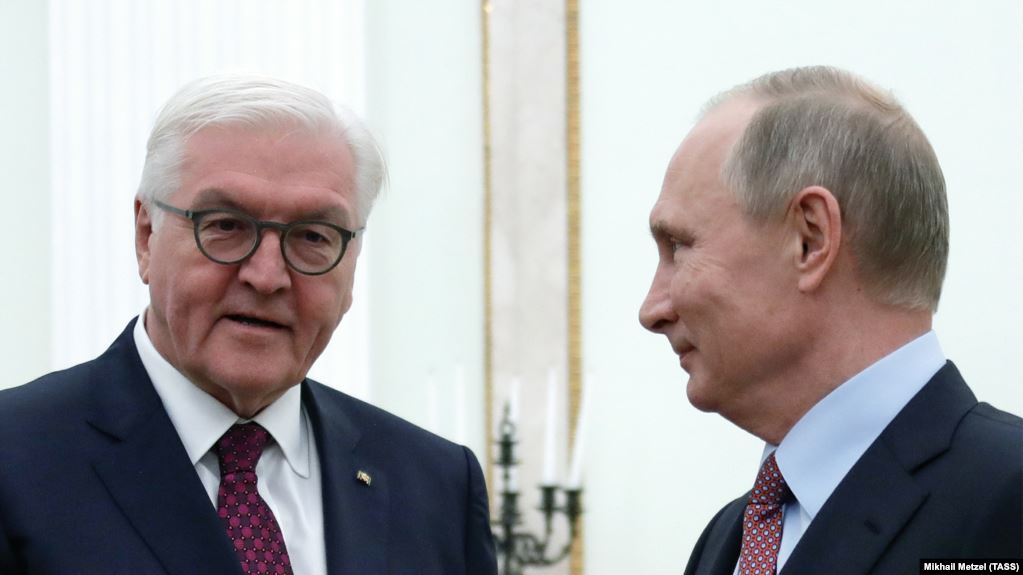 Steinmeier and Putin 
Those in Ukraine and elsewhere who fear that the Steinmeier plan will end by becoming the Putin plan are justified in their concerns as even the most superficial examination of what has happened elsewhere along Russia's periphery when peace agreements have been announced in uncertain and unstable places, Aleksandr Cherkasov says.
The commentator who writes frequently about the North Caucasus for the Ekho Kavkaza portal points to two cases where a settlement was announced in such circumstances and then, in no small part because of Russian malfeasance, the situation deteriorated rapidly and even can be said to have slid into disaster.
The first case involves Abkhazia where in 1993 there were talks and it was agreed to pull the heavy weapons back from the contact line. That was followed by a successful attack by the Abkhaz side, supported by various forces and behind them the Russian Army which was supposed to act "like a neutral third peacekeeping force" but didn't.
"Moscow wanted to establish an unstable situation in which there needed to be an external arbiter, 'a peacemaker,'" Cherkasov says. "But the peacemaker turned out to be anything but neutral. And then people became distracted. And right then appeared heavy arms and the result was the burning Sukhumi of September 27, 1993."
"But in Abkhazia, there was no effective external party." In another conflict in the North Caucasus, there at least appeared to be one, the OSCE, "an organization called upon to guarantee security and mediate in the peaceful resolution of conflicts." That second conflict, concerning Chechnya, however, ended even worse.
In 1996, there were negotiations about Chechnya. Forces were withdrawn, and elections were scheduled. But when Ruslan Khasbulatov tried to run, unknown persons kidnaped his brother and Khasbulatov pulled out. Then his brother was released, Cherkasov continues, raising many questions about their validity.
It is still uncertain how the refugees might have voted in that election, and there were "hundreds of thousands of them." And those who won ensured that they wouldn't have a chance to participate. Maskhadov won, but without the real legitimacy of comprehensive elections, he couldn't establish a strong state, especially given the absence of support from outside.
He didn't get it from Russia or from the OSCE. And then, "three years later, there was a catastrophe, a new war. There was little good will, and "the world preferred to turn away or close their eyes. The Steinmeier plan, it certainly appears, echoes that experience: it too represents an effort to turn away and close one's eyes."
That was the path to catastrophe in Chechnya and it is likely to be on in Ukraine as well, Cherkasov says. At the very least, "such an approach will not lead to peace, nor to honest elections, nor to the formation of a responsible government." And because that is so, the latest agreement should be a call to vigilance rather than an occasion for satisfaction.
Ukrainians and their supporters must not turn away from "inconvenient questions." If they do, the odds that things will go wrong will increase exponentially.
Read More:
Tags: Abkhazia, Failed Western diplomacy, Ichkeriya/Ichkeria/Chechnya, Minsk protocols / Minsk agreements, OSCE, Putin, Russian aggression, Russian peacekeepers, Russo-Chechen wars, Steinmeier Formula, surrender, Volodymyr Zelenskyy (Zelenskyi / Zelensky / Zelenskiy), Western diplomacy