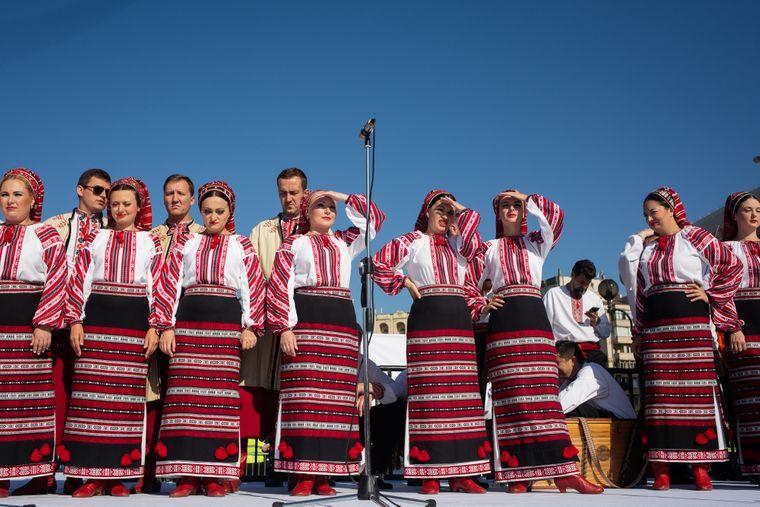 One of the choirs performing during the official celebration. Photo: Hromadske
 
On 24 August 2019, Ukraine celebrated its 28th independence anniversary. After six years of war, the meaning of this day has become sacralized and is not taken for granted by millions of Ukrainians anymore.
With the beginning of the presidency of newly elected Volodymyr Zelenskyy, Ukrainian public discourse changed significantly not only in foreign but also in domestic policy.
Independence is not just an abstract idea anymore: it has changed many Ukrainians' vision of reality, making Ukraine a self-sufficient state, and the words: "Slava Ukrayini!" ("Glory to Ukraine!"), having been said by world leaders (for instance, UK's Prime Minister Boris Johnson) have become the essence of Ukrainian historical memory and national pride.
#UK Prime Minister @BorisJohnson, prominent British politicians and leading analysts send their greetings to the people of #Ukraine on the eve of the 28th Anniversary of Ukraine's Independence #UAIndependenceDay2019 @JWhittingdale @DrewFoxall @Orysiaua @Pauline_Latham @JDjanogly pic.twitter.com/nJKMO4Dees

— Ukraine's Emb. to UK (@UkrEmbLondon) August 23, 2019
Many perceived the events of Euromaidan and strengthening of national discourse in the events that followed as triumphing over the years of Soviet propaganda, oppression and mockery of the Ukrainian language, culture, and mentality, as a victory over aggressive dictatorship and imperialism in disguise, both represented by the Soviet Union.
The six years of war that followed the revolution in 2014 have brought blood and pain to Ukraine but, paradoxically, also strengthened public consciousness and crystallized the national idea. Thousands of Ukrainians now view independence with more integrity and share a common responsibility for it.
The Independence day military parades Ukraine held annually stopped being merely a tradition in 2014, when Russia occupied Crimea and fostered a war in Donbas. They became significant not only as a demonstration of power but also as a gesture of respect to Ukrainian defenders, the thousands of men and women who are risking their lives to permit Ukraine to exist as a sovereign state.
Show replaces military parade
However, things changed in 2019. Volodymyr Zelenskyy announced a new format of celebrations: no military parade, no military equipment, citing the high costs and promising to pay bonuses to servicemen instead, The changes also aimed to transform the message of confrontation into a message of peace. That is why during the ceremony which was called the "Dignity March" Zelenskyy was followed by children in white, symbolizing doves of peace. The procession indeed differed from the traditional Independence Day: it was produced by the famous choreographer and clip-maker Alan Badoiev and accompanied a pop-version of the Ukrainian anthem, during which the second verse, about defending the country "in bloody battle," was replaced by a rap episode.
You can listen to the anthem here:
https://www.youtube.com/watch?v=eb-hLTe2XLg
In his celebratory speech, Zelenskyy mentioned the Revolution of Dignity and the difficult times when Ukraine was a part of the Soviet Union and the economic hardships thereafter, stressing how difficult it was for Ukrainians to survive against all odds. Then he talked about various achievements of Ukrainians: in sport, art, and the space industry. He said that after the start of the war in 2014, Ukraine was reborn as a nation, and Ukrainians started feeling the forgotten pride for their motherland, fighting with the common enemy side by side.
As well, he allegorically compared occupied Crimea and Donbas with two children who were brutally kidnapped from their mother. "
"Every day it breaks our hearts. And any victories or achievements are incomplete because our family is incomplete. But the day will come and we will surely get together. For the voice of kindred blood will prevail!."
However, while telling fables and recollecting the past attainments, Zelenskyy did not call a spade a spade. Not a single word was uttered about Russian aggression; the president simply avoided sharp angles, talking about the "difficult situation in Donbas," "Ukrainians who sacrifice their freedom and life defending freedom and peace." This serves as a confirmation of his direction of political rhetorics which has already been called "flexible" by French President Emmanuel Macron and "promising" by Russian President Vladimir Putin. Trying to be cautious, Zelenskyy does not try to build a clear narrative for Ukraine on the world political arena.
This celebration was markedly different from the previous five Independence day parades, which showed off the Ukrainian Army's movement away from the Soviet past and embrace of the history and traditions of the Ukrainian army during the liberation movements of the 20th century, as well as Ukraine's cooperation with NATO. In 2018, units from ten NATO countries marched along with Ukrainian troops down Kyiv's central street.
Ex-president Petro Poroshenko had criticized Zelenskyy's decision to cancel the military parade and had declined to attend it, opting for the interfaith prayer ceremony held at the St. Sophia's Cathedral instead. Organized by the All-Ukrainian Council of Churches and Religious Organizations, this year was the first time that a prayer in the cathedral was not included in the program of official celebrations with the participation of the President.
Ukraine's first, second, and third presidents, Leonid Kravchuk, Leonid Kuchma, and Viktor Yushchenko, were present at the parade. However, Poroshenko did join them all later at an official reception.
Read about Ukraien's previous Independence Day parades:
The veterans' parallel parade
However, such an Independence day program polarized Ukrainian society: the veterans and volunteers organized another ceremony, the Defenders' March. Held in different locations all over Ukraine, it was dedicated to the memory of Ukrainians who perished defending Ukraine in Donbas and hold their service today.
This was an alternative vision of Ukrainian independence, created by Ukrainian troops, veterans, volunteers, and their relatives. It proved to be much more popular with Kyiv residents, 50,000 of whom attended the Defender's March at its height, than the official ceremony, which was scarcely attended. Organized by several veterans' associations, the march's nearly 15,000 participants – veterans and the family members of those who were killed in Donbas – were followed by applause and exclamations "Heroes never die!". A bird's eye view of the march allows to feel the scale:
The photographs of Ukrainian troops killed in the war that some of them carried served as an illustration of the sacrifices that were made to make this March real. Although such processions of relatives of the killed soldiers were held in the previous Independence day celebrations, they never reached such a scale.

The march, held without political slogans or participation of politicians, turned out to be a triumph of self-organization and pathos-less integrity. Some participants described it as being the best parade yet and thanked Zelenskyy for the impetus to hold it with his decision to cancel the military parade.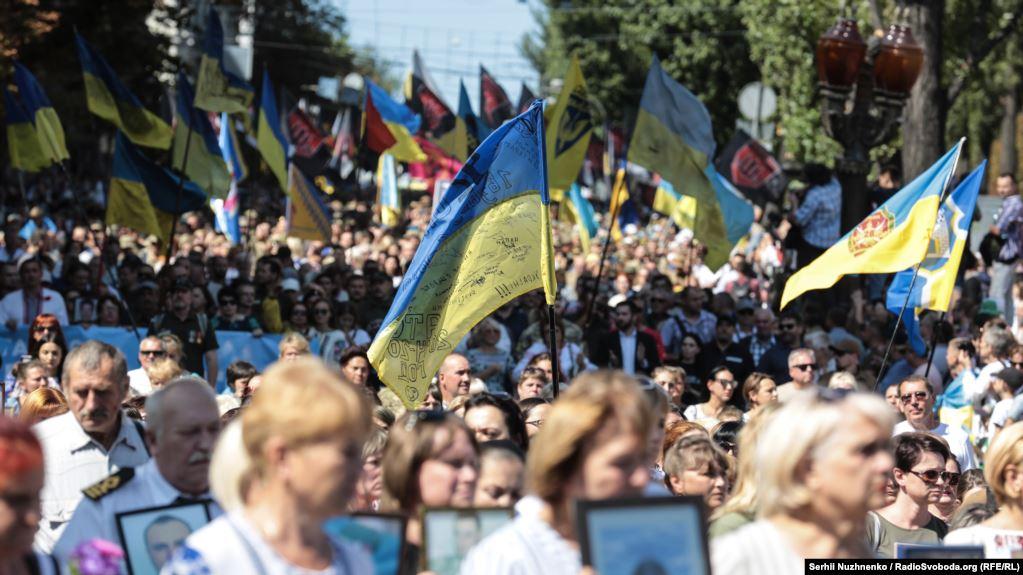 /written with contributions by Alya Shandra
Read also:
Tags: Ukraine's Independence Day, veterans, Volodymyr Zelenskyy (Zelenskyi / Zelensky / Zelenskiy)