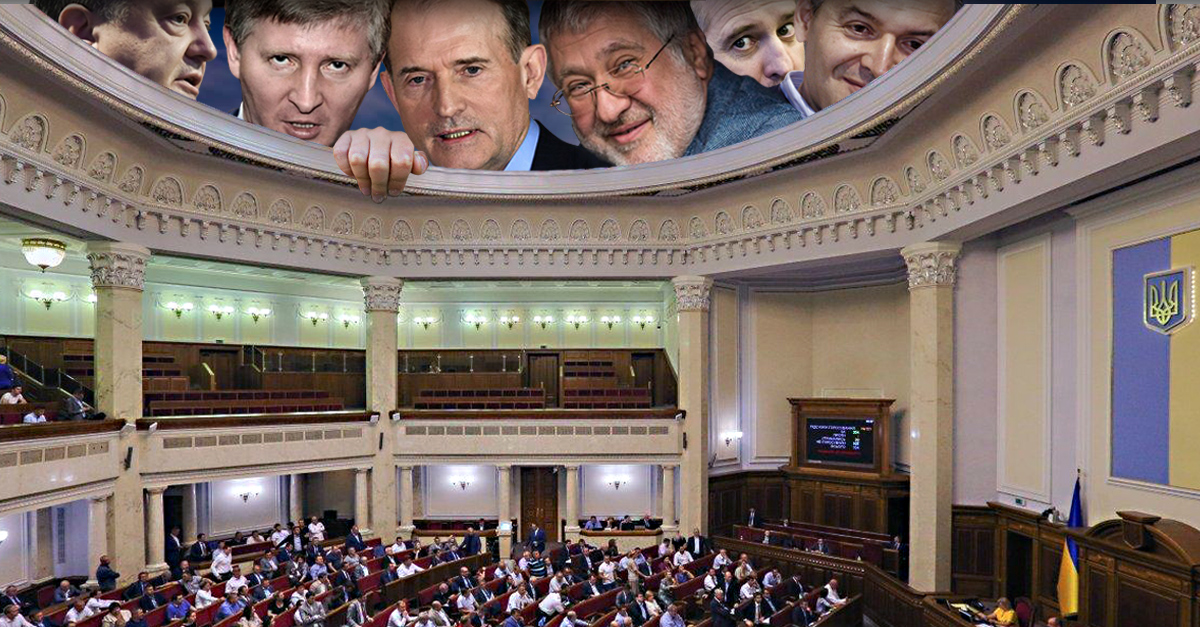 Collage: Hanna Naronina/euromaidanpress 
Notwithstanding the almost complete renewal of the Verkhovna Rada at the recent snap elections, the parliament continues to represent oligarchic interests. Ukrainian oligarchs not only control the media; they also exploit various strategies to interfere in politics: they head the parties themselves, fund them, or stand in the background while still preserving their leverage over political processes in Ukraine.
Read also:
Kolomoyskyi
The former owner of the nationalized PryvatBank, Ihor Kolomoyskyi, is sometimes referred to as a kingmaker of Ukrainian politics. He sponsored numerous political parties and now supports president Zelenskyy's Servant of the People party (SOTP) which with more than half the seats in the parliament is about to form a "mono-coalition" in the new Rada. The party brings together employees from the Ukrop party sponsored by Kolomoyskyi, his 1+1 TV channel, as well as from the League of Laughter and 95 Kvartal, comedy projects of incumbent president Volodymyr Zelenskyy.
Read also: Zelenskyy's consolidation of power: a chance for change or authoritarianism?
However, Kolomoyskyi denies his influence over former 1+1 people who have become MPs, calling this phenomenon "a massive exodus to politics." The same thing he says about his political relations with the Ukrainian president who was actively promoted on 1+1 not just during his presidential campaign, but also in several previous years – the channel hosted and produced his projects.
"I'm not an official, not his [Zelenskyy's] consultant or adviser, not an executor of his will or someone else. I'm not a puppet master. We aren't connected," said Kolomoyskyi in his interview to nv.ua.
More on Kolomoyskyi:
Medvedchuk and Firtash
Ukrainian oligarch Viktor Medvedchuk, Vladimir Putin's close ally, together with odious partners Dmytro Firtash and Serhiy Lyovochkin, is now one of the leaders of the party "Opposition Platform – For Life" (OPFL) which defends pro-Russian interests. This party received 13% of the votes, with only the pro-presidential Servant of the People exceeding this result with its 43%. The Russian Federation strongly and overtly supports OPFL.
"Look at the Ukrainians. Maybe you proposed something wrong to Ukraine if the Opposition Platform has got that low percentage. We thought that it would be higher, especially due to the candid support from the Russian side," said Olga Skabeyeva, Russian host during the TV show "60 minutes" on the state-funded Russia-1 channel.
More and Medvedchuk and Firtash:
Pinchuk
Holos (Voice) party, headed by rockstar Svyatoslav Vakarchuk, is associated with oligarch Viktor Pinchuk, son-in-law of former president Leonid Kuchma.
Hromadske discovered that the prices for the political advertisement for Holos were way lower on ICTV, STB, Novyi channels (belonging to Pinchuk's Star Light Media holding) than on Rinat Akhmetov's "Ukraina" and Kolomoyskyi's "1+1." Star Media denied any special discounts for Holos and stated that ad prices were the same for all political parties.
Vakarchuk himself says otherwise.
"I think it's inappropriate to talk about coping with oligarchs and then taking their money," said Vakarchuk in his interview. 
Another party member, popular showman Serhiy Prytula, declares that Holos was financed by common Ukrainian businesses, party members, and employees of the Dragon Capital financial institution, owned by Czech businessman Tomas Fiala. 
"They are all self-made people. I can tell you precisely that Pinchuk does not sponsor us," said Prytula.
More on Pinchuk:
Poroshenko
Head of the European Solidarity party, former Ukrainian President Petro Poroshenko, is a de-facto oligarch as well. At the same time, his business partners are not represented in the party, which consists of independent politicians, volunteers, and community activists after its reforming before the parliamentary election.
More on Poroshenko:
Akhmetov
On the other hand, Ukrainian oligarch Rinat Akhmetov, who was earlier also very active in the Ukrainian political field, will not have much influence in the Rada. None of his political projects (Radical party and Opposition Bloc) made it to the Ukrainian parliament but both of them will receive annual state funding.
More on Akhmetov:
As we can see, despite the party slogans, lustration projects, and new faces, it looks like it will take time to change the system from the inside, to overcome the masters of puppets, and to complete the de-oligarchization of the Ukrainian parliament.
---
Read also: