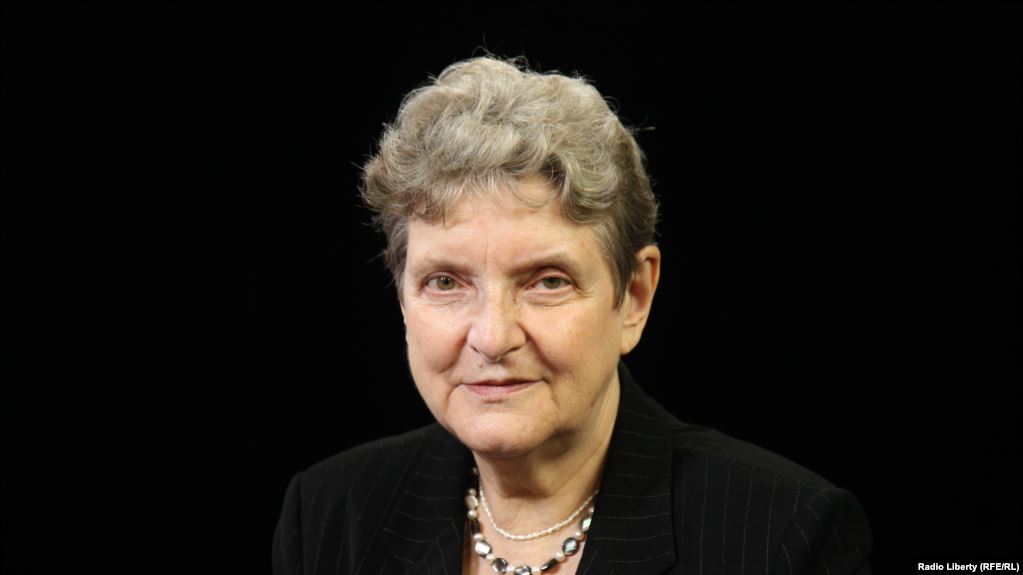 Svetlana Gannushkina, a Russian human rights activist and member of the NGO Memorial. Photo: RFE/RL 
Editor's Note
The Parliamentary Assembly of the Council of Europe (PACE), the legislative arm of the continent's largest human rights organization, is steps away from lifting Russian sanctions, which were slapped on the Russian delegation after the country occupied Ukraine's Crimea peninsula and stirred up a war in Donbas. The most recent step towards this scenario was made on 3 June, when PACE's Rules and Regulations Committee
approved changes
to the Council of Europe's (CoE) procedures which drastically cut back PACE's capabilities for sanctioning violating delegations. Now, these changes need to be voted for in the Assembly session on 24 June.
France and Germany are leading the efforts to "forgive" the Russians, who have turned to blackmail, threatening to leave the CoE altogether if sanctions on their delegation are not lifted. Although the main push to restore the Russian delegation is most certainly materialistic and originates from the desire of western Europe to get back to "business to usual" with the aggressor, the campaign also has a human rights component. If Russia were to leave the CoE, it would also withdraw from the European Convention of Human Rights, and its citizens would be prevented from lodging appeals to the European Court of Human Rights (ECtHR).
In 2018, Russian human rights activists issued a Memorandum asking the CoE to loosen sanctions against the Russian delegation to prevent such a scenario. According to Euromaidan Press' sources, this Memorandum has been influential in convincing PACE Assembly Members in the need to lift sanctions on Russia.
However, it was not signed by one of Russia's most reputable and authoritative human rights organizations – the Memorial Human Rights Center, which among other activities, helps political prisoners in Russia, including the Ukrainian political prisoners of the Kremlin. In 2018, Memorial issued a statement explaining why it did not support the mentioned Memorandum. There, they explain that Russia is unlikely to actually leave the CoE and that the loud statements in this regard are directed at the domestic audience. As well, they warn the CoE that
"By appeasing a serious breach of international law and ignoring Russia's human rights obligations, the CoE will trigger devastating consequences for international protection mechanisms. In the long run, such actions are bound to harm our country."
Euromaidan Press talked to Svetlana Gannushkina, a prominent Russian human rights defender and Board member at Memorial to understand Memorial's position. Although Ms. Gannushkina could not speak on behalf of Memorial, she explained her perspective on Russia's international actions and the situation in PACE.
EP: How likely is Russia's exit from the Council of Europe?
Having taught probability theory for 30 years, I can say that it is impossible to evaluate the probability here – it's not calculated for one-time events, only an a priori estimate is possible. But apart from this, most importantly, it's impossible to understand what goes on in the heads of our authorities, and, namely, the first person.
Could we have foreseen that someone will utter the phrase: "Let everything collapse, but we will go to heaven, and all the rest will just croak" [Vladimir Putin stated this in October 2018 while talking about Russia's possible nuclear strike – Ed].
Does this comfort him? I can't predict what a person who says this having nuclear weapons in his hands can do. I can only say that Russia's exit is possible, I do not exclude it. And it will mean an exit from civilized society.
EP: Last year, Memorial did not join the memorandum of Russian human rights activists, who asked PACE to relax sanctions against the Russian delegation in order to prevent such a scenario. Why?
I can speak on my own behalf, not on behalf of Memorial. Let's look at the arguments of that memorandum. "Relax the sanctions, otherwise it will be bad for ordinary people. You're hurting not the authorities, but ordinary people." I categorically reject this argument.
First, I am absolutely confident that there are no "ordinary people." Who are they – legally incompetent, children, or the mentally impaired? These ordinary people are citizens of their country, and they should be responsible for what happens in their country and for the actions of their authorities.
Therefore, the argument that the citizens of the country will be worse off does not convince me. Perhaps it is worth reminding these very citizens that they are losing their last protection?
.
So, first of all, there are no ordinary people. Every citizen of the Russian Federation is responsible for what is done on his behalf.
Second. How can I say "Leave us alone, please: we will continue annexing the Crimea, keep stirring up the conflict and fighting in the Donbas, we will do all this, and at the same time, please, do not kick us out, because it will be worse for everyone."
But the Council of Europe will turn into a children's educational institution if the states that are part of it will not bear any responsibility for what they do. There are documents that were signed at the time of accession, the states committed themselves to certain obligations, to comply with the European Convention for the Protection of Human Rights and Fundamental Freedoms.

The Council of Europe is a gathering of equals who are equally responsible. It is strange to ask to make an exception for us because we are such special offenders. We will mess around with you, but please, don't kick us out from the team, just re-educate us…
In short, the Council of Europe is not a pioneer's brigade to rehabilitate those falling behind.
That's why I cannot join the memorandum.
EP: How would Russia's withdrawal from the Council of Europe impact Russian citizens?
The consequences will be bad, and not only for Russian citizens. As a person working mainly with foreign citizens, I understand this very well. For us, the European Court is salvation. Thanks to it, we manage to achieve bans on extradition to countries such as North Korea, Uzbekistan, Tajikistan, and other countries. Our wards are not responsible for what is being done in Russia, and they will indeed remain unprotected. It's true.
We will lose the opportunity to urgently stop extraditions. According to Rule 39 of the ECtHR Rules of Procedure, the decision to ban an extradition is made within a few hours. The loss of such a possibility will affect these people adversely, it's true. Well, it means that we will have nothing else left but to advise them to avoid coming to Russia under any circumstances, instead going to other countries.
EP: Does Russia generally implement ECtHR decisions?
Russia implements 100% of the ECtHR decisions in their material part. And, as a rule, implements the ban on extraditions. Although it often tries to pretend that it didn't receive the ban in time, and the person was sent out before the information from the ECtHR was received. Therefore, we always, having received a response from the Court, send it ourselves to the Prosecutor General's Office and the Ministry of Justice so that they could no longer talk about not having information from the ECtHR.
In all other cases, when it comes to changing the overall situation and the general requirements, the decisions are practically not implemented.
EP: A law was passed in Russia allowing non-compliance with the decisions of the ECtHR if they contradict the Constitution. Did this somehow affect the overall situation?
Representatives of our government are funny people. They do not know their Constitution. I had many chances to ascertain this. They are simply not interested in what is written in the Constitution. Otherwise, they would be aware that international treaties, and, consequently, decisions of international bodies, cannot contradict the Constitution; therefore, they take precedence over national legislation.
It is the Constitution that states in part 4 of article 15:
"The generally accepted principles and norms of international law and international treaties of the Russian Federation are an integral part of its legal system. If an international treaty of the Russian Federation establishes other rules than those provided by law, then the rules of the international treaty shall apply."
EP: How can PACE provide more help to Russian civil society, which has become hostage to the political games of its leadership?
We are not hostages, we ourselves participate in the existence of this system in one way or another, and we carry responsibility for it. Moreover, I believe that a very interesting process is happening in our time – a single civil society with no boundaries is being created.
I have no less like-minded people in Ukraine, Poland, the Czech Republic, Germany, France, the USA, in the whole world – than in Russia. We constitute a single civil society, and it would be good for us to be aware of this.
We are responsible for what is happening all over the world, and not only in our small space which is called the nation-state. The imperial system, which arose when the state was most important in the structure of the world, is collapsing. I very much hope that the victories of the ultra-right in Europe and Trump's policies in the USA won't stop this general process of development in the world community.
As for international institutions, we really need their help. In particular, their role as mediators between our civil society and our authorities is extremely important.
This role was once played by the UN Refugee Agency (UNHCR). When preparing the UN Conference on Migration in the CIS, it was the UNHCR and International Organization for Migration who showed our authorities that there are people working in the field of migration besides them. They included us in the preparatory process of the Conference, gave drafts of the Program of Action, the final document of the conference, to NGOs, and took our comments and suggestions into account. They made us participants in the creation of this document and showed our government that we are equal partners in the dialogue on migration policy and practice.
Unfortunately, UNHCR's Representation in Russia now seems to take a slightly different position. We have not met with our authorities under their auspices for a long time – the UNHCR does not insist on this as it did in 1995-96. It seems that they want to convince our authorities that a well-organized institution of asylum will benefit Russia's image in the world. I believe that this hope is naive, given that our national leader leads us not to a better life on earth, but directly to Paradise.
As well, I must note that Europe contributed to creating the current situation in Russia when it fell into euphoria at the appearance of Putin. He got on his pedestal almost by accident. While he still felt shaky on it, he needed international support. He was ready to listen to the leaders of other countries, first of all, Germany. They did not take full advantage of this opportunity.
And now he is free from the need for all this support. And Europe preferred its own interests to values. And now it continues: again, the so-called national interests come to the fore as the historically proven danger of such an approach becomes forgotten.
So, all the more reason to unite civil society. This conclusion begs itself.
EP: Please give some advice to Russia's European partners: how can they help you, Russian civil society, in this situation?
Well, first, we must understand that it's not only the Russians that need help, as we share a common danger of the escalation of the situation in the world – if we don't want the outcome about which Putin jokes so easily.
It is necessary to hold meetings where civil society, the global united civil society, and the Russian authorities of Russia with the participation of European countries. To have as many such meetings as possible so that we can tell what we think about politics and practice in important areas of people's lives, not only in Russia but in the world as a whole in the presence of Europeans.
EU-Russia consultations once existed. And what did they lead to? We were simply expelled from general meetings. Then there were preliminary meetings of all participants of the process with NGOs.
Then Russian representatives refused to participate in them but banned the Europeans from inviting European and international NGOs to these meetings. How could they agree to this if Russian officials did not take part in the meetings? But the Europeans agreed. They started having preliminary meetings with us, and a stupid situation arose when we were complaining to the Europeans about our authorities.
And, in the end, we left the process altogether because when the Europeans said something to the Russian officials after meeting us, the latter answered that we're lying. But there was nobody to answer them and say that in fact, they were the ones who are lying.
I would like the Europeans to be firm, to take an interest in our life, because it is common with theirs, and for them to demand that representatives of civil society, the united civil society, which represents Memorial, Amnesty International, Human Rights Watch and other international organizations, be present at the meetings.
EP: What would you tell the PACE Assembly Members who want to vote in favor of lifting sanctions against Russia because they're worried about the fate of human rights in Russia?
I would say that you can't do this. You cannot bow down to the offender. Our common task is not to lift the sanctions, but to stop the violations.
Read also: