I address these words to all the people who still believe that Ukraine is engaged in a "civil war".
Today, Russians are not even hiding Russia's participation in the war in Eastern Ukraine.  In a recent interview, battalion commander of the Prizrak Brigade ("LNR"), Aleksei Markov (a Russian citizen from Moscow) admits that he's been leading the battalion  for two and a half years, and that it's extremely difficult to obtain spare parts and weapons in the Donbas steppes.
He also expresses his gratitude to all the "comrades from Moscow" who provide weapons and military supplies to armed "LNR" and "DNR"  units.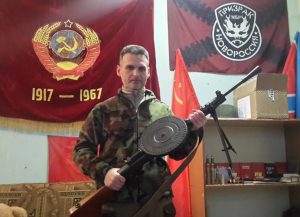 I remember two years ago, when the Russian delegation appeared in a UN court and claimed that "local militants had discovered and dug up weapons and military equipment" in the Donbas mines. And now, one of the main "LNR" field commanders openly says that this is just bullshit and that it's impossible to find anything in the Donbas steppes, so the so-called "LNR" and "DNR" depend on and hope for supplies coming directly from the Russian Federation.
This is indeed a most interesting "civil war"! On the one hand, local "authorities in occupied Donetsk recently erected a monument to commander Oleg Mamiev, who arrived in occupied Donbas from North Ossetia in May 2014. At first, he fought with the Vostok Battalion in Donetsk, and then led the international brigade Piatnashka. He was killed near Yasynovate in May, 2018. And today, another commander from Moscow openly says that militants receive spare parts and "other supplies" from Russia.
The interview with Markov has already been deleted. Those idiots suddenly realized that they had again given themselves away. But, nothing really disappears on the Internet, so thanks to commander Aleksei Markov, Ukraine now has another piece of evidence of direct Russian aggression in Donbas and another argument for the international courts.
Video report by Danys Kazansky. Aleksei Markov gives the game away at 2:55 min. (in Russian)