There are many men from the Donbas on the front lines. Most of them speak Russian, some speak "surzhyk" (colourful mixture of Ukrainian and Russian), and some Ukrainian. But, they all have a common dream – to return all the occupied territories to Ukraine… Not one will stop lay down his arms and stop fighting until their dream has been fulfilled.
We take a look at three men serving in the 46th Separate Special-Purpose Battalion "Donbas-Ukraine" and fighting to free their Donbas.
The ground is still covered with snow, but the morning showers, which were replaced by a heavy fog after lunch, have turned the snow into a skating rink. It's hard to walk on ice; our legs slide to and fro and sideways. We barely manage to keep with a middle-aged soldier called Serhiy.
We're walking through the empty streets of his mother's native birthplace – the village Travneve, Donetsk Oblast, which the Ukrainian army recaptured from the Russian mercenaries end of 2017.
… It seems that nobody lives here. There are no elderly ladies sitting in groups at the gates, no children playing in the streets. We meet a young woman on the street. She looks at Serhiy and shouts in a strong Russian accent:
"Hey there, when are you gonna let us through to Horlivka…?"
When they hear such comments from the locals, the soldiers usually shrug their shoulders and say that no one will be allowed into neighbouring Horlivka until it's been liberated by Ukrainian forces.
The fog falls like a dense veil unobtrusively over the village. We head towards the Ukrainian positions near the contact line. Serhiy tells us that his mother used to go to school here, in Travneve, and he himself is from the district centre, Bakhmut. But, he always spent his holidays here as a child – in Travneve and Hladosovo, on the outskirts of Horlivka.
Today, Serhiy takes up his position and observes the industrial zone in the suburbs of occupied Horlivka. He moves quickly and carefully because the enemy machine gunners follow the movements of Ukrainian soldiers closely.
"The fog is our ally. They can't see us now…" remarks Serhiy.
We stand on the trench and peer into the fog.
"There it is — the industrial zone. It's covered in fog. The enemy uses SPGs and AGSs; large-caliber sniper rifles – 12.7, even 14.5 – have reached the village. And, take a look over there… you can see the grenade launchers covered in snow. I gotta admit they really know how to shoot!"
Serhiy enlisted end of 2016, and in March 2017, he joined the Donbas-Ukraine Battalion, which is part of the 54th Bakhmut Brigade.
Serhiy takes a hammer from a nearby porch and shows it to us with proudly:
"I made this myself. After all, I'm a blacksmith. I didn't even ask for leave at my workplace when I left for the front… I thought I'd just go, do some fighting, then we'd finish off this war quickly and cleanly, and I'd return home."
Serhiy is fighting to return his childhood home to his country.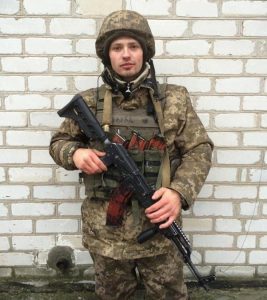 25-year-old Bohdan from Volnovakha works alongside Serhiy. This is his fifth spring on the front lines.
"It's calmer now, but before it was much more fun. Well, we try to stick to the truce, but they just keep up the firing and shelling. They know very well they're breaking the truce."
He tells us how the other day the militants hung the so-called "DNR" flag near their checkpoint in order to annoy the Ukrainian soldiers.
"They're just trying to show off." Bohdan smiles disdainfully.
He's one of the best-known fighters stationed at this position. At the end of 2016, Bohdan was selected for the French Legion – one of the most elite military formations in the world. The Legion participates in peacekeeping operations and special operations under the auspices of the UN and NATO in such hot spots as Afghanistan, Somalia, etc. He spent five months in intensive training, but in the end, changed his mind about becoming one of the eight thousand legionnaires. He knew that the war was here, at home.
Bohdan first fought in the Artemivsk Battalion and subsequently joined Donbas-Ukraine.
"I can't imagine life without war. I will defend my Homeland to the end, and I know that we're all ready to fight to the bitter end!"
It starts raining again… Bohdan's cheeks are red from the cold. He tells us how war began in the Donetsk region in the spring of 2014, how the local vermin and common riff-raff were armed by Russian ringleaders through the Kremlin. He says he and his brothers are ready to defend their positions and to start an offensive.
"We won't let the enemy sit back and relax. Everything will be fine. Ukraine will live forever!"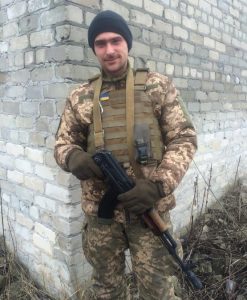 Oleksandr is deployed somewhere else. He's got black hair and dark eyes. He turned 25 in February.
"They tell us there's a "spring truce", but the enemy fires at us in the evening and in the morning, sometimes all day… But, as long as everyone's alive…they use DShKs (heavy machine guns), 12.7 and 14.5 caliber."
He says that the terrorists have started firing randomly, but just making sure the bullets are flying towards the "Ukrops" (Ukies).
"They pick up all the drunks they can find, put a weapon in their hands and tell them to shoot. They're just trying to provoke us."
Oleksandr is from Luhansk Oblast; he lived near Shchastia. He tells us about the so-called "Russian spring" in 2014:
"There were a lot of attacks and provocations; they wanted all the young men to join the so-called "Luhansk republic". I was lucky… I got out and travelled as fast as I could to Mykolayiv, where I have relatives. There, I went to the recruiting station and in 2015, I was serving my country on the front lines."
Oleksandr is literally fighting for his home.
"This is Ukraine… Donetsk, Luhansk – it's all Ukraine. I really don't know what they, those guys in the "DNR/LNR", are fighting for. They're complete fools."
Has Oleksandr ever imagined that he might come face to face with a childhood friend fighting for the enemy?
"That's quite possible. But, it's too late now; we've parted ways. I just don't understand how they let themselves be brainwashed to such an extent. This is our Ukrainian land."
Oleksandr's wife and one-month old daughter live in the Ukrainian-controlled part of Luhansk Oblast.
We ask him what he dreams of most…
"I want Luhansk to be returned to Ukraine. It's a pleasant city with good educational institutions and hospitals."
Later, Oleksandr tells us about his older brother who was killed during the Battle for Donetsk Airport in 2014. He refuses to go into detail because it's still too painful. His brother was seven years older.
Now, Oleksandr has become the older brother. He has a younger sister who dreams of becoming a cook on a military ship.