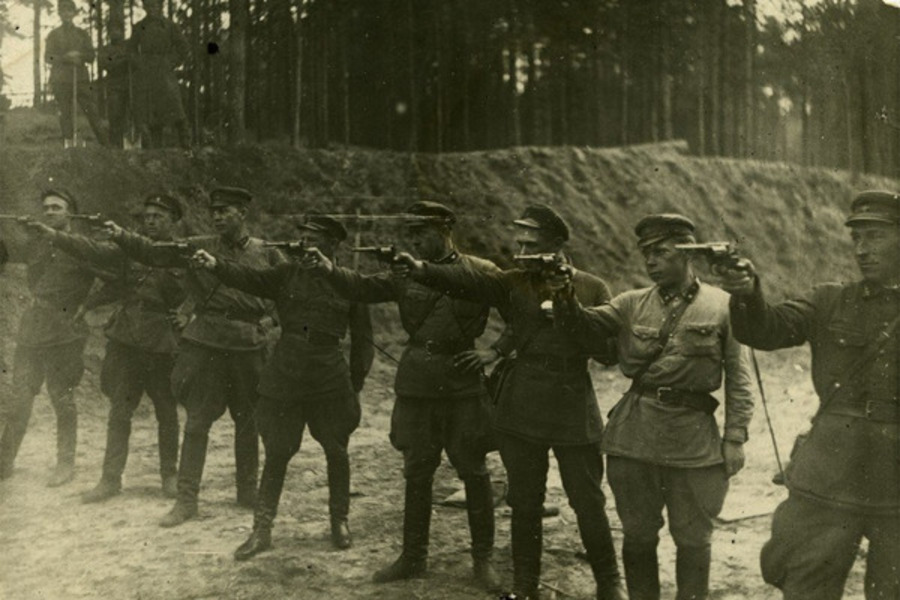 Hundreds of thousands of Soviet soldiers did not take Berlin because they died in battle against the Germans, but a large if yet unknown number failed to do so because they were shot by Soviet security agencies before they could make a contribution to that victory, Pavel Gutyuntov points out.
The Moscow commentator says that the number of Soviet officers and men who were shot during World War II is unknown but that the figure must be staggeringly high given the very partial data that do exist and have been released over the last decades.
An effort by the General Staff in 1949 to get officers to recall events in the war for which documents had been lost or never prepared and partially published beginning in the late 1950s provides frightening pictures of what went on when senior Soviet officials descended on military units and ordered the execution of officers who had failed to hold the line against the Germans.
Recent studies of this source say that they can come up with no figures about executions ordered against junior officers or draftees during the first year of the war, but admittedly incomplete data about the execution of senior officers during that time of retreat are staggering enough, Gutyuntov says.
According to the studies, 107 senior officers, including a marshal, 72 generals, six admirals and commanders of divisions and head of political staffs were arrested during those 12 months. Forty-five of these were sentenced to be shot, including 34 generals. Ten more died while under arrest.
Another study found that during the course of the war, 458 Soviet generals and admirals were killed. More than 90 of these were the result of political repressions, 48 were shot and six died under torture. These losses represented 12 percent of the total loss and cost the Red Army a large number of experienced commanders.
In many ways, the fullest and most damning report on these self-inflicted losses at the top of the Soviet military was provided by Col.Gen. A. Muradov in the August 1995 issue of Gosudarstvo i pravo. He reported that at least 157,593 Soviet military personnel were shot by Soviet organs during the war. This figure too is incomplete.
To put it in context, Muradov notes that during World War II, Britain executed only 40 of its soldiers, France 102, the US 146, and even Germany 7810. And the Soviet figure was dramatically higher as well than the one for tsarist military executions between 1906 and 1917. During those 11 years, the imperial authorities executed only 3087.
Another way to think about the Soviet executions, Gutyuntov says, is to realize that their total amounted to the strength of approximately 15 divisions.
Overall Soviet losses, of course, are several orders of magnitude greater. Stalin said seven million Soviets had lost their lives. Khrushchev raised the figure to 20 million; and under Gorbachev, some boosted it to 27 million. And two years ago, at a Duma hearing, one official testified that 42 million had been killed.
These figures aren't complete either, the Moscow commentator says. But they must lead people to ask "'can we repeat this?'"
Read More:
Tags: Crimes of the Soviet communist regime, Soviet Armed Forces, Soviet Great Patriotic War (1941-1945), Soviet history, World War II / WW2 / Second World War (1939-1945)