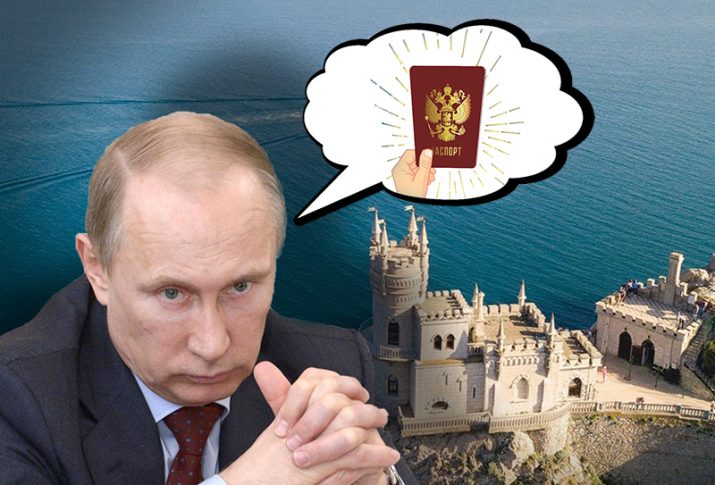 Russia's new "passport policy" will be applied to all citizens that were born and had permanent residence in Crimea.
In late April, Russian President Vladimir Putin signed a decree on a simplified procedure allowing residents of the so-called "DNR/LNR republics" to obtain Russian passports. Ukrainian President Petro Poroshenko called this step Russia's preparation for the "annexation of Ukraine's Donbas and the creation of a Russian enclave in Ukraine". However, Moscow's imperial plans did not end with this decree.
On May 1, Putin signed a new decree – "On defining categories of persons entitled to apply for citizenship of the Russian Federation for humanitarian purposes". One of these categories included Ukrainian citizens who were born and had permanent residence in Crimea and Sevastopol, but had left after the invasion and occupation of the Crimean peninsula; the decree includes their children, spouses and parents.
Kseniya Kirillova
(opinion)
It can be assumed that Putin views native Crimeans as potentially loyal people who may become "agents of influence" on mainland Ukraine. He believes that many Crimeans who, due to different circumstances, no longer resided in Crimea as of March 2014, would not have refused a Russian passport. Having acquired the coveted document, these newly minted "Russian citizens" and their families can return to their places of permanent residence, where they will act as yet another "fifth column".
Following Zatulin's* precepts
*(Konstantin Fyodorovich Zatulin is a Russian politician, first deputy chairman of the committee of the State Duma on CIS Affairs and relations with Russian nationals abroad. On June 6, 2006, Konstantin Zatulin was banned from entering Ukraine. The Ukrainian government accused Zatulin of invoking ethnic violence and working against the territorial integrity of Ukraine. In July–August 2008, he was again declared persona non grata in Ukraine-Ed.)
In fact, Russia's new passport policy did not come as a complete surprise. On April 22, as soon as the preliminary results of the second round of the presidential elections in Ukraine were announced, the first deputy chairman of the Russian State Duma Committee on CIS Affairs Konstantin Zatulin appeared on "60 minutes" – a talk show on Russia 1 channel – where he stated firmly that, regardless of Zelensky's policy, Russia must "fulfill its promise to the Donbas people" and grant Russian citizenship not only to residents of the occupied territories, but also to all Ukrainian citizens, without them having to renounce Ukrainian citizenship. Two days after that announcement, Putin signed the decree concerning Donbas residents, and on April 27 he declared that he was thinking about issuing Russian citizenship through a simplified procedure.
Experts at the Russian Institute for Strategic Studies (RISS), previously a division of the Foreign Intelligence Service, and now formally subordinate to the Presidential Administration, went even further:
"Moscow can even apply this simplified procedure on the territory of other states. After all, the Russian-speaking foreign diaspora is large and numbers about 40 million people. Such a decision will be carried out within the framework of a generally accepted practice. " suggested Sergei Galiev, an analyst at RISS.
In turn, president-elect of Ukraine, Volodymyr Zelensky advised the Russian authorities not to waste time trying to tempt citizens of Ukraine with Russian passports.
"Perhaps some people may do it in order to earn more money or escape from criminal investigations… We know perfectly well what a Russian passport actually means – the right to be arrested for taking part in peaceful protests, and the right not to have free and competitive elections…" said Zelensky in his statement.
Zelensky added that, as an example of democracy for post-Soviet countries, Ukraine was ready to extend protection and Ukrainian citizenship "to anyone ready to fight for freedom".
Russia's "passport aggression" and its consequences
Paul Goble, well-known American expert on Eurasia and former analyst for the CIA and the US State Department says that Putin's decision will create problems primarily for Moscow.
"I think this decision will cost Putin dearly. In order to obtain Russian citizenship, a person must reside on the territory of the Russian Federation, and very few people will decide to actually move there. The people who go for this, will move to other parts of Russia and create bigger problems there."
However, Goble believes that Putin is using this decree to test the ground for more serious measures, such as granting Russian citizenship to all citizens of former Soviet countries, which might create many more problems. He also thinks that the United States and Germany might be included in the "other states" that RISS expert Sergei Galiev mentioned.
"I think Putin may go for it, because he clearly does not like the fact that so many ethnic Russians have obtained citizenship in these countries, that most of them will never come back and will be lost forever for Russia. Furthermore, their children often don't even try to obtain Russian citizenship."
Evgeniy Gontmakher, professor at the Faculty of Social Sciences at the Higher School of Economics in Moscow, believes that finding thousands of "new citizens" will not create significant problems for the Russian budget.
"This next year and in the following years, it might actually reach about 100 billion… not in one year, of course, but in a few years. This won't be at all critical for us, and will not put into question the fulfillment of our obligations to Russian pensioners."
Russian propagandists from the News Front information agency even stated that for Russia the anticipated influx of about 4.5 million new citizens will be a "mere drop in the ocean", while for Ukraine it will lead to a "national catastrophe", and the country will simply "cease to exist".
However, let's look at more realistic prospects and not dwell on the Kremlin's long-term dreams about the collapse of Ukraine. At a meeting with representatives of the Russian diaspora in California, the famous Russian satirist, journalist and playwright Viktor Shenderovich suggested that if Putin cannot implement the scenario of Belarus' accession to Russia, the only way for him to remain in power after 2024 will be through imposition of martial law. Shenderovich also warned of the following:
"Now that he's actively distributing Russian passports abroad, he'll have a new excuse for war under the guise of "protecting Russian citizens.".
Tags: Crimea, Donbas war (2014-present), Russian passports, Vladimir Putin