Today, on 21 April, Ukrainians will take part in the second round of presidential elections. After the first round on 31 March, two finalists were chosen from record-long list of 39 candidates: Volodymyr Zelenskyy, supported by 30.2% of voters, and incumbent President Petro Poroshenko, trailing behind with 15.9%. The voting in the first round was
overall fair
, but with some violations in Donetsk Oblast.34,544,993 people are eligible to vote in the elections, however, about 12% – most of the voters who reside in the Russia-occupied territories of Crimea and parts of the East-Ukrainian Luhansk and Donetsk oblasts – won't be able to participate in the elections. There will be 29,982 polling stations.436,528 ballots have been given to 101 polling stations outside Ukraine.The Central Election Commission has registered 2,700 official observers from 20 international organizations and 21 foreign countries.325,604 citizens changed their place of voting before the second round of presidential elections – 9,879 more than before the first round.The voting started at 08:00 and will last until 20:00. However, voters that show up at exactly 20.00 will still be allowed to vote – this concession was made because 21 April is also the day of Gregorian-calendar Christian Easter and Jewish Pesach.
23 April, 23:03
The final results of Ukraine's presidential election are in.
Poroshenko: 24.45%
Zelenskyy: 73.22%
Poroshenko got a slight majority of votes in the foreign constituency, and the army at the frontline. Aftee 98% of ballots were counted at the 79 special military polling stations in the Donetsk and Luhansk oblasts in eastern Ukraine, where a conflict is dragging on between the Ukrainian army and Russian-separatist forces, Poroshenko narrowly won at 46 of them, receiving at least 17,379 votes, or 48.7%. Zelenskyy received no less than 16,489 votes, or 46.2%, Kyiv Post reported.
22:30 Key points of Zelenskyy's short speech and press conference:
"We made it together. I would like to thank my parents, my wife, my family, our team, Kvartal 95 (which can now be called Kvartal 73), the army, all Ukrainians no matter who you voted for. I will never betray you all."
"To all post-Soviet countries: look at us, everything is possible."
"We don't want to be in presidential administration building; we want to find a new place, where there will be no traffic or corteges. We don't want corteges at all."
"We'll appoint new people – this concerns not only Lutsenko. We will continue the Minsk process, will reload it & appoint new figures, to stop the shooting, and return prisoners. I will do everything to return our guys home."
"We will create a potent information war to end the war in Donbas. We have a plan, and invite all Ukrainian journalists to join."
"All Ukrainians are a single people for me. I support the law on Ukrainian language, I have to protect it. I never violated the law. Today I got a fine [for displaying his ballot to journalists] and I paid it."
"Poroshenko offered his help up me, if I need it, I will accept it. I will ask society, if it wants to see Petro Poroshenko on some state position, I will appoint him."
Zelenskyy, answering why ppl w/him at debates different from team presented earlier: "We presented all the experts of our team at 1+1. And in the nearest time we will present our team. Re: General Staff,we have very serious guys, generals. You'll find out about them in some time".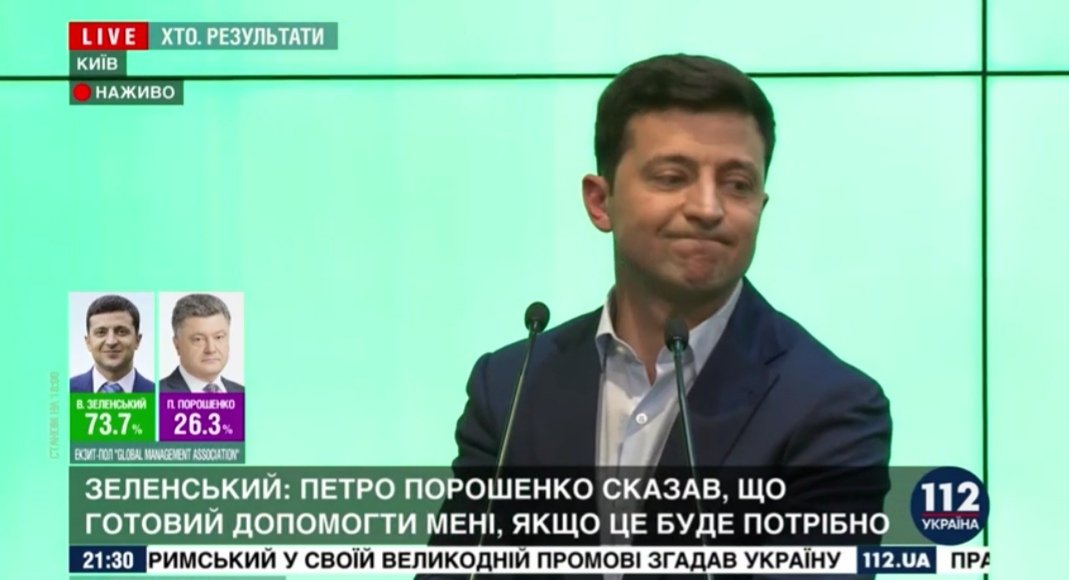 21:30 Key points of Poroshenko's press conference:
Poroshenko accepts defeat. "The results of exit polls give me reason to call my opponent and congratulate him with victory. This is a usual practice in normal democratic countries, let it happen for 1st time in Ukraine." But he is not leaving politics.
"Our team will protect the achievements of these 5 years: our army, the visa-free regime, the Ukrainian language, we will protect the Ukrainian Orthodox Church against a revanche."
"We will defend the stability of the banking system, because it's obvious that Kolomoyskyi's fee for the elections is the reversal of Privatbank. We will defend the int'l coalition we built over these years, sanctions agst Russia."
"Our team will oppose the Kremlin's plan to create a loyal majority in Parliament, will defend the new Ukrainian school, inclusive education, energy independence."
"New president will have a very strong opposition, but Ukraine will only win from this. B/c Ukraine will only win when we have a strong democracy. I am ready to spend any time to introduce the new prez to all state matters, to the int'l support network for Ukraine"
"The elections were fair and transparent, in accordance to all European standards. We are the only post-Soviet country where leader can be democratically changed, and I am proud of that. "
"During Poroshenko's presidency, more was done than in 1/4 century before. And that's a victory of you all. It's obvious that ppl expected more. I'm grateful 2every Ukrainian, no matter who you voted for, especially those who forgave me my mistakes&joined my team on 2nd round."
"We may have lost the battle, but we did not lose the war. There are many battles ahead. We have to defend Ukraine and lead it forward. And Ukraine will surely win."
20:00 Results of the national exit poll are in.
73.2% Zelenskyy
25.3% Poroshenko
1.5 % Spoiled the ballot
The national exit poll was to be held by the Kyiv International Institute of Sociology (KMIS) and the Razumkov Center on 300 polling stations. However, the 750 interviewers who underwent special training were prevented from working at six of them. 13,000 respondents were questioned, with a 2% margin of error.
Meanwhile, two other exit polls offer similar results.
Two other exit polls offer results similar to national exit poll: Zelenskyi clearly wins.
##UkraineElections #Вибориhttps://t.co/3bfIoLyxDF pic.twitter.com/8xSphHeNfs

— Euromaidan Press (@EuromaidanPress) April 21, 2019
17:44 Vadym Halaichuk, lawyer at Zelenskyy's HQ, announced that agitators against the candidate may face criminal responsibility, bykvu reported. The HQ has singled out 9 categories of citizens who agitated against Zelenskyy where they suspect criminal liability.
Previously, police had been detaining Vidsich activists for disseminating fliers against Zelenskyy.
In the run-up to the second round of #UkraineElections, police had been detaining Vidsich activists for disseminating fliers against Zelenskyi.https://t.co/3bfIoLyxDF pic.twitter.com/wBGQ95zGxB

— Euromaidan Press (@EuromaidanPress) April 21, 2019
17:16 Pack of ballots stuffed into voting box by committee member in Luhansk Oblast polling station, OPORA watchdog reports.
16:01 12 participants of the 24th polar expedition to the Akademik Vernadsky station in Antarctica have also voted in #UkraineElections. The turnout is 100%) Photos: mon.gov.ua
15:30 Ukrainian soldiers are driven from their positions at the frontline to military polling stations. Turnout is also high, General Staff reports – RFE/RL photo report.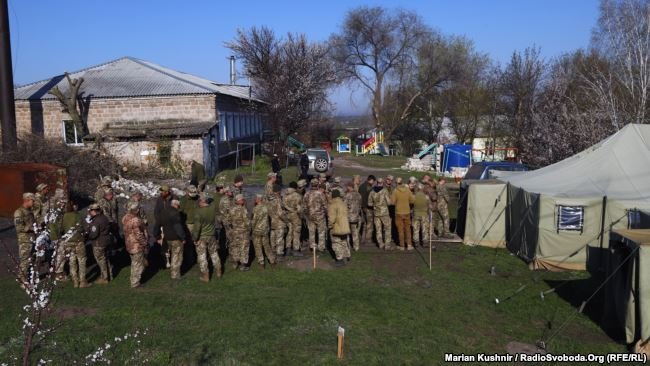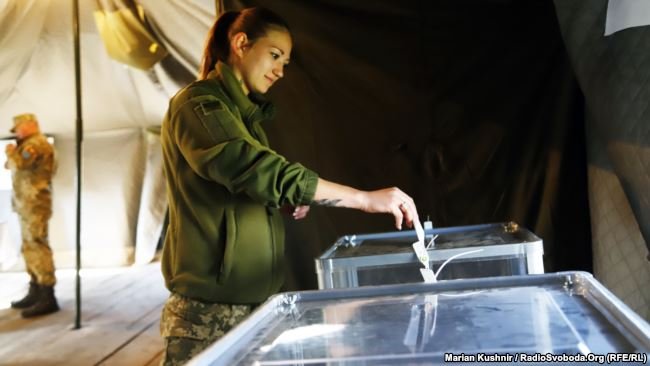 15:20 Long queues also at the Ukrainian embassy in Warsaw: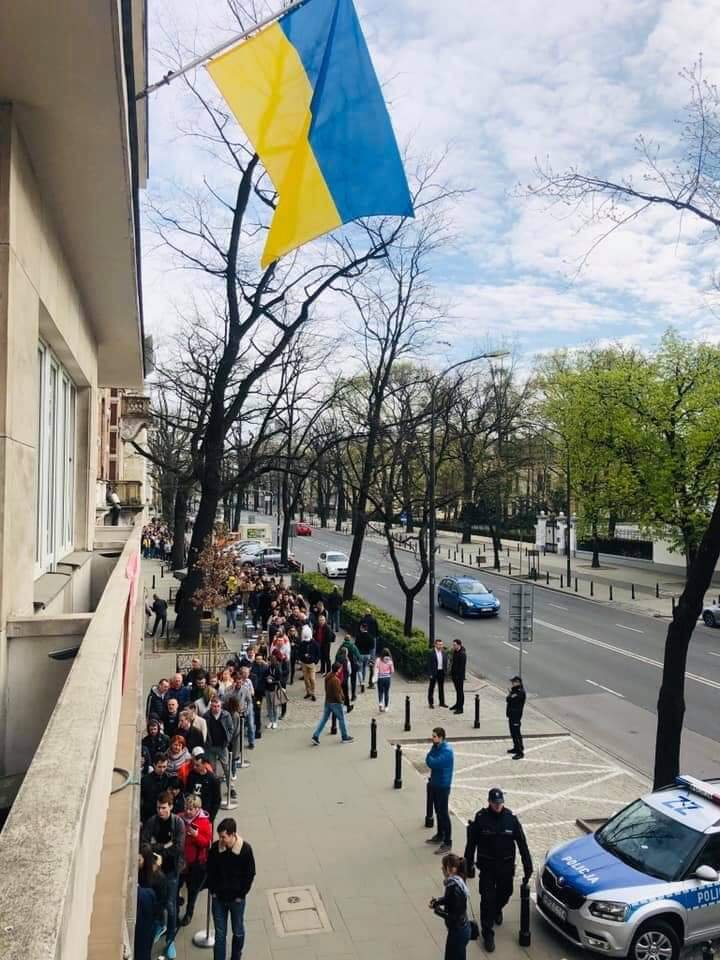 Photo: Ukrainian embassy in Warsaw
15:10 Volodymyr Zelenskyy's HQ explained that the presidential candidate showed his ballot, which is prohibited by law, to journalists because they asked for it, and that the move was not agitation. The police have drawn up a protocol for the violation, Zelenskyy will pay a fine:https://twitter.com/radiosvoboda/status/1119927218145243139
15:00 As of 15:00, 45.37% had voted in the second round of #UkraineElections. Turnout of central and northern Ukraine now approaches that of the south-east, west still lagging behind.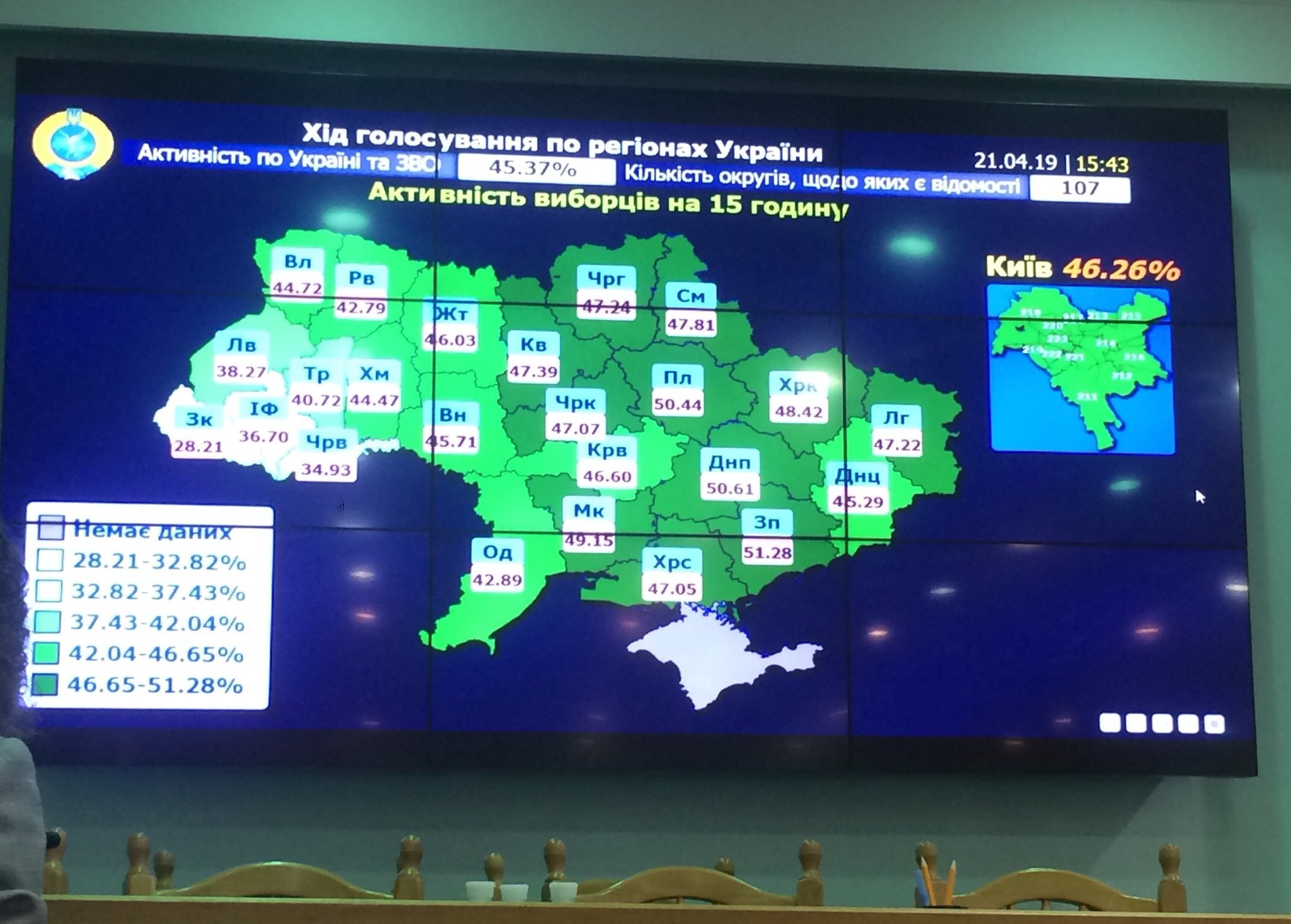 The turnout is larger than in the first round, and the 2014 elections:https://twitter.com/EuropeElects/status/1119960961920708610
14:00 As of 14:00, police have registered 562 complaints about violations during the second round of elections, including a bomb threat at the Kakhovska hydroelectric plant. Criminal proceedings have been launched into four complaints. Most of the complaints concern illegal agitation, photos of ballots, and bribery attempts.
13:15 Queues also in front of the Ukrainian consulate in Krakow as Ukrainians participate in the presidential election. https://twitter.com/TereskaGut/status/1119907624806436864
12:44 RFE/RL reports from Novotroitske, on the frontline between government-controlled and uncontrolled territories in Donbas. Residents there are voting for the first time since 2010, many – at home, in houses damaged from https://euromaidanpress.com/2019/04/21/ukraine-votes-in-second-round-of-presidential-elections-live-blog/
12:34 Compared to the huge queues in Prague, the turnout for #UkraineElections in Paris is smaller. https://twitter.com/EuromaidanPress/status/1119945133754023936
12.20 President Poroshenko has also voted. He came to the polling station with his family and called upon Ukrainians to vote wisely, "to preserve the country and the national strategy."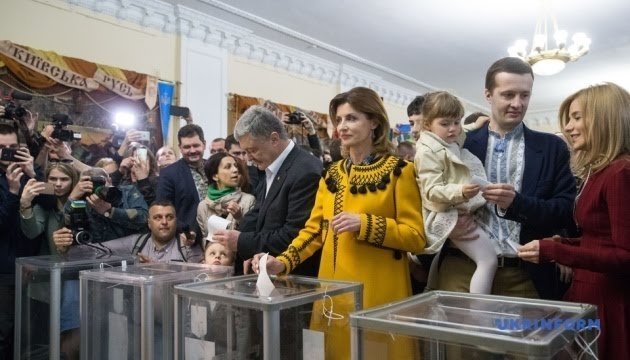 Photo: ukrinform
12.00 Voter turnout at 12:00 is 25.3%, according to election watchdog OPORA. Eastern and southern oblasts are in the lead.
At 12:00, OPORA reported that the frequency of violations at #UkraineElections between 8:00 and 12:00 in the second round is smaller than in the first round. OPORA attributes this to the good organization of elections and effective preventive measures of the police.
11:53 OPORA election monitors registered that psychiatric patients in Oleksandrivka village near Odesa were compelled to vote in favor of Volodymyr Zelenskyy.
11:11 Zelenskyy has already cast his vote in a polling station at Obolon district in Kyiv, RBC.ua reported. "I hope that today the honest choice will win. We have untied Ukraine, have united journalists," he said, inviting them to their press center after the vote. At the station, a topless Femen activist approached him, shouting "Enough of raping the country."
Photo: RBC.ua
Zelenskyy publicly displayed the checkmark next to his name, which is prohibited by law.

Photo: RBC.ua
11:00 As of 11.00, 17.18% of voters had voted – a bit more than in the first round. The western oblasts are more passive like in the first round, while turnout in center and east reaches 20%.
9:41 Uliana Suprun, acting health Minister of Ukraine, has already voted:https://twitter.com/EuromaidanPress/status/1119882355936780288
9:30 Already half an hour before opening time, a huge queue had formed in front of polling station Prague, Czech Republic, according to Ukrainian ambassador Yevhen Perebyinis #UkraineElection #вибори
#Прага. Півгодини до відкриття виборчої дільниці pic.twitter.com/DB89bU2oQb

— Yevhen Perebyinis (@YPerebyinis) April 21, 2019
The CEC should establish the results of elections by 1 May 2019. The newly-elected president should be inaugurated by 3 June.
The first polling station to open at the 2019 presidential elections was the Australian one in Canberra, which started working on April 20 at 23:00 EET (Kyiv time), as o 11:00 EET it has already been closed.According to CEC, Ukrainians will vote in 72 countries, like on the first round. The latest voters will be the Ukrainians in San Francisco, where the voting will last until 06:00 EET of 1 April.