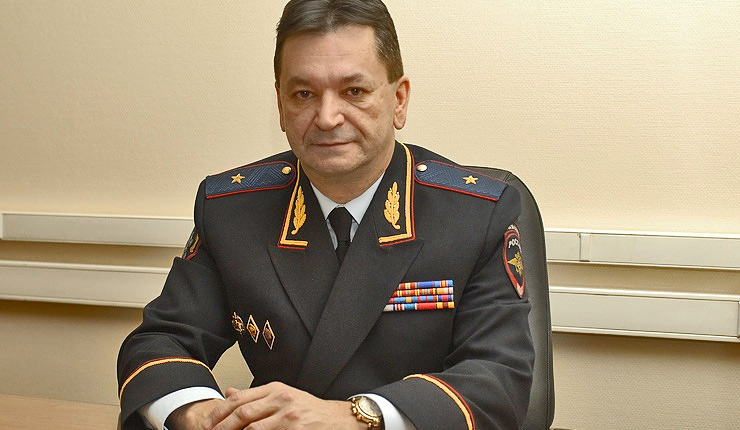 Russian Police Major General Aleksandr Prokopchuk, who was elected the Vice President of Intepol in November 2017, can become the agency's president tomorrow, on 21 November. Photograph: Russian MFA 
At the 87th session of the Interpol General Assembly in Dubai, consultations are underway regarding the candidates for the presidential post of the agency following the arrest of its former leader, Meng Hongwei, on corruption charges in China months ago.
One of the shortlisted two candidates in the upcoming vote is current vice-president of Interpol Aleksandr Prokopchuk, the former Russian deputy interior minister, who will compete with Kim Jong Yang of South Korea, Interpol's acting president.
Prokopchuk became Deputy Head of the Russian Office of Interpol in 2006, then was appointed its Head in 2011, leaving the office only in 2016 to become the Vice-President of Interpol. This means, Forbes says, that every single abusive act that Russia has perpetrated through Interpol since 2011 was sanctioned directly by Prokopchuk.
"Of course, we back the bid of the Russian candidate, and we undoubtedly want him to win the election," Kremlin's spokesperson Dmitry Peskov stressed yesterday, two days before the voting.
NGOs, human rights groups call to prevent "Putinisation" of Interpol
The Ukrainian Helsinki Human Rights Union has published a statement on their website signed by a number of human right groups and NGOs.
The statement warns that "The strategy of the organization's work will be formed and determined by the representative of the aggressor country" and reminds that the Russian authorities violate international law, have occupied the Ukrainian region of Crimea, and conducted open military actions on the territory of other Interpol member countries, Ukraine and Syria.
The document also mentions the Russian meddling in the internal policies of other states using propaganda and intelligence services, crimes against the Chechen and Crimean Tatar peoples; Russian support for dictatorial authoritarian regimes and other violations.
Another reminder in the document is that Russia and its allies – Kazakhstan, Tajikistan, Turkmenistan, Kyrgyzstan, Azerbaijan, as well as Venezuela and Iran – are leaders in misusing Interpol mechanisms for politically motivated, national, religious, social, and gender-related persecution.
The petition also reminds that three SS generals consecutively held the post of the President of Interpol – Reinhard Heydrich in 1940-1942, Arthur Nebe (1942-1943), and Ernst Kaltenbrunner (1943-1945). "We remember very well how the story ended," the comment follows.
Interpol's Red Notice system is being abused, especially, though not exclusively, by Russia and there is a huge number of cases where men persecuted for their religious or political views are on the Interpol wanted list on supposed "terrorism" charges, says Halya Coynash of the Kharkiv Human Rights Protection Group. In many cases, the people are facing the same charges as the Ukrainian political prisoners in Russian-occupied Crimea, Ms. Coynash points out.
The British human rights group Fair Trials wrote to the Interpol Secretariat protesting the nomination, noting that "it would not be appropriate for a country with a record of violations of Interpol's rules… to be given a leadership role in a key oversight institution."
Ukraine considers suspending its membership in Interpol
Ukraine may consider the possibility of suspending membership in Interpol in case Russian representative Prokopchuk will be elected as the President of Interpol.
"Russia's probable presidency in Interpol is absurd and contradicts the spirit and goals of the organization. In case the arguments of Ukraine and a number of other countries fall on deaf ears, Ukraine will consider suspending its membership in ІСРО," Ukrainian Minister of Interior Arsen Avakov wrote on Facebook.
Earlier Avakov stated the Russian control of Interpol will be a "hybrid thread to the entire world."
"If Prokopchuk becomes Interpol president it will allow the Russian regime to further expand the practice of using the 'red notices' to restrict freedom of movement and prosecution of undesirable persons in the interests of the odious regime," Avakov said.
Ukrainian Ambassador to Austria Oleksandr Shcherba compared the Russian leadership in Interpol with Dracula working at a blood transfusion station:
Russia running Interpol… It would be like putting Dracula in charge of a blood transfusion station. What an excellent idea! https://t.co/FioYJrPVMX

— olexander scherba (@olex_scherba) November 19, 2018
Western officials alarmed
The Times cited an unnamed British official who determined that Prokopchuk's victory has "unstoppable momentum."
In their statement, a bipartisan group of US senators, Democrats Jeanne Shaheen and Chris Coons and Republicans Marco Rubio and Roger Wicker, said,
"Interpol electing Major General Alexander Prokopchuk as its new President is akin to putting a fox in charge of a henhouse."

"Russia routinely abuses Interpol for the purpose of settling scores and harassing political opponents, dissidents and journalists. Alexander Prokopchuk has been personally involved in this intimidation strategy which ultimately seeks to weaken democratic institutions and embolden Putin's authoritarian regime."
Former US Ambassador to Russia Michael McFaul urges to prevent Russia from the Interpol presidency:
To honor Magnitsky, dont let a Russian MVD official become head of Interpol. https://t.co/2o5nRzAtRP

— Michael McFaul (@McFaul) November 20, 2018
Six German parliamentarians with foreign policy focus demand Germany to not vote for Russia's candidate Prokopchuk.
The Lithuanian parliament, Seimas, has adopted the resolution calling on the Lithuanian representative in the General Assembly of Interpol to "support the alternative candidate," and stating that "Lithuania, together with other democracies, should immediately consider withdrawing from this organization" if Prokopchuk will be elected the Head of Interpol.
Update 2018/11/21 01:39: Britain also threatens to walk away from Interpol if 'ex‑KGB agent' Prokopchuk elected, reports The Times.
Russia is ready to misuse Interpol against Bill Browder. Again.
Magnitsky was a Russian tax accountant who specialized in anti-corruption activities, he alleged there had been large-scale theft from the Russian state carried out by Russian officials. Mr. Magnitsky died in a Russian prison in 2009 after his 11-month imprisonment.
The Russian officials attributed his death to a heart attack, but the leader of the Moscow Helsinki Group, Ludmila Alekseeva, reported that Magnitsky had died from being beaten and tortured by the Russian Interior Ministry's officers.
Browder had accused Russian officials of being behind the death of Magnitsky and his efforts led to the US government adopting the Magnitsky Act, which punishes Russian human rights violators.
Mr. Browder called the new Russian accusations Kafkaesque on his Twitter:
Tomorrow the Dutch government will be inviting all EU member states to The Hague to propose an EU wide Magnitsky Act. In advance of that, the Russian government today has accused me of murdering Sergei Magnitsky. Kafkaeske to say the least https://t.co/oHjfUJlFTR

— Bill Browder (@Billbrowder) November 19, 2018
Earlier Russian courts have twice sentenced Bill Browder in absentia to nine years in prison for fraud, tax evasion, and deliberate bankruptcy. On his visit to Spain in May 2018, local police arrested Browder on a Russian Interpol warrant, however, he was released two hours later.
One of the Russian talk shows on a Russian state TV channel, generally used to promote pro-Kremlin narratives, gives an example of how Russia can misuse its Interpol presidency:
#Russia's state TV hosts and panelists excitedly discuss the possibility that the Russian candidate, Major General Aleksandr Prokopchuk, may be elected as the head of @INTERPOL_HQ .
TV host Olga Skabeeva says: "We'll put the entire government of #Ukraine in prison."#Interpol ©️ pic.twitter.com/uHIBjkjYFu

— Julia Davis (@JuliaDavisNews) November 20, 2018
---
Read also:
Tags: human rights violations, Interpol