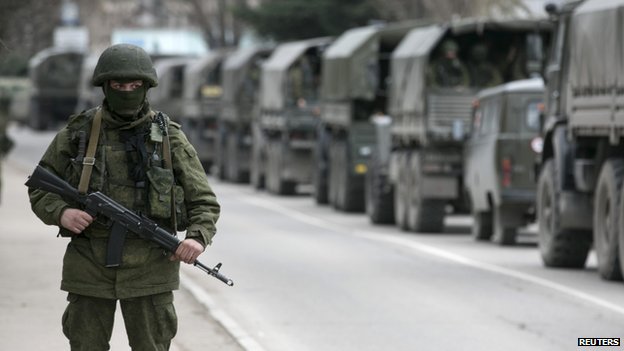 Unmarked trucks with Putin's so-called "little green men" - heavily-armed Russian cadres military troops hiding their identities and without insignia during the invasion into the Ukrainian peninsula of Crimea in February 2014. 
There are many differences between the Russian seizure of Crimea and Russian actions in the Donbas, but perhaps the most important if sometimes ignored one is this, Pavlo Kazarin says. Crimea was carried out by the regular Russian army, while the Donbas has been "a classic example of war by outsourcing."
In an essay for the Krymr.com portal, the Crimean journalist points out that
"Crimea was a special operation of the [Russian] army. Cadres units, military technology, the fleet and aviation. Russia's official military vertical dealt with the annexation of the peninsula."
"Paramilitary units, Cossacks and volunteers, were allocated a support role," Kazarin says; but "if they hadn't been there, nothing would have been any different."
The situation in the Donbas was completely different: it was "a story about war via outsourcing," one in which Moscow made use of a variety of kinds of "contractors," something that allowed it to shift from one to another depending on conditions and success, the Crimea journalist says.
"War via outsourcing," Kazarin says, "is a favorite Hollywood scenario, in the framework of which all the dirty work is done not by cadres officers but by affiliated groups. There are fewer risks and constraints, and it offers a clear opportunity to deny that one is involved."
But such units almost never have the capacity that regular forces do; and these have to be introduced whenever a decisive outcome is desired, as was the case at Ilovaisk and Debaltseve.
"Hybrid war has hybrid tasks," Kazarin continues. While a cadres army fulfills orders, the motives of 'outsourcing players' can be extremely varied. Some with the help of war seek resources; some, closeness to the first person; some, the settling of old scores. Unlike an army, they solve not only a general task but a multitude of other separate ones."
That must be kept in mind "when we speak about Russian special operations in Ukraine," he says. Instead, all too often, Ukrainian and Western analysts try to find a single purpose behind everything that is going on and are disappointed when they cannot find one or when there is no evidence of the kind of planning they expect.
But the Russian invasion of Ukraine is something where there is not a single motive but many motives depending on those involved, their resources, and their competencies. Expecting a single approach is to fall into error. "Leave the James Bond scenarios to Hollywood. Reality isn't required to justify our expectations."
Read More:
Tags: Crimea, Donbas war (2014-present), Hybrid warfare, International, little green men, Russia, Russia's hybrid war, Russian aggression, Russian invasion of Ukraine, Russian mercenaries, Russian private military companies, Russo-Ukrainian War (2014-present)