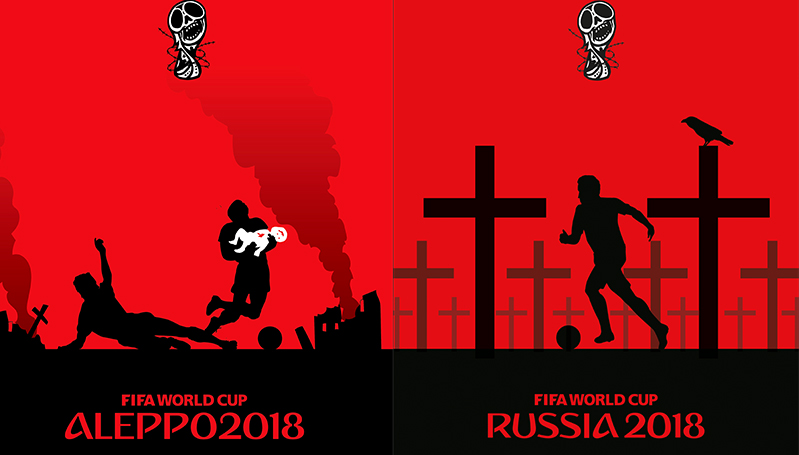 Ukrainian artist Andriy Yermolenko has created an alternative series of posters for the FIFA World Cup in Russia which is set to start on 14 June. The posters showcase the reasons why politicians and cultural figures have been calling to boycott the event in Russia – the country's wars abroad and repressions at home.
Speaking to RFE/RL, Yermolenko said that the catalyst for creating these posters was the hunger strike which Oleg Sentsov announced on 14 May. Sentsov, a Ukrainian filmmaker and political prisoner held by Russia, said that the only condition for stopping it would if Russia releases all Ukrainian political prisoners, of whom there are at least 70. Sentsov timed the strike to coincide with the World Cup, saying that if he died before or during it, this would create a positive resonance in favor of the other political prisoners.
"First I started to draw posters about the case of Oleg Sentsov, and this brought me to the World Cup. You know, when the conscience starts speaking, it's very hard to muzzle it and make it shut up," the artist told, noting that his hopes that the Ukrainian Ministry of Information would conduct some sort of campaign against the World Cup were in vain.
Yermolenko laments the fact that governments around the world are not boycotting the cup.
"Unfortunately, the world is ruled by money, not by conscience. And when you see injustice, there are two options: either to remain silent, or to join in yourself, at least in a solitary picket. This is my 'solitary picket' against those big state forces that do nothing. We all know perfectly well that Russia is such a huge mugger on the world map that allows itself what other states can not afford. What allows a mugger to steal purses? The inaction of the police. We say that the 'world policeman' is the USA.  But in fact Europe, the USA, and all other countries are inactive, nobody has punched Putin in the nose."
"I love football, but I will not watch the World Cup, and I do not advise anyone, to be honest, because you can not calmly watch an event which is smeared with blood, even if it's a very beautiful concert or a very beautiful show. For the last few years, Russia has shown itself as a terrorist who does not adhere to any international doctrines, from chemical weapons to interference in elections in other countries. This is scary! That's what I'm saying about my posters," Yermolenko said.
So far, officials from the United Kingdom, Poland, Iceland, Denmark have announced their intention to hold a "diplomatic boycott" of the event, with no state officials attending the tournaments and ceremonies, while Sweden, Japan, and Australia are reportedly still in doubt. The US soccer team is so far the only sports team which is boycotting FIFA-2018.
See Andriy Yermolenko's makeovers of the 19-ct Ukrainian poet Taras Shevchenko: A XIX-century poet is now Ukraine's driving force of change
Yermolenko's posters were used to create a video calling to boycott the World Cup which is gaining popularity on YouTube.
Related:
Tags: 2018 FIFA World Cup, News, Oleh Sentsov