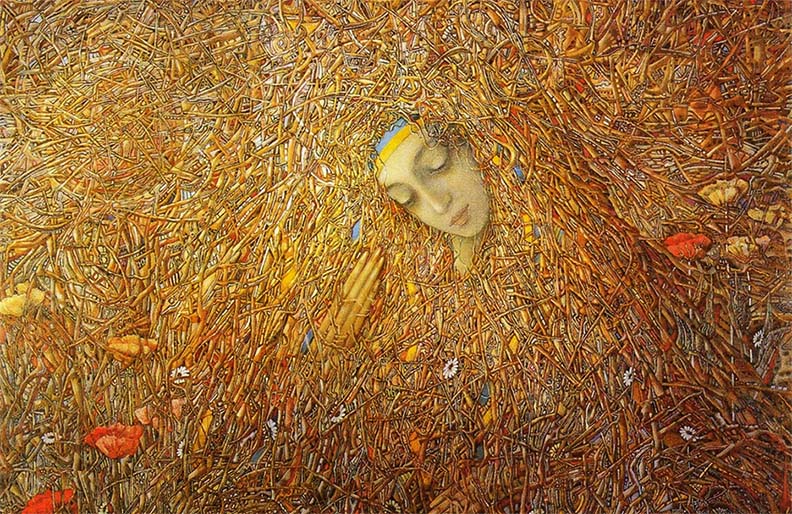 From the painting of Ukrainian artist Ivan Marchuk, "The Awakening" 
Kalyna Language Press has been publishing Ukrainian literature in translation since 2013 and its translator Steve Komarnyckyj published his first book of translations in 2011. Our work has been highly praised. The Guardian's poetry reviewer described Steve's renditions of Tychyna as the "stand out" work in an issue of Modern Poetry in Translation (MPT) which contained work by Seamus Heaney. They were, he said, "extraordinarily delicate and hopeful" a comment which shows how effectively the versions captured the spirit of the Ukrainian poet's early work. David and Helen Constantine, the editors of MPT noted that Steve had "liberated an important poetry." We subsequently won a PEN award and a place on the World Bookshelf site.
We have built on our early success in translating poetry by rendering Ukrainian novels into English and our work has featured in Index on Censorship, the Economist, and The Guardian.
We have a number of significant projects planned which will help raise the profile of Ukrainian literature in 2019-2020.
In 2017, we obtained permission to translate an anthology of work by Ukrainian authors who were repressed and murdered by the Stalinist regime. The anthology, which was originally published in Paris in 1959, was painstakingly compiled by Yurii Lavrinenko. Lavrinenko, a literary critic, had met many of the authors, and indeed shared a cell with one of them, following his arrest by the NKVD. The book is both a collection of beautiful literature and a post mortem on the murder of a literary generation. We will translate and publish the whole book and individual pamphlets with the work of these authors.
Read the first excerpts of the book here: A taste of Ukraine's poetic Renaissance executed by Stalin
We are also compiling an anthology provisionally entitled "Welcome to the Occupation" which will collate work affected by the current war with Russia and the previous centuries of occupation. We are planning to present "The War Artist," a tale set in the occupied Donbas and this anthology along with our other books at the EU Parliament. We believe that even if we only reach a few people within the EU it may make a difference.
About the "War Artist": What makes a man betray his country? Donbas native tells in novel of Europe's forgotten war
Finally, we are linking the production of these books to a column on byline media which will present interviews with authors and news from the cultural front of the war. We hope that this will allow us to reach audiences who have very little awareness of Ukraine.
However, we need your help to succeed. We need as many of you as possible to share details of our books and to review them. You can either buy copies or we will be happy to send you a pdf.
Even if you just visit our Amazon pages you will help. So please consider taking a wild ride with the doomed Cossacks of "Raven's Way."
Or peering into the tortured mind of a Russian collaborator in the Donbas in "The War Artist."
You might want to stroll a Carpathian forest haunted by pagan Gods hand in hand with the brilliant Ukrainian ecstatic poet Bohdan Ihor Antonych.
Or perhaps you could go on the strangest of odysseys with to "Kaharlyk" with a man whose brain has been used by the Russian army to control military satellites; he is seeking his lost wife and his broken memory in a city where time has frozen following an experimental weapons test. Finally, you could roam the steppe with a young girl in "Episodic Memory" a beautifully lyrical tale of childhood innocence and adult bereavement.
If you value our work please also consider placing a review on our FaceBook page or following us on twitter.
So spend a little time with a beautiful book; and keep an eye out for our byline columns which, from March 2018 onwards will give a literary take on the war and provide space for Ukrainian authors past and present. Please share them and help their voices be heard.
If you would like to review one of our books please email us at [email protected]. If you want to contact us for any other reason or just to chat about Ukrainian literature please email [email protected]
More about the activities of Kalyna Language Press:
Tags: Act!, literature