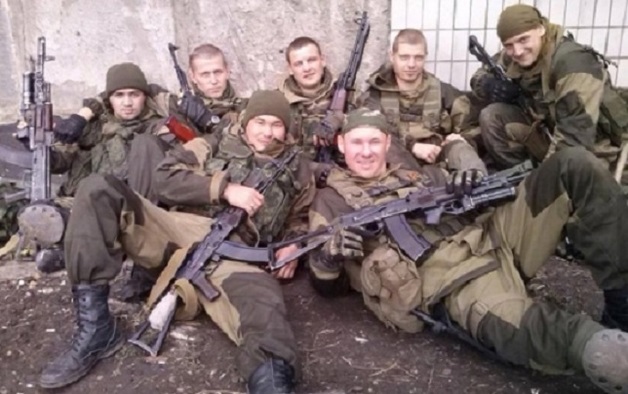 Wagner mercenaries, a Russian private military company operating in Syria 
The most recent important news event was the information about the death of Russian Wagner mercenaries in Syria in an air strike inflicted by coalition forces led by the United States. On February 15, Russian Foreign Ministry spokesperson Maria Zakharova confirmed the "alleged" death of five Russians, underlining that the men were not "Russian soldiers" and that reports of a death toll higher than five were "classic disinformation". At the same time, Reuters reported that about 300 men employed by the Kremlin-linked Russian paramilitary organization were killed in Syria.
Despite the initial silence around these deaths in the Russian media and a significant understatement of losses, the news from Syria is probably beneficial to the Kremlin (this is, perhaps, the reason for Russia's eventual recognition of this tragedy). Of course, the leadership of the country and the Russian Ministry of Defense were accused of "abandoning our guys", but in general, the situation was quite within the scope of official propaganda, according to which Americans are Russia's worst enemies.
In addition, the buzz around the Wagner fighters has helped stifle other scandals that are much more embarrassing for the Kremlin, such as Alexei Navalny's investigation into the adventures of oligarch Oleg Deripaska and Deputy Prime Minister Sergei Prikhodko, or disturbing questions related to a lucrative real estate sale in Palm Beach made by Donald Trump to a Russian businessman Dmitry Rybolovlev in July 2018. Moreover, news about the "brutal murder of hundreds of Russian soldiers by those "damned yanks" came at just the right time against the background of charges brought by special prosecutor Robert Mueller against thirteen Russians for interfering in the presidential elections in the United States.
The Kremlin and Russia's propaganda network continues to successfully play out its "Syria Project". The "enemies of besieged Russia" are no longer "Ukrainian fascists", who have outlived their usefulness for Moscow, but the real incarnations of "world evil" is elsewhere – "Islamic terrorists" or "hated Yankees". That is why the soldiers who died in Syria – more precisely, the lucky ones that were not disavowed by the Russian Ministry of Defense for opportunistic reasons – were awarded titles of Heroes of Russia posthumously, and their wives have not been obliged to declare their deceased husbands alive.
However, soldiers participating in other armed conflicts triggered by the Kremlin have been much less fortunate. Recently, an article entitled "Depressed Donbas" appeared on the website of the Tsargrad television channel, founded by Russian oligarch Konstantin Malofeev, who is a close friend of the Kremlin and under international sanctions. The author, Russian journalist Alexei Toporov, quotes "former Luhansk militiaman" Yuriy Chepurny, who complained that, in comparison with the honourary funeral of pilot Roman Filippov who died in Syria, no one remembers the Russian fighters who have been killed in the hybrid war in Eastern Ukraine:
"I met the first volunteers from Russia in a tent camp near the Luhansk SBU in April 2014. Many more arrived… And, many died! They died defending other Russians in the Donbas that borders Russia. No one talks about them, no one even mourns them in the official media. Well, after all, they didn't die in the Middle East!"
Russian journalist Alexei Toporov continues to analyze the situation:
 "The government doesn't honour the men who died in the Donbas. They don't name streets after our soldiers, they don't put up monuments, the men don't receive posthumous awards or medals, their funerals aren't announced or attended by thousands of mourners!… There's a conspiracy of silence around the men who perished in the Donbas and no one mentions their heroic feats … There are no official announcements about them or their death… they're treated like lepers!

This is what Donbas residents have received in return for being inspired by the example of Crimea. They wanted to join Russia, but got the LNR and DNR instead, and will probably remain as ORDLO (Occupied Regions of Donetsk and Luhansk-Ed.)."
Toporov gives quite a realistic and truthful description of living conditions in the "DNR/LNR":
"Today's Donbas, which used to be a self-sufficient industrial mining region that fed all of Ukraine – despite loud denials voiced by West Ukrainian politicians – is indeed a miserable sight to behold: almost all the mines are at a standstill, many are partially flooded, the few that continue operating pay their workers pittance, the situation with industrial enterprises is disastrous, many have stopped production, others have been bombed or looted!"
Alexei Toporov points out that ordinary locals "don't care who governs them" and admit that the only place where men can receive a decent salary is in the separatist armed forces. In fact, many local men enlist just to be able to feed their family.
"Prices for goods in the LNR and DNR are almost just as high as in Moscow. The stores are filled with unmarketable goods from Russian warehouses… The conditions are somewhat better for retired workers who receive their pensions in Ukrainian hryvnias that Kyiv reluctantly continues to pay out to local residents. And, of course, there are always those "privileged folks" who manage to receive cheaper food products from territories controlled by Ukraine." complains Toporov.
We [Kseniya Kirillova-Ed.] regularly talk to Donbas citizens in separatist-controlled regions, and they all say the same thing: prohibitively expensive and inedible products, no work and no adequate medical care, organized criminality, and forced expropriation.
The Donbas is not the only territory whose residents feel that they have been duped and abandoned by Russia. Similar consequences, only on a smaller scale, awaited supporters of the "Russian world" in Crimea. In 2015, several well-known Crimean entrepreneurs ardently supported the annexation of the peninsula, and even personally helped set up Crimean self-defense units… but then, their companies were forcibly and illegally taken over by armed men in masks. These include Oleh Zubkov, owner of private zoos in Crimea and Vitaliy Khramov, leader of the Sobol Cossack community. In 2016, businessman Oleksandr Stefanyshyn, who was invited to Crimea personally by the "governor" of Sevastopol, Serhiy Menyailo, told us how his enterprise was taken over by the FSB. More recently, Crimean Tatar Fazil Ibraimov, who also actively supported the Russian authorities and personally praised Vladimir Putin, was arrested for speaking out on disputed land allocations to Crimean Tatars.
Many "heroes of the Russian spring" (people who supported Russia-Ed.) have at best been abandoned in poverty and oblivion, and at worst faced direct reprisal by the Russia that they so admired and revered. The wars in which they participated have disappeared from Russian TV screens, giving way to new sensational propaganda. And yet, these wars have left hundreds of people dead, mutilated and psychologically scarred.
Today, the Kremlin is playing with its "Syrian heroes", using them to maintain a certain level of aggression against the US, needed to explain the sanctions and new discoveries by investigators in Washington. But sooner or later, a "conspiracy of silence" will also envelope the "Syrian heroes", and references to the cities they destroyed and hundreds of people they killed will disappear from information space.
Tags: Crimea, Donbas war (2014-present), International, PMC Wagner, Russia, Russian spring, separatists, Ukraine