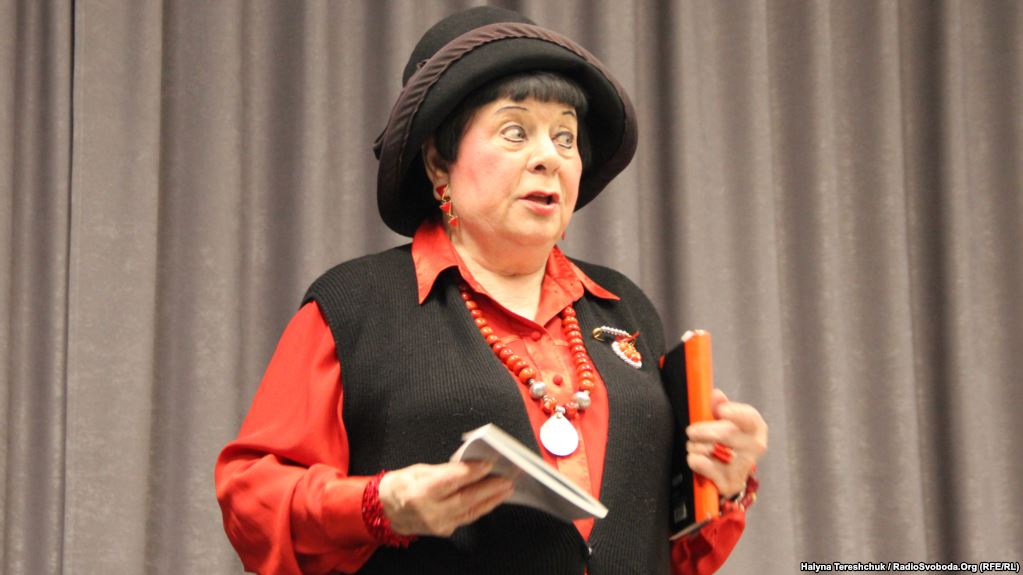 Emma Andiyevska
, a Ukrainian writer and artist from Munich, has been awarded the 2018 Taras Shevchenko Prize for Literature. She is the author of more than 40 collections of poetry, tales, and novels, and has created more than 17,000 paintings. Despite the fact that she has lived abroad since the age of 12, she considers herself Ukrainian, and writes only in Ukrainian. Emma Andiyevska was born on March 19, 1931 in Stalino (today's Donetsk). In 1943, the NKVD executed her father, a well-known research chemist, and Emma – then a 12-year-old girl – and her mother fled to Western Europe. In 1957, she graduated from the Ukrainian Free University in Munich.
Emma Andiyevska talks about her literary work, how and why she writes in Ukrainian and what Ukraine means to her.
– Ms. Andiyevska, what was your reaction when you found out that you'd won the Shevchenko Prize for Literature?
– I'd like to thank all the kind and generous people in Ukraine who made it possible. I can't remember them all… the list is very long, but they're all here, deep in my heart. I'm very, very happy!
– Five of your poetry collections were selected for the National Award in the Literature and Journalism category, namely Cities-Jacks (2012), Clockless Time (2013), Landscapes in the Drawers (2015), Marathon Race (2016), and Daily Periscopes (2017). Do you have a favourite?
– My 45th book – Dutyky (Shallow People) – will soon be released in Kyiv. And the 46th is lying on my table and waiting until I manage to collect enough money because that's the way I live – I search for money, cry to get money and then give it all away. All my books are important, and the rest depends on my readers. But, not many people read my books. In fact, very few… I've written many tales, but only two are well-known. All the same, it would be interesting if people read more. I hope that my Shevchenko Prize will motivate people. As for me, I want my work to reach more readers. I'm very happy that students in Poltava and Kyiv read my books. After all, young people are the future of Ukraine. They are Ukraine. Ukraine is an extraordinary country, and I love Ukraine!
– People who've read your work say that they really like your Ukrainian language. How do you create it? How do you find so many melodious words for your prose and poetry?
– I don't create anything. I just study Ukrainian…a little bit at a time. There are so many clever people writing in Ukrainian that it's not difficult to learn the language.
But, we should never forget that in 1937 official memos were sent to all editors ordering them to get rid of specific Ukrainian words and replace them with Russian versions. And look what's happening today – "учитель" (male teacher), but it turns out that that the actual person is an "учителька" (female teacher). Or the "директор" (male director) is a "директорка" (female director). There never used to be such discrimination. Ukraine still has some remnants of a matriarchal society, and women have always been respected. Another example… a man marries "with" a woman (одружився з нею – in Ukrainian), and not "on" a woman (женился на ней – in Russian).
– How did you manage not to lose your identity in a foreign country? How did you remain Ukrainian? What does it mean to be Ukrainian?
– Where there's a will, there's a way! If you're determined, you can find a way to achieve whatever you want. Don't just wait for the varenyky to fall from the sky into your mouth, but make it happen! Today, so many people are leaving Ukraine to drown themselves more quickly in a foreign sea, away from Ukraine. This is called the "colonial mentality syndrome" – ideological domination of an empire over our people.
– Today, there are a lot of different discussions about bilingualism in Ukraine, people saying that the country is divided because of language, and that the conflict in the Donbas was caused by language issues.
– How can bilingualism exist in Ukraine? It would mean the death of our country! Is Russia bilingual?
The Donbas is Ukrainian. Let's remember the Cossacks, who roamed the wild fields and steppes of eastern Ukraine, fighting the hordes that attacked Ukrainian villages and took Ukrainians into captivity. It's totally false to say that the Donbas has never been Ukrainian. All empires behave this way, and especially our neighbouring empire that we know so well. So, we should stop lying to ourselves, and we should stand up and act! I've been doing that since I was 12. I could have chosen another culture and reached the top, but I wanted Ukraine to exist…
It was clear to me that if I worked entirely for Ukraine, I'd be doomed to nothingness. But, that's OK, you have to take risks, and stop thinking that you're such a great and invaluable person… My God, all this me, me and me! We must forget about the "me" and look at the situation more scientifically. There are so many other remarkable people in Ukraine!
– Do you talk about the Donbas in your work? Could it be a source of inspiration?
– I don't think in terms of regions. For me, it's Ukraine. And Donbas is Ukraine! I don't make exceptions or divisions because Ukraine exists wherever there are Ukrainians. But, I'm talking about real Ukrainians, not the scum that are ashamed to speak Ukrainian. Such bastards!
I learned Ukrainian when I was five and a half. We left the Donbas because doctors said that I'd die… because I suffered from many serious diseases, and also dysentery due to the water in the Donbas region. At that time, moving from the Donbas to Kyiv was like flying to the Moon. But, mothers will do anything for their children, so first we moved to Vyshhorod and then to Kyiv.
Even though my mother descended from an illustrious line of wealthy Zaporizhzhian Cossacks, we spoke Russian, and I heard Ukrainian for the first time when I was five and a half. Mother was afraid to pronounce a single word in Ukrainian. So, I started learning Ukrainian, and I'm still learning…
– And yet, you speak several languages, but you write only in Ukrainian.
– I could write in different languages, even in Russian. But never, ever will I do that!
– Your father was shot by the NKVD so that he wouldn't divulge anything to the Germans. In 1943, you and your mother fled to Germany. How did you manage that?
– There was no emigration at that time. Either you escaped death or you were killed. Today, people can emigrate. Mother managed to escape although nobody knew German. It was a real miracle!
Today, our people don't realize how good they have it. If they don't like the way things are, they run off and assimilate somewhere in order not to be Ukrainian. Well, somebody has to stay and be Ukrainian! If the language is lost, there will be no nation. So, I say …no bilingualism! Do you see bilingualism in England, Germany, France, or Italy?
– You visited Ukraine for the first time in 1991, together with your husband, writer Ivan Koshelivets. You made several visits after that. What changes have you observed in Ukraine?
– Unfortunately, Ukraine isn't strong enough to change as it should. However, Ukraine is an amazing country, and there are many dedicated people working hard to make it a better place. I respect them, I applaud them, I bow before them, and I'm glad that they exist.
If you want Ukraine to exist, you should learn Ukrainian! But, what's happening nowadays? They say they can't learn Ukrainian; they can learn any other language, but certainly not Ukrainian. You know what's missing? A strong will and a strong national spirit! A foreign spirit will never create a national identity. You have to fight hard for your home and your rights. That's what I see in Ukraine today – a truly remarkable country!
– How do you perceive the situation in the Donbas? Is "reconciliation" possible or would this be a "betrayal"?
– What reconciliation are you talking about?! They bite off a chunk of land and then expect some sort of reconciliation?! They must return everything, but we know that the empire never gives anything back. It was all planned and decided long ago… Our heroes are dying for Ukraine! My heart bleeds every day… They're all so young… God, so young, so young, such fantastic young people!
So, let's stop beating around the bush and start acting accordingly. Many others just want to make a quick buck…
– How would you describe your literary style?
– It's the Emma Andiyevska style. It's neither here nor there. I created my personal prose while I was learning Ukrainian. Every culture should have complex sentences, so I decided to create them.
– Do you keep track of the literary scene in Ukraine? What do you find interesting?
– Literary processes are the same everywhere. There are very talented people everywhere, and there are also graphomaniacs, and persons thirsting for fame and glory – that's a normal phenomenon. We shouldn't worry about that, but we should search for what's real. I sense whether words ring true or not. Look at Tychyna's simple words when he addresses a night spider: "О моє хороше, вуска на носу! Може, борщ ти любиш? – Завтра принесу" (Oh, my little dear one, crawling along my nose! Maybe you'd like some borshch? – I'll bring some tomorrow!" It's brilliant and it hasn't lost its significance over all these years. In order to appreciate, we must know a lot and sense our history, etc.
– Are you a visionary?
– Yes, I am. I can do that because I work very hard and very conscientiously, and I forget about the "me" thing. Why did I wrote Herostrati (Emma Andiyevska's first novel. The title refers to Herostratus and means "fame sought at any cost" – Ed.). I wrote this novel when I was 19 because I couldn't stand such herostratism (vanity).
– Your new book of sonnets – Shallow People – will be published soon. Why sonnets?
– 270 sonnets. Read them and you'll see what's there.
I wrote some sonnets when I was young, and it was then that I discovered dissonant sounds – something very harmonious and musical. The Ukrainian language is extremely beautiful and melodious. It's not compressed like old Sanskrit, or modern-day Serbian, partiall in the Czech language, and somewhat in Russians. Ukrainian doesn't have such "smacking" sounds that narrow speech patterns. All the vowels are pronounced, and what's considered a rhyme in German, is in fact a dissonant sound in Ukrainian. Ukrainians don't know how amazing and wonderful the Ukrainian language really is.
– Could you describe your creative process? How do come up with specific plots, images, words?
– They all come from the inner me. You should always be aware of everything, check the accuracy of your information in different languages, and know different literature. By the time I was nine, I'd read all the world classics. I still read a lot and remember everything. Then, something irrational begins throwing ideas at you, but in order to give it meaning, you have to work a lot.
– Several hours of sleep and constant daily work…What keeps you going?
– I've created 15 paintings that consist of six segments. Each measures 120 by 160 cm. But, the point is that you have to work freely and stop believing that you're going to fool everybody. I want to incarnate my vision in painting, I want to externalize the ineffable…And that's what I work on.
I've never been in good health, but I have spirit and drive! Look at some of today's young people… crying and complaining because they have no inner spirit. Spirit cannot thrive on trivialities. I arrived in the West when I was 12, and I knew that in order to do something for Ukraine, I had to work like a dog. But, I'm happy to work and I'm very happy to know that there are so many fantastic people out there. It's these people made me who I am and contributed to my winning this prize.
– Will you attend the Shevchenko Prize ceremony in Kyiv?
– Unfortunately, my health prevents me from attending this great event. I'll be on Skype. I couldn't go to Sambir in Lviv Oblast either. I presented 103 paintings to the Sambir Museum. Today, the city has a unique collection, and I'm so happy that Ukraine will see some of my work. I've never sold any of my paintings. If you want to create something real, then you have to live this way…
– You want to create something real – so, you must be true to yourself…
– Yes, it's really quite simple. I want to transfer positive energy to everyone so that people can grow and develop, create and do mind-boggling things. Spirit and drive can overcome any challenges that come your way – spirit, spirit, spirit! That's what I try to capture in all my creative work.
Tags: Diaspora, Donbas, International, Russian Empire, Ukraine, Ukrainian language