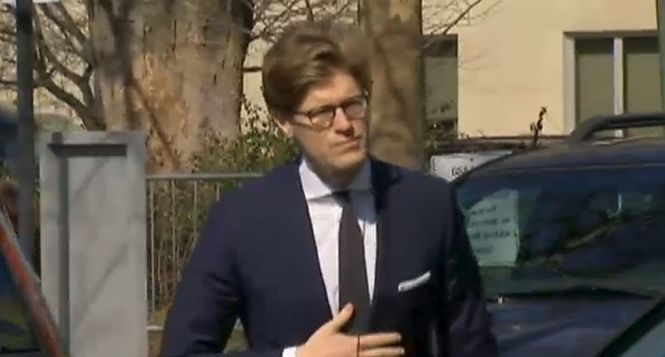 Lawyer Alex Van Der Zwaan has pleaded guilty to misleading the FBI. Photo: video screenshot 
US special counsel Robert Muller has charged Alex Van Der Zwaan, an attorney and son-in-law of an influential Russian oligarch, for making false statements to the FBI and his office. Muller is investigating Russian meddling in the 2016 presidential election, and a potential money laundering case against the Donald Trump campaign.
The indictment charges that Van Der Zwaan lied about are his communications with top Trump campaign aide Richard Gates.
Gates and Paul Manafort, his longtime business associate and former Trump campaign chief, were indicted on charges of money laundering, conspiracy and other offenses tied to their lobbying on behalf of Ukrainian political figures, as reported by NBC News.
Van Der Zwaan is married to Eva Khan, the daughter of German Khan. Last year, the Russian oligarch sued Buzzfeed, a media outlet, for libeling for publishing the "Trump Dossier," which reportedly contained lurid details of the US President.
On Tuesday, Van Der Zwaan was charged with "willfully and knowingly making materially false, fictitious and fraudulent statements" to both the special counsel's office and FBI investigators, as reported in Washington Examiner. His former employer, Skadden Arps, based in New York, worked on a report on behalf of the Ukrainian government that critics said justify the supposed false imprisonment of Ukraine's former prime minister, Yulia Tymoshenko [which constitutes reputation laundering of Ukraine's ousted president Viktor Yanukovych who locked up his political opponent Tymoshenko on charges widely considered to be fraudulent – Ed].
Van Der Zwaan was charged with criminal information, and has pleaded guilty, becoming the fourth person to cut a deal with Mueller. The others include Mike Flynn, George Papadopoulos, and Richard Pinedo. Gates, who has also been charged by Mueller, is reportedly set to plea guilty and testify against former Trump campaign chairman Paul Manafort.
"Setting aside the eventual target of the US investigation, this work by the Special Counsel will be greeted by prosecutors and activists in Ukraine," Andrij Dobriansky, the Ukrainian Congress of America's Director of Communications and Media, tells me. "A dedicated group is still looking at recovering the hundreds of millions embezzled and outright stolen from Ukraine state coffers by the [Viktor] Yanukovych regime." Yanukovych fled Ukraine in late February 2014 amid violent mass protests before taking exile in Russia.
In August 2015, ousted Ukraine President Victor Yanukovych answered questions to the Prosecutor-General's Office in Kyiv for questioning related into crimes committed under Article 191 of the Criminal Code. The code relates to the "misappropriation of property" and embezzlement of funds through the use of a public office to commit large-scale fraud.
"For Ukraine's sake, I hope that the United States shedding light on these transactions – by bringing them up in public statements and indictments – means that Ukraine can someday soon erase many of its current deficits by having monies returned to them through international court decisions," adds Dobriansky. "This will only happen by unraveling this web of deceit."
In addition to Muller's investigation, justice rests on the law and dogged journalists that are relentless in pursuit of the truth in both countries.
"Apart from the prosecutors office, the Anti-Corruption office also has an active investigation, and then journalists at Hromadkse, Kyiv Post and others have been reporting on this case since 2015," Dobriansky added.
Jared Feldschreiber chronicles press freedom cases, ambassadors, and dissidents. He also writes cinema and theater analyses, is a published poet, and continues to pursue his film projects. His portfolio can be found at 
http://bit.ly/20XOcLq 
and one can follow him
@jmoshe80
.
Tags: Mueller, News, Trump, Yanukovych