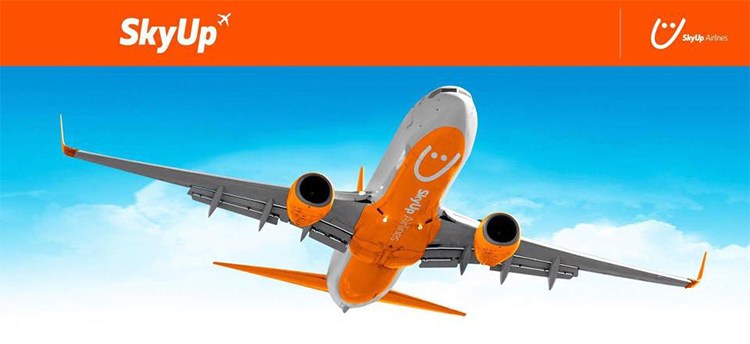 Photograph: SkyUp Airline  
The newly created Ukrainian budget carrier SkyUp plans to start operating from April 2018. The company will launch international charter flights from a number of Ukrainian cities, as well as service regular domestic and international flights.
Starting with April 2018, SkyUp will service charter flights in 2018 from Kyiv, Kharkiv, Lviv, Odesa and other Ukrainian cities to a total of sixteen destinations, Interfax Ukraine reports. The destinations are mostly foreign resorts popular with Ukrainians at the Mediterranean and Black seas.
The Ukrainian low-cost plans to launch domestic flights either in late May or early June 2018. Firstly, the company will connect Odesa, the southwestern city at the Black Sea coast, with the capital city of Kyiv, northeastern Kharkiv, and western Lviv. Ticket prices will start at 499 UAH ($17.90) one way.
As for the international regular flights, SkyUp is planning to serve them from Kyiv to Barcelona, Dubai, and Larnaca in 2018.
At the press conference presenting the launch of SkyUp in Kyiv on 14 December, General Director of the airline Yevhen Khainatsky said that ticket sales for the first flights will start in March-April 2018.  The budget carrier seeks to serve about 650,000 passengers in 2018.
According to Mr.Khainatsky, applications for receiving assignments for regular flights will be submitted in accordance with the legislation. He noted,
"We are now passing certification in the State Aviation Service, and in March when we receive the operator's certificate, we will submit an application and participate in a tender." 
SkyUp will operate from two airports in Kyiv, as Mr.Khainatsky said, the airline has already signed agreements with the airports of Boryspil and Kyiv (formerly Zhuliany). And the company is currently negotiating with all other Ukrainian airports.
Yurii Alba, the founder and co-owner of SkyUp, said that there initially will be more charters than regular flights. He hopes that
"Thanks to the fact that charter flights are not loss-making in advance, the airline would start the pay-off process."
Mr.Alba also owns tour operator JoinUp! with which SkyUp is expected to cooperate.
Volodymyr Omelyan, Minister of Infrastructure of Ukraine, pointed out that SkyUp is being established with 100% private Ukrainian capital without state participation. The company will use a low-cost model offering affordable airfares. Mr.Omelyan added that no subsidies or privileges would be given to the new airline, as the government wants to encourage fair competition.
Mr.Omelyan highlighted that the launch of SkyUp
"is not just about the development of aviation industry, additional budget revenue, renewal of local airports. It is important that now Ukrainians will have more opportunities to discover the world."
The SkyUp's fleet consists of three Boeing 737-800 NG planes with 189 seats. And the airline is going to grow it to four aircraft in 2018, six in 2019, eight in 2020, ten in 2021 and twelve in 2022.  The carrier intends to expand its fleet also with Boeing 737MAX planes.
SkyUp LLC was registered in Kyiv in June 2016. 
The founder of SkyUp was ACS-Ukraine LLC owned by Tetiana Alba and Yuriy Alba, who also own the JoinUp! tour operator.
SkyUp intends to cooperate with Ukraine International Airlines (UIA), another privately-owned Ukrainian carrier.
The Ministry of Infrastructure continues negotiations to attract to the Ukrainian air market foreign players in the discount air travel business, including Ryanair.
The largest Ukrainian airport, Boryspil expects that passenger flow in 2017 would grow by 20% on average, to 10.3-10.4 million people.
Kyiv International Airport (formerly Zhuliany) plans to serve 1.86-1.9 million passengers in 2017, which is 60-68% more than in 2016
---
Read more: