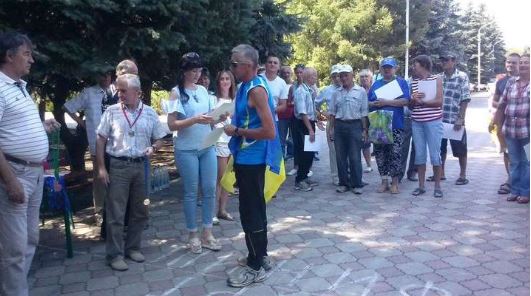 Master of polyathlon sports Viktor Stepanenko holding a Ukrainian flag after a sports competition. 12 September 2017, Kadiivka, Luhansk Oblast. Image: social networks 
Many pro-Ukrainian activists fled their native towns in the eastern Ukraine as Russian hybrid forces occupied parts of Luhansk and Donetsk oblasts back in 2014. Most of those who remained avoid exposing their lives to risk and never disclose their pro-Ukrainian position. Some tell about their living conditions under occupation on social networks. Some write about current developments in the regions under pen-names. The very few dare to protest.
When his native city Donetsk was run over by Russian-militant forces in the summer of 2014 and severed from Ukraine by an illegitimate referendum which proclaimed a "Donetsk People's Republic," local artist Serhiy Zakharov set up caricatures of the armed warlords on the streets of Donetsk. The most famous one showed Russian FSB colonel and then "DNR Defense Minister" Igor Girkin, who in his own words "pulled the trigger of war" in Donbas after helping the Russian takeover of Crimea, pulling the trigger of a gun set to his temple. The caption said: "Just do it."
Days later, he ended up in the prison basements of the self-proclaimed "Donetsk People's Republic," where he was held and tortured for several months. Managing to escape both death and the "DNR," Serhiy has created a graphic novel depicting his experience in the prisons and has recently released another one depicting the stories of others who suffered human rights violations.
Nearly all opposition voices like Serhiy's were silenced as special services of the Russian-controlled "DNR" and its sister "Luhansk People's Republic" ("LNR") started hunting down pro-Ukrainian activists and arrested several bloggers on "high treason" charges. Nearly all opposition voices like Serhiy's were silenced as special services of the Russian-controlled "DNR" and its sister "Luhansk People's Republic" ("LNR") started hunting down pro-Ukrainian activists and arrested several bloggers on "high treason" charges. Two football fans in Luhansk, who burned a flag of the "LNR," were recently sentenced to 13 and 17 years. Last year, an electronics engineer and blogger was sentenced to 14 years in jail. Several more bloggers were arrested in Donetsk, but we don't know their names. Many more arrests could have taken place, but the relatives of victims prefer not to publicize the information because they believe that publicity may inflict even more harm to their arrested folks or to themselves.
Nevertheless, despite the risks of ending up behind bars, some people still don't fear resisting the occupation authorities. Here are some of the latest acts of civil protest against the occupation of Donbas we know about.
Read also: The dangerous life of pro-Ukrainian activists in occupied Donbas
On 3 August, the so-called Ministry of Internal Affairs of LNR published a report about the detention of three 18-year-old men in Luhansk on 21 July who raised a Ukrainian flag on a flagpole near an academic building of the former East-Ukrainian University. 
"The criminals painted Ukrainian flags on the school building, on the next day they painted the monument for Marshal Zhukov on the school premises the same way, two days later they toppled the pedestal," the report of the Pro-Russian police service reads.
The portrait sculpture of Zhukov, a Soviet-Russian officer in the Red Army of the Soviet Union, was unveiled in 2015 by occupation authorities.
On 24 August, Ukraine's Independence Day, a Ukrainian flag was raised atop a high-rise building in occupied Donetsk:
On 11 September a writing "Ukraine will save the Donbas" appeared on the façade of the school no. 55 in occupied Donetsk:
Sep11 occupied #Donetsk: someone wrote "Ukraine will save the Donbas" on the façade of the #school55 @sukerberg1 @rjpthju321 pic.twitter.com/RcKfrS1tVT

— English Lugansk (@loogunda) September 12, 2017
On 12 September, Ukrainian master of polyathlon Viktor Stepanenko unfolded a Ukrainian flag in occupied Kadiivka (formerly Stakhanov) after a competition and tore the "LNR" certificate of honor he received for his victory. The so-called Ministry of the State Security (MGB), the Russian-run local special service, detained him and charged him with "inciting hatred or hostility, and humiliation of human dignity." Later the MGB produced a video showing Mr.Stepanenko "confessing" that the Ukraine's Security Service (SBU) forced him to stage this protest.
On 10 October a video from occupied Holubivka was published showing the burning of an "LNR" flag allegedly pulled down from a building of a local court on the previous evening:
Oct10 #Holubivka (formerly #Kirovsk): activists seized a "LNR" flag from a "court" at #2B, #Teatralna, and published a video of burning the flag. via @666_mancer pic.twitter.com/mEVCNtqsGG

— Outdated Loogunda (@oldloogund) November 14, 2017
On 14 October, pro-Ukrainian graffitis appeared in occupied Antratsyt, a rear town far away from the frontline in Luhansk Oblast.
On 22 October, a video footage emerged showing supporters of Ukraine toppling a flag of the LNR from the building of a post office at the 60 Years of the USSR block in the occupied city of Dovzhansk (formerly known as Sverdlovsk):
A day later, leaflets emerged in Luhansk quoting "LNR" leader Igor Plotnitsky who promised to confiscate apartments from those who don't pay their utility bills. "What should pensioners, and the poor do? How can we survive? Luhanskers! We shouldn't accept the lawlessness of the thief authorities!" one of them read. Another leaflet insists that Russia is going to stop funding and delivering humanitarian aid for its Donbas puppet republics:
#Luhansk: on Oct23, leaflets were sticked in staircases, quoting Plotnitsky promise to seize apartments of those who don't pay utility bills pic.twitter.com/epfHkzp32t

— English Lugansk (@loogunda) October 24, 2017
On 28 October the special unit of the "LNR" police, Berkut, detained 16-year-old Luhansk resident Serhiy Shyriaiev, who possessed a flag of Ukraine. Reportedly, he was brought to the MGB where he was beaten and quizzed.
The occupation authorities took control of the information space in the occupied regions from the very beginning of the Russian-instigated insurgency. Most of the independent journalists and media outlets were ousted from Luhansk and Donetsk to establish several fake news agencies, serving the Russian propaganda machine. The reports produced by such outlets are usually republished by major Russian outlets to spread the desirable picture of the rebellious Donbas oppressed by Kyiv.
Local residents who continue reporting on the real life under occupation disrupt the idyllic picture Russian propaganda tries to produce. Offline civil activities break the propaganda constructs even more than just online reporting. That is why the special services of self-styled republics hunt the local Ukrainian activists attempting to threaten those who still report the truth, to silence the dissident voices.
In October 2016, an illegitimate court of the "LNR" sentenced two Ukrainian football fans in Luhansk to 13 and 17 years in prison for "high treason in the form of espionage." The ostensible spies burned a flag of the "LNR," took selfies with Ukrainian flags in occupied Luhansk and reportedly owned Ukrainian stickers. One of the fans, Vlad Ovcharenko was a popular blogger who informed on developments in Luhansk on Twitter and Facebook. Four were arrested, but two were reportedly bailed out because they had relatives among the "LNR" authorities.
In November 2016 electronics engineer Eduard Nedeliaiev was arrested in Luhansk who described the life in the occupied city on social networks, later he was sentenced to 14 years in jail by an illegitimate court of the "LNR."
Another Luhansk blogger, then 53-year-old Hennadiy Benitskyi was arrested in December 2016, later in March 2017 he was released, however it is not known what the conditions for his release were.
Deputy speaker of the Ukrainian Parliament Iryna Herashchenko, humanitarian envoy to the Minsk Group, says that 152 Ukrainian citizens have been held hostage in the occupied territories of Luhansk and Donetsk oblasts.
Both Donetsk and Luhansk "republics" have kept the exchange of the prisoners with Ukraine frozen for 14 months.
---
Read more:
Tags: DNR ("Donetsk People's Republic"), Donbas war (2014-present), LNR ("Luhansk People's Republic"), Peace to Ukraine, underground movement