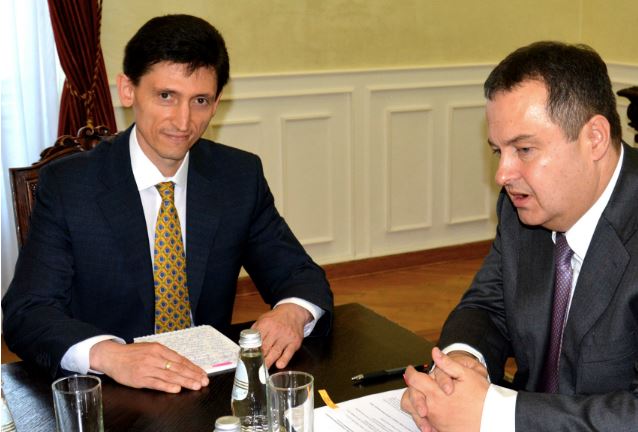 Ukraine's ambassador to Serbia, Oleksandr Aleksandrovych (left) and Serbian Foreign Minister Ivica Dacic in July 2015. Photo: mfa.gov.rs 
Serbia is doing nothing to stop its citizens from fighting in East Ukraine while Moscow is 'using Serbia' for its battles elsewhere, Ukraine's ambassador, Oleksandr Aleksandrovych, told the Balkan Investigative Reporting Network (BIRN) in an interview.
"Serbia is not doing enough to solve this issue," Ukraine's ambassador to Serbia, Oleksandr Aleksandrovych, says, of the phenomenon of Serbs traveling to Ukraine and fighting on the side of pro-Russian forces in the east. Kyiv has warned Serbia about this problem repeatedly but to no avail, he adds.
The fate of Serbian volunteers fighting for pro-Russian forces in Ukraine again came into focus earlier this month after Ukraine's security service reported that six citizens from Serbia and Bosnia have been fighting in Ukraine for a paramilitary Russian formation.
Aleksandrovych told BIRN that, according to their information, some 300 Serbs are currently fighting in the conflict in Ukraine.
Such activity is considered terrorism by Ukraine. In 2014, Serbia passed a law prohibiting its citizens from fighting on foreign battlefields.
But Serbia continues to ignore this problem, the ambassador said, adding that he believes that the present links between Serbs and Russia are a setback for resolving this issue.
When Serbia adopted the law against fighting abroad, it said that some of those fighters, on returning to Serbia, risked "becoming leaders of propaganda activity and encouraging others to participate in war or armed conflicts in other countries."
But few penalties have followed. Some volunteer fighters who returned home in 2016 were arrested, but then cut deals with the prosecution, pleading guilty in expectation of light sentences.
Radomir Pocuca, who joined pro-Russian militias in Ukraine, was arrested on his return and given a year-and-a-half conditional sentence in 2016, for example.
Aleksandrovych said this seemed very lenient, adding that Ukraine will continue to publish information about Serbian fighters in Ukraine.
"It is about applying a Serbian law that is supposed to punish Serbian citizens participating in wars or conflicts in foreign countries," he said.

 

"Not one Serbian citizen has been put in prison for his mercenary activity against Ukraine. If I am wrong, I invite the Serbian government to disprove my words," he added.
Many roads lead to Ukrainian battlefields
As BIRN recently reported, many Balkan volunteers say they joined the rebels because of sympathies with Russia and out of a sense of Orthodox Christian brotherhood.
Most Serbs perceive Russia as one of their country's key allies, especially in the battle to prevent international recognition of the independence of the former province of Kosovo.
Reports of pro-Russian politicians from Serbia visiting Crimea, after Russia annexed it from Ukraine in 2014, cause little surprise in public.
A delegation from the nationalist Serbian Radical Party and the Serbian People's Party visited Crimea this year, marking the centenary of the 1917 Russian Revolution.
While Russia and Serbia have historically warm relations, based on Slavic ethnic ties and common allegiance to Orthodox Christianity, there are also reports that foreigners fighting Ukraine in the east are well paid.
The ambassador meanwhile told BIRN that the Serbian mercenaries traveling to fight in Eastern Ukraine can get into the area using two possible ways. 
"They can travel to any place in Russia and then enter Ukraine through the Russian-Ukrainian border alongside Luhansk and Donetsk oblsts, 409 kilometers of which is not controlled by the Ukrainian border guard or by the OSCE observers," he said.
He added that this is also where Russian troops, weapons, fuel, ammunition and other supplies enter Ukraine on a daily basis.
This route was also identified on a Radio Free Europe documentary, published in October, as the main route from Belgrade to Ukraine via Moscow and Rostov-on-the-Don.
The documentary also highlighted the role of the Russian "Kosovski Front," an NGO allegedly helping Serbs to get to the Donbas area. Its findings have been corroborated by the security service of Ukraine.
The second option, according to Aleksandrovych, is to enter Ukraine legally on a 30-day visa-free travel, and then sneak into the contested territory across the line dividing Ukrainian and pro-Russia forces in the east.
"If a Serbian citizen is stopped at the Ukrainian border and asked too many questions by a border official about the purpose of his or her visit, such delays are explained exactly by the fact that some Serbs go to Ukraine to kill Ukrainians," he said.

 

"These Serbian mercenaries discredit the Serbian nation in the eyes of the friendly Ukrainian people, who never did anything bad against the Serbs," Aleksandrovych added.

 

"Our parliamentarians do not travel to Kosovo. We play our football or basketball games against Kosovo on neutral fields because we do not recognize Kosovo passports. And Ukrainians do not come to Serbia to kill Serbs," he added.
Russia aims to destabilize Balkans
The ambassador underlined that Russian propaganda and its secret services have played a huge role in attracting foreign mercenaries to Ukraine.
"Maybe some of the mercenaries decided to come to Ukraine because they were brainwashed by false stories on Sputnik TV or Russia Today," he said.
He then listed what he saw as Russia's various destabilizing actions in the Balkans.
Russia trains Serbian mercenaries to kill Ukrainians. Russia used Serbian extremists to make a coup d'etat in Montenegro.
Russia encourages Serbian separatism in [the Serb-dominated Bosnian entity of] Republika Srpska to destabilize Bosnia and Hercegovina.
Russia uses the Serbian factor to destabilize Macedonia.
Russia plays an active role in putting Serbian Kosovars against Albanian Kosovars.
Russia sells its airplanes to Serbia to create tensions with Croatia.
According to Aleksandrovych, these are only some of the reasons why Western officials have warned Serbia about the risks of its cozy alliance with Russia.
According to Serbia's state-owned news agency Tanjug, on October 24, eight EU countries have signed a letter asking for "Russian propaganda to be countered, especially in the Western Balkans." A day later, the EU foreign policy chief, Federica Mogherini, said the EU would respond to the letter.
The Ukrainian ambassador says that Russia is using Serbia to create chaos and foment a new war in the Balkans.
"Putin does not care about Serbia," he insisted, adding that Russia's President is only using Serbia as "another instrument to destroy Europe."
"Is that what the Serbian people really want? You allow Russia to use you to destroy Europe where you want to go study and to work. It does not make any sense. That is why Western officials ask Serbia not to sit on two chairs," he explained.
During his visit to Serbia on October 24, US Deputy Assistant Secretary of US Hoyt Brian Yee said Serbia cannot endlessly "sit on two chairs at the same time," referring to the country's EU membership bid, and its close ties with Russia.
Aleksandrovych said Serbia's image was suffering badly in Ukraine, despite the two people's Slavic Orthodox links and long tradition of cultural ties and cooperation.
"When you have Serbian politicians traveling to Crimea and praising Putin for his 'wise and strong policies,' when you have Serbian mercenaries, when you have Serbia voting in the UN against Ukraine – all of that naturally creates a negative image of Serbia in Ukraine," he said.

 

"We also have our common future in the European Union. This is the basis on which we can build excellent relations if there is enough political will," he concluded.
BIRN have asked Serbia's Foreign Ministry and the Russian Embassy to Serbia to comment on Aleksandrovych's statements, but they did not reply by the time of publication.
BIRN, the Balkan Investigative Reporting Network, is a network of local non-governmental organizations promoting freedom of speech, human rights, and democratic values. It operates in nine countries in the Balkans.
BIRN's flagship English language website, Balkan Insight, has built a reputation as the most comprehensive, professional and independent source of news in English in the Balkan region, which provides the public with relevant and insightful reporting on key regional issues. 
Read also:
Tags: Balkans, Donbas, International, Russia, Serbia