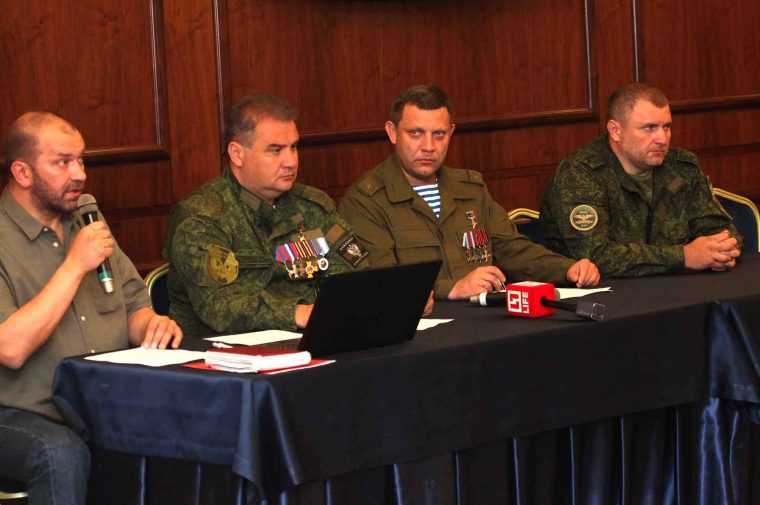 "DNR" head Alexander Zakharchenko and other "DNR officials" declare the state of Malorossiya. Donetsk, 18 July 2017. Credit: dninews 
Russia controls the situation in its proxy state in eastern Ukraine, the "Donetsk People's Republic" ("DNR") via Russian-established law enforcement agencies, or siloviki, which are at the top of the pyramid of power in occupied Donetsk. Their real controlling functions are mostly kept under the radar. However, the law enforcers keep control of the entire situation and clamp down on any opposition to the established order. The law enforcement agencies include a local army, special service, police, courts, prosecutor's office and other agencies.
This is one of the points made in the article by Euromaidan Press "Who is who in the Kremlin proxy "Donetsk People's Republic," which outlines the major influential groups in the "DNR" and the mechanisms of the external Russian control of the occupied region.
The army is fully controlled by the staff of a Russian army stationed in Russia's Rostov Oblast near the Ukrainian border and by the GRU, the foreign military intelligence agency of the Russian Armed Forces. The Donetsk local special service is known as MGB, it is under full control of the Russian special service FSB. There are multiple pieces of evidence to the fact:
Many Russian officers who have been observed in the "DNR" army, which gets its full army supply from Russia (equipment, ammunition, manpower)
Most "DNR" battalions were trained in Russian territory or Crimea, before training camps and artillery ranges were created in the occupied territory of Donbas.
When regular Russian units were invading Ukrainian territory, their actions were synchronized actions with the "DNR army," with the two divisions acting as one.
Several ceasefires brokered by the Minsk contact group involving representatives from Ukraine, Russia, and/or France, Germany, and the OSCE showed that the "DNR" forces can stop military action by an order from Moscow.
To create an illusion of "DNR" statesmanship, Russia established the local government bodies, formed almost exclusively out of figures fully dependent on the Kremlin. In 2014, Aleksandr Zakharchenko, a warlord of a Russian-trained armed group, was appointed as a head of the "DNR," and his appointment was covered by staged elections. Russia formed a local fake government, two political parties, and even a parliament.
The person behind the political processes in occupied Donetsk is Kremlin's aide Vladislav Surkov, who supervises the Russian separatist projects in the occupied territories of Ukraine and Georgia. He has full-fledged political control over the region and represents Russia in US-Russia talks on Ukraine.
Back in 2014, the Russian government also established the Inter-ministerial Commission for the Provision of Humanitarian Aid for the affected Areas in the Southeast of the Regions of Donetsk and Luhansk, which is allegedly kind of a shadow government for the occupied territories of the Donbas with mandate going far beyond "humanitarian issues."
Read more on influential groups in Russian-occupied Donetsk in the article Who is who in the Kremlin proxy "Donetsk People's Republic."
---
Read also:
Tags: DNR ("Donetsk People's Republic"), Donetsk, Russia, Surkov