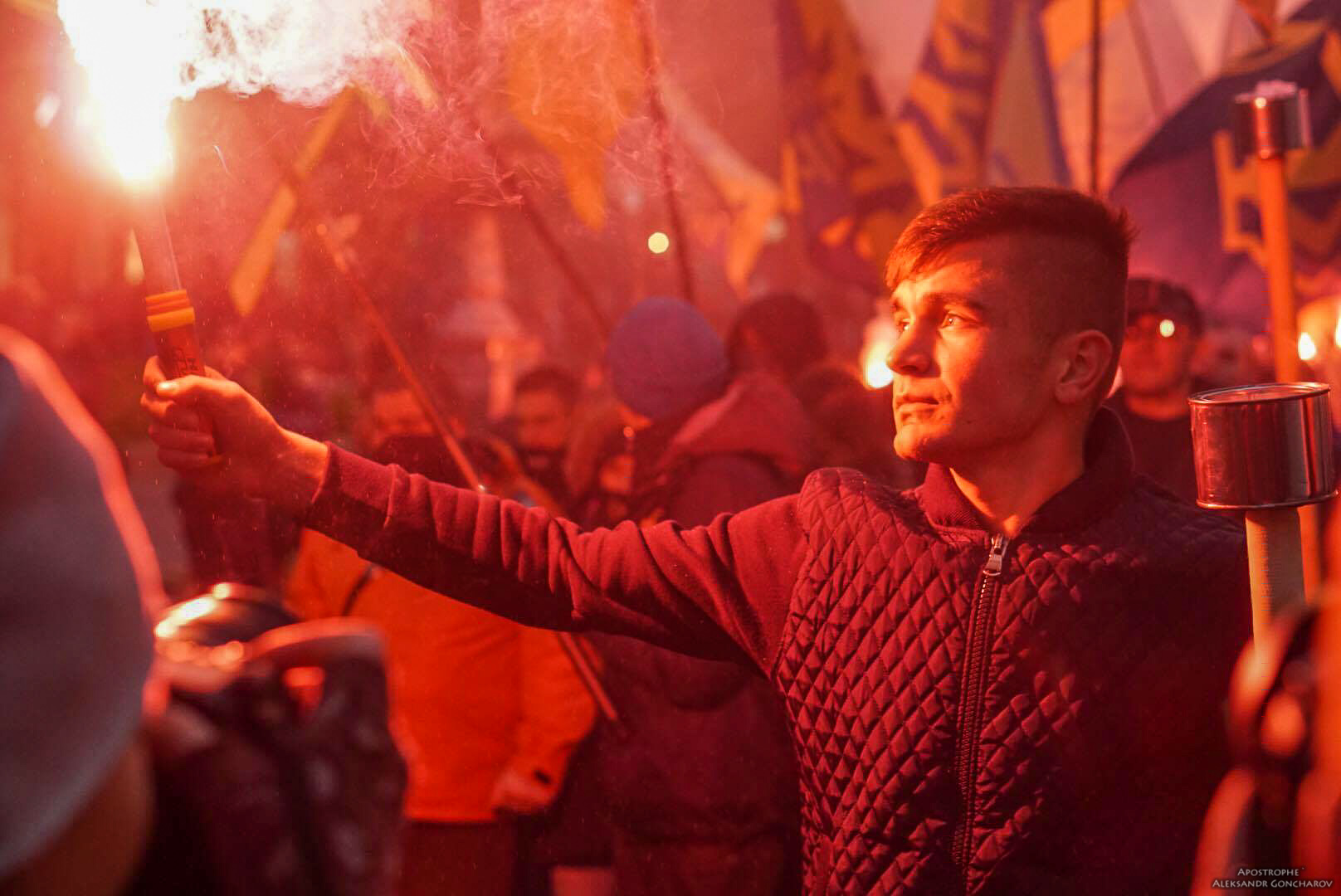 Photo: Oleksandr Honcharov, Apostrophe.ua 
On 14 October 2017, a march dedicated to the 75th anniversary of the founding of the Ukrainian Insurgent Army was held in Kyiv. The march gathered from 3-5,000 people, according to information agencies, to 10,000, according to the police, to 20,000, according to the organizers, the far-right parties Right Sector, Svoboda, and National Corps (the latter was founded on the base of the Azov regiment and civic movements surrounding it). In March this year, the three parties signed a manifesto on uniting to achieve political goals.
/all photos: Oleksandr Honcharov, Apostrophe.ua
The march was guarded by about 4,500 police officers, and included veterans of the Insurgent Army and participants of the ongoing war in Donbas. On Maidan Nezalezhnosti, the participants honored those who gave their lives for Ukraine with a minute of silence. The march ended with a concert on Kontraktova Ploshcha and was without major incidents. Participants carried banners of Stepan Bandera and other nationalist leaders of the WWII-period.
Since 2015, October 14 has been marked as the Defender of Ukraine Day public holiday. It is also the date of the major Orthodox holiday Intercession of the Virgin Mary. October 14 is considered to be the symbolic date of the foundation of the Ukrainian Insurgent Army, or UPA, which was founded in western Ukraine during the Nazi occupation of the country in World War II and fought against both the Nazis and the Soviet Red Army. Its fighters carried out acts of ethnic cleansing in northwestern Ukraine's Volyn region, in which tens of thousands of ethnic Poles in the region were killed.
After WWII ended, many UPA fighters continued to fight a guerrilla campaign against the Soviet authorities which lasted into the early 1950s.
As a force which fought for an independent Ukraine, UPA has received a boost in popularity during the ongoing war between the Ukrainian army and Russian-backed separatist forces in eastern Ukraine. However, the veneration of the UPA remains a sore spot in relations between Poland and Ukraine, and causes controversy in Ukrainian society.
Tags: News