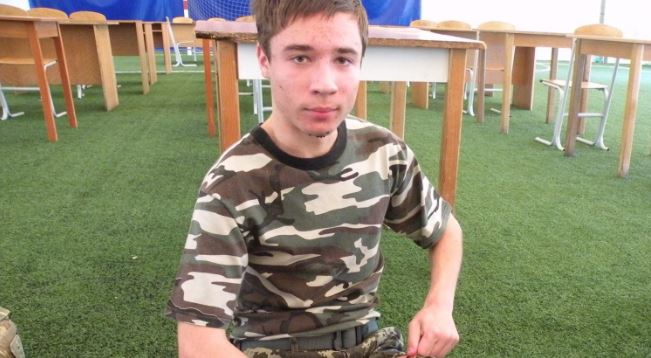 Pavlo Hryb, a teenager from Ukraine, was lured into Belarus and seized by the FSB 
Pavlo Hryb, a 19-y.o. Ukrainian blogger and activist, was reportedly abducted by Russian security agents during his private visit to Belarus. His relatives and human rights defenders call on the European Court of Human Rights, governments and international organizations to act urgently in order to find, help, and release him as there is a real threat to his life.
On Ukraine's Independence Day, 24 August, Pavlo traveled from Chernihiv in northern Ukraine to the neighboring Belarusian city of Gomel. He was going to meet a girl from Russia's Krasnodar Krai he had got to know via a social network and never seen in person before. He expected to spend an afternoon with her and come back to Ukraine on the same day.
Instead, Pavlo was evidently seized by the officers of the Russian Federal Security Service (FSB). Moreover, there is reason to suppose that a young man was forcibly taken to the territory of Russia, which does not have border control with Belarus under the conditions of the so-called "Russia-Belarus Union State." According to the joint Russia-Belarus investigation database, the Krasnodar regional branch of the FSB wanted Pavlo in the criminal case of "terrorism."
His father Ihor Hryb, a former Ukrainian border service officer and a military chaplain, concludes that his son may be held in the remand jail #5 of Krasnodar, where FSB detainees are held. Ihor Hryb also believes that the FSB used the girlfriend to lure his son into the Belarusian trap.
In a telephone interview with Ukrainian journalists, the girl admitted that the FSB had blackmailed her into arranging the meeting in Gomel.
At least five other Ukrainians lured to Russia and arrested
Since 2014, Russian security forces managed to take hostage several Ukrainian citizens in similar ways.
In March 2014, the Ukrainian politician Mykola Karpiuk went to Russia allegedly to negotiate the cancellation of the future illegal "referendum" in Crimea with Russian officials. He ended as a convict in the concocted case of anti-Russian fighting in Chechnya, where he had never been before his arrest. The historian Stanislav Klykh was sentenced in the same case after his Russian girlfriend from the city of Oryol said she was pregnant and asked him to come.
In the summer of 2014, a retired defense industry engineer Yuriy Soloshenko was called to expertize hardware in Moscow but found himself in jail as a "Ukrainian spy." Fortunately, he was exchanged and returned to Ukraine in June 2016. Another imaginary "spy," Valentyn Vyhivskyi, was invited to an aviation show in Crimea. He is now serving his eight-year prison term in Kirov Oblast. The Ukrainian war veteran Yevhen Panov was also captured by the FSB in Crimea. Panov was reportedly asked to evacuate a family to mainland Ukraine; the family seems to have been a mystification. Russian propaganda and investigators made Panov a face of the horror story intended to frighten Crimeans and Russians with mysterious "Ukrainian saboteurs." The latter two prisoners were horribly tortured, like Karpiuk, Klykh and a number of other Ukrainian victims of Russian "law enforcers."
Hryb – first one kidnapped by Russian FSB outside Russian-controlled territory
Unlike all these cases, the abduction of Pavlo Hryb took place in the territory of the third state, the sovereign Republic of Belarus. Belarusian authorities say that they have neither detained him nor held him in custody in the territory of their republic. The question is why Pavlo was allowed to freely cross the Belarusian border if he was wanted by the security service of another "Union State" member.
It seems that the Belarusian side was aware of the action the Russian officers were going to undertake and agreed to play into FSB's hand.
"This situation shows that Belarus is under the complete protectorate of Russia," notes former deputy head of Ukraine's Security Service, Major General Viktor Yahun. "We have information that in Belarus, there is an FSB group consisting of 30 to 40 persons who permanently work in Minsk."
Russia has long used the charge of "terrorism" to jail supposed opponents for long years and intimidate the rest of the people: for instance, the Ukrainian filmmaker Oleg Sentsov got 20 and Crimean Tatar activist Ruslan Zeytullaev got 15 years under the same article of the Russian Criminal Code which is now imputed to Pavlo Hryb.
Strikingly, Pavlo has never been to Russia at all. Neither had he visited the Ukrainian territories under Russian occupation; he was abroad for the last time in 2012, when he was a child. The only place connected to FSB authority where he stated his firm pro-Ukrainian views was the Russian social network Vkontakte—before it was banned in Ukraine in May 2017.
Since his childhood, Pavlo has a disability related to the work of his blood circulatory system. That is why he was not subject to military conscription. Before his journey to Belarus, he was preparing for an operation. What is most important now, he is in need of specific conditions and care and can suffer a fatal bleeding in case his Russian abductors use force against him.
The family and human rights defenders have asked the European Court of Human Rights to apply interim measures in the situation when there is an apparent threat to his life. They have also called on the International Committee of the Red Cross to use its capabilities in order to save Pavlo. In an open letter published on 4 September, they demand Russia reveal his current whereabouts, health condition, and precise charge, as well as grant the access of doctors, the Ukrainian consul, and an independent lawyer to him. The international community has to pressure the Kremlin into fulfilling all these demands, the signatories of the letter stress, and Belarusian and Ukrainian authorities must carry out the fair investigation of his forced disappearance.
Read also:
Tags: #LetMyPeopleGo, Belarus, FSB, hryb, News, Political prisoners