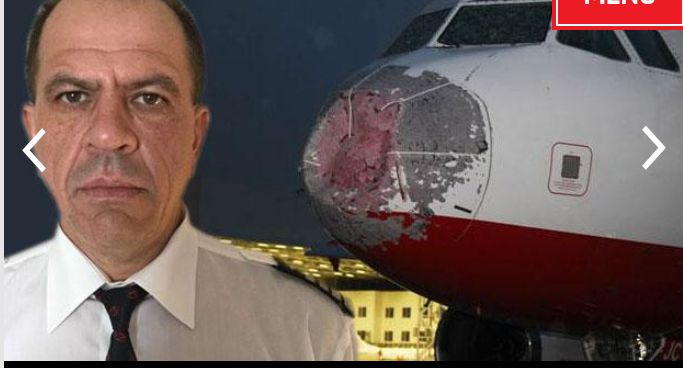 Ukrainian captain Oleksandr Akopov was able to make a successful emergency landing of a plane with a damaged cockpit in Istanbul. Photo: Oleh Lungul's fb 
Ukrainian pilots who were steering an airplane of the Turkish company Atlasglobal were able to safely land an airplane with a badly damaged cockpit on 27 July. The 121 passengers and 6 crew members on board were safely transferred to another airplane, Milliyet reported. At 4000 feet (1220 m) altitude, the airplane ran into some bad hail, in the result of which its front windows and cockpit were damaged.
The pilot Oleksandr Akopov explained that after the Airbus A320 he was steering departed on the IST / ECN flight at 18:10 from Istanbul Atatürk Airport when they ran into a storm. The pilot made a decision to return and was able to land by tilting the airplane to see the runway through the side window and by good coordination with the airport's dispatchers.
A written statement by AtlasGlobal said:
"During the event, our aircraft was controlled by a highly experienced flight team trained in Ukraine, the center of the aviation industry during the Soviet Union period. Thanks to its work experience and the many times it has been through simulations and was prepared for such inconveniences, it has helped to overcome this weather opposition without any problem."
Turkish media reported on Akopov's professionalism, indicating that he has almost 14,000 flying hours of experience.
The incident has been widely reported on Turkish TV:
That day, other airplanes had also been damaged from the hail:
NEWS AtlasGlobal KK1010, Turkish TK969 & Pegasus PC909 sustains damage after flying through a hail storm near Istanbul, Turkey (27-JUL-2017) pic.twitter.com/e3d5oRW2Km

— Air Disasters (@AirCrashMayday) July 28, 2017
A previous version of this article stated the airplane was hit by hail at 4000m; in fact, it was 4000 feet.