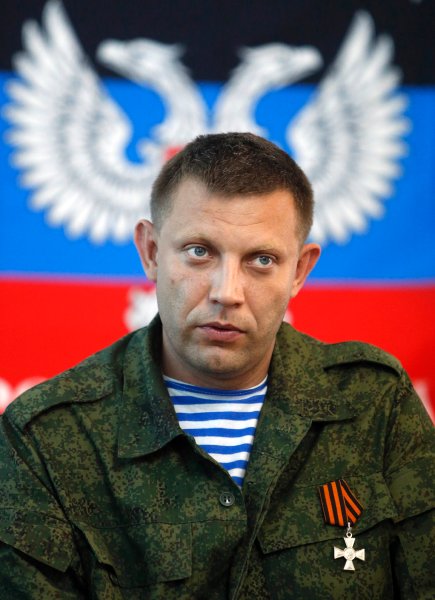 REUTERS/Sergei Karpukhin (UKRAINE - ) 
Russia is a huge insane asylum whose patients live in their own political and historical reality. But the cries of a madman do not need to lead to any action.
The statement by the chieftain of the Donetsk mercenaries Alexander Zakharchenko may, at first glance, appear to be the delirium of a sick mind. But, in reality, Zakharchenko knows what he is doing. And he is not preparing to do away with the "Donetsk People's Republic" and to create a new fictional state in its place. That is not the issue at all. The main task of any Russian official — and Zakharchenko is an ordinary Russian official — is nothing more than to hold on to power and to maintain control over financial flows. In the case of Zakharchenko, this means making a better impression on his "curators" in the Russian intelligence services. To say what they are really thinking out loud offers a wonderful opportunity. The notion that Ukraine does not exist and has never existed, that this really is Malorossiya (Little Russia) is something  I heard not once and not 10 times when I worked in Moscow. That Ukraine is Malorossiya (Little Russia), Novorossiya (New Russia) and "Polish" Halychyna, which should be attached to Russia along with the entire other Poland. This is what the politicians and journalists kept telling me, as did the Chekists (Russian secret police), of course. They included ethnic Russians as well as ethnic Ukrainians — in fact, the "Malorussians."
For the Malorussians it was important to convince the "older brother" that Ukrainians do not exist and that they do not consider themselves to be any kind of Ukrainians. This position instantly opened up their path upward, to a career and the theft of government funds,  the main occupation of Russian politicians and Chekists.
Zakharchenko is an illiterate con artist. But he repeats what he hears from the Kremlin operatives — what they would like. And I would not exclude the likelihood that his statement had been approved in advance.
Because in the fantasies of Russian officials — as well as ethnic Russians and their collaborating "Malorussians"–  the Ukrainians  are asleep and are just waiting to be reminded of who they are "in reality."
This did not work out very well with Novorossiya. Perhaps it will work out with Malorossiya? Perhaps only if Ukrainians — excuse me, Malorussians — hear Zakharchenko's war cry and immediately rise up and overthrow the "illegitimate Kyiv government" and escort Putin's appointee to the president's office in Kyiv.
Just because something appears crazy does not mean that Russian leaders do not think that way. Russia is a huge insane asylum whose patients live in their own political and historical reality. But the cries of a madman do not necessarily need to lead to any action.
It is quite inconvenient for the Kremlin to abandon the Minsk agreement, to completely block any dialogue with the West,  to get bogged down in new sanctions. Therefore, Zakharchenko's brilliant idea is likely to be postponed till better times and better oil prices.
Our task is to not react to the madness today, but to understand all of its dangers tomorrow. To be strong and ready to defend ourselves against evil.
Tags: Malorossiya, Novorossiya, Russia, Zakharchenko