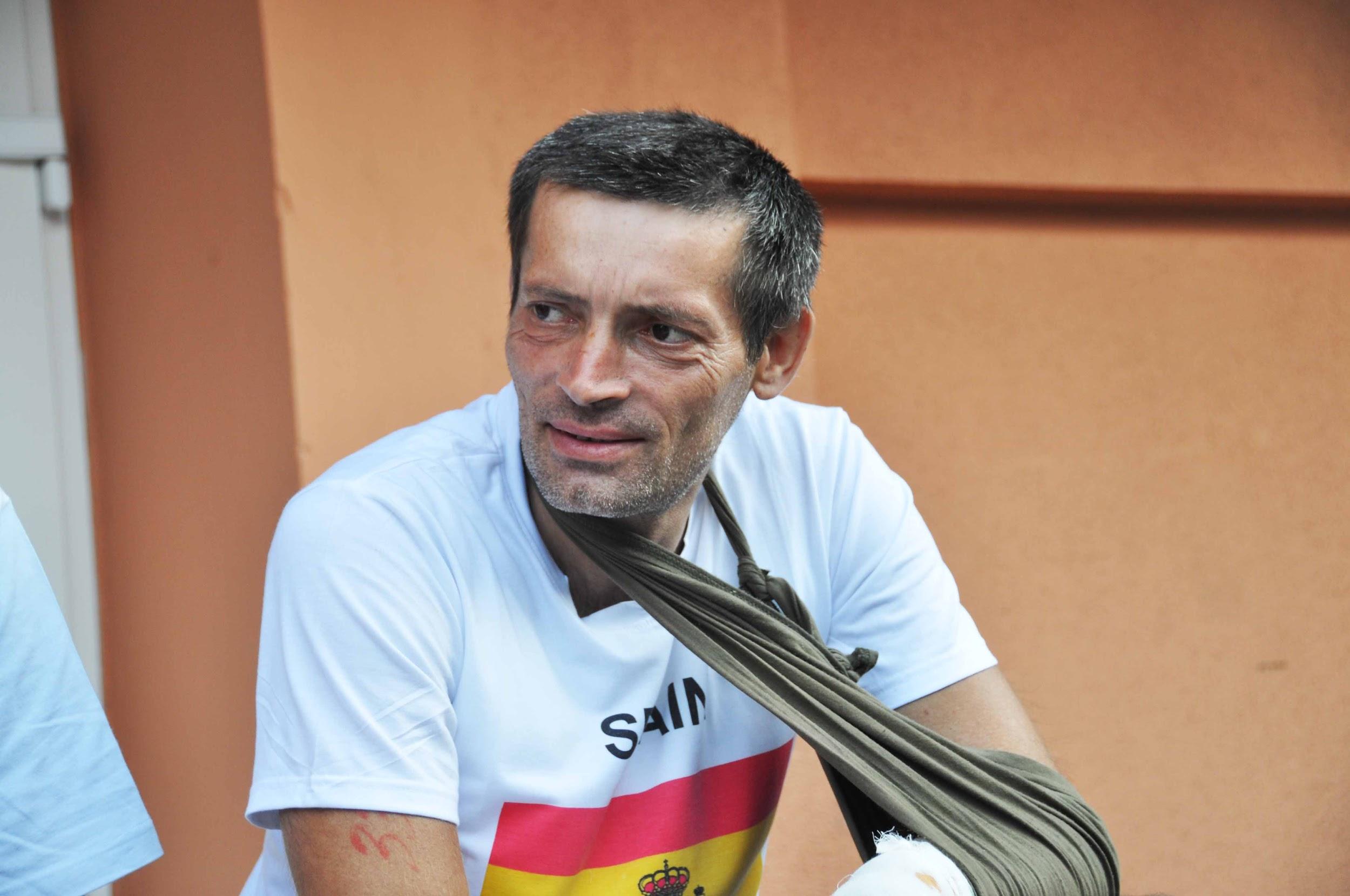 Ukrainian serviceman Volodymyr Samolenko, fallen hero of the war in Donbas was commemorated in Kyiv, on Ploshcha Maidan Nezalezhnosti on 6 July 2017. He died during the fights for Debaltseve two and a half years ago. Because of different bureaucratic procedures, his body was identified only now, thanks to a DNA test. During these 2 and a half years, his wife and daughter were in a state of uncertainty as his body was temporarily buried in Dnipro. Now, he was buried in Kyiv.
Volodymyr (call-sign Vovan) joined the volunteer battalion Donbas from its very first days. He went through the battles near Ilovaisk, one of the most tragic events of the de-facto war with the Russian Federation. The official number of the killed that time is 366, wounded — 429, missing — 158, and 128 were taken captive.
During the events near Ilovaisk, Vovan was injured, but did not want to go to the hospital because he thought that the injury was light and he had to stay and to fight: "How can I leave? There are our guys!" Only his comrades persuaded him to go for treatment. Still he had only one thought in mind – to come back to the front line to finish the war as soon as possible and to see everybody alive.
What follows is from a conversation with Vovan which took place in August 2014, when he was hospitalized at the Mechnikov Clinical Hospital in Dnipro after being injured in the battle of Ilovaisk, one of the deadliest of the Donbas war.
"We are all united! Everybody is standing for each other. One for all and all for one until the end!"
On the question why he joined the battalion, he said that he wanted to defend his fatherland.
Vovan was born in the Poltava Oblast. Before the war, he had a job as a system administrator. He had a military background, having served in the contingency corps in St. Petersburg, and in the 1990s worked as a security officer for embassies. Like other soldiers of the Donbas battalion, he did not consider himself as a hero:
"We are military men, we had to go through it."
He had compassion for the locals of Donbas:
"Most of all, it's a pity that civilians have to go through it. There is fear in their eyes. They are crying. They were surprised why civilians were getting shelled. Our [forces] were not shooting any residential city. I know it for sure. There was no order. They [those who are on the opposite side of the front line] neglect everything."
About his enemies:
There is very big difference in hardware. However, even with our poor armament, we will fight back. Because we stand for the truth and they stand for money. If it's dangerous they run away, because they are for money. They can only give guns to the locals, zombify them, and run away.
About the civilians helping wounded Ukrainian servicemen:
"Crowds of volunteers are coming [to the hospital]. I do not know what to say to them…They care about us… I feel awkward, I even want to cry… I wish to thank the people who helped us in Artemivsk, Kurahovo. It is also thanks to them that we are still standing."
His relatives didn't come to the hospital – at first, he kept his active combat at the front line secret from his wife, but she still found out:
"How do women feel everything?"
After being treated, Vovan returned to the frontline. The news about his death appeared on 13 February 2015, when battles in Debaltseve, a key railroad junction, were in full play. There he was killed.
Oleksandr (callsign "Moriak," or "sailor" in Ukrainian) from the 30th brigade came to bid farewell to his fallen comrade at the ceremony and told details of Volodymyr's death:
"The battle was ongoing. The guys regrouped. The battle lasted for 5 hours. These guys covered us. People say, "Heroes never die" – it's about them. It's about him. They were covering us, throwing grenades [onto the enemy]. And in the end there was a shot from a grenade launcher, and it hit them. They started to burn. And bodies don't just burn like that. They gave us the last present. And under the cover of this smoke, black smoke, we were able to retreat. Unfortunately, one more guy from the Donbas battalion was left there. He couldn't leave. He covered us while we were retreating. He said: "Guys, somebody has to cover the retreat." We took our injured, but unfortunately couldn't take the guys who got burned and one KIA. I say Glory to the Heroes. Even when they die, our heroes give presents you don't expect. We took 17 prisoners, Russian soldiers. We gave 2 to the Donbas battalion. Later they exchanged one for three of our KIA. And later we were took the bodies of these burned guys."
Oleksandr had curated the operation of the exchange.
At least 2652 Ukrainian servicemen have been killed from the outset of the war with Russian-separatist forces in Donbas.