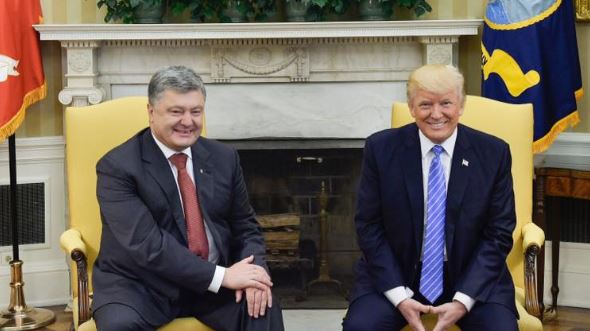 Ukrainian President Petro Poroshenko met US President Donald Trump on 20 June 2017 in Washington DC. Photo: Iryna Herashchenko 
On 20 June 2017, Ukrainian President Petro Poroshenko met with US President Donald Trump during what White House referred to as a "drop-in visit." The Ukrainian President conducted negotiations with President Trump, and also Vice President Mike Pence, Pentagon Chief James Mattis and Secretary of Energy Rick Perry.
Information about a possible February meeting between Poroshenko and Trump appeared in January, but it never happened.
Regarding this working visit to the USA, President Poroshenko said it is important Trump met with him before Putin.
Poroshenko's Administration reported that a "meaningful and detailed" meeting took place, on which Ukraine "received strong support from the US, support of sovereignty, territorial integrity and independence of our state, as well as support in the continuation of reforms in Ukraine" and noted that the meeting was very broad, covering issues ranging from the USA's support of reforms in Ukraine to purchases of American coal and military cooperation. Poroshenko also said that the USA reaffirmed its commitment to the Minsk Agreements.
Donald Trump said it was a "great honor to be with the president of the Ukraine," hitting a sour note with Ukrainians, who loathe the prefix "the" before the name of their country, as it characterizes Ukraine as a territory and not a geopolitical entity.
A small detail, but one which was immediately picked up on twitter, with former US ambassador to Russia Michael McFaul suggesting that Donald Trump's choice of words indicates he hadn't been properly briefed.
A good prebrief from a staffer could have coached him on why "the Ukraine" is so insulting to Ukrainians. He is the President after all https://t.co/jdR3VhDZjz

— Michael McFaul (@McFaul) June 20, 2017
New sanctions added, old ones stay in place
The meeting started briefly after the Trump Administration rolled out new sanctions against Russian officials and other entities which were involved in the illegal annexation of Crimea.  An additional 38 entities, including 2 Russian officials, will have their assets frozen, and they will be forbidden from doing business with US citizens and companies or raising financing in America.
"These steps are consistent with the US commitment to seek a diplomatic resolution to the crisis in Ukraine and to facilitate Crimea's return to Ukraine," a press release of the US Department of the Treasury stated.
Regarding the existing US sanctions against Russia related to Russian aggression in Crimea and eastern Ukraine, President Poroshenko said that "it is obvious" they will be prolonged.
Additionally, President Poroshenko interceded on behalf of Ukrainians illegally jailed by Russia or Russia-controlled forces in Donbas. He did this by handing a letter of relatives of the hostages of the Kremlin to Mike Pence. The letter concerns the fates of at least 44 people imprisoned in Russia and occupied Crimea on political motives, and at least 128 people who are held in prison in occupied Donbas.
"We received assurances that the US administration will take efforts to help Ukrainians and in bringing our lads and girls home," Poroshenko told reporters in Washington on Tuesday, after the talks in the White House.
Earlier today I was honored to meet Ukraine president @Poroshenko. International partnerships are vital to economic growth. #AmericanEnergy pic.twitter.com/iF1u12Veal

— Rick Perry (@SecretaryPerry) June 20, 2017
Despite the glowing descriptions of the visit by Poroshenko's Administration, the "drop-in" was described as a "low-key welcome" by CNN, which states that the Ukrainian President primarily met with Pence, with whom he has a "special relationship."
According to the White House, the meeting with Pence concerned US support for the Normandy Format negotiations to implement the Minsk agreements and Ukraine's reforms to fight corruption, improve the business climate, and keep Ukraine's International Monetary Fund program on track.
Poroshenko meets Pentagon chief
Petro Poroshenko proceeded to meet with the US Secretary of Defense James Mattis. Reportedly, James Mattis expressed full support for Ukraine and supported the preservation of sanctions against Russia and noted Ukraine's progress in defense and security.
"Even in the face of the aggression and cyberattacks your country demonstrates solid commitment and does a lot. The US sticks to the position of supporting Ukraine," he stressed.
Ukrainian MP Iryna Herashchenko. who was part of the delegation, wrote that the conversation with Mattis concerned also reforms in the Ukrainian army and its adaptation to NATO standards, rehabilitation programs for Ukrainian soldiers, their medical and psychological support.
Petro Poroshenko noted that Ukraine and USA have done a great job over the past three years. "We have created new Armed Forces of Ukraine together with our American partners," President Poroshenko emphasized and thanked the US for its support.
US Secretary of State says Russia sanctions will stay
Poroshenko's Administration reported that the meeting of the Ukrainian President with US Secretary of State Rex Tillerson concerned the Ukrainian hostages held by Russia, Russian aggression in Donbas and the return of Crimea, where Poroshenko suggested the US get more involved in the peace process. Rex Tillerson confirmed the US's willingness to facilitate the peace settlement in Donbas and confirmed that anti-Russia sanctions will stay until the full restoration of Ukraine's sovereignty and territorial integrity.
Just six days before, Tillerson, who said that Trump has tasked him with improving relations with Russia, warned the US Congress "against passing any further sanctions against Russia that would prohibit "dialogue" with the country on issues like counterterrorism after the Senate reached a deal to impose new sanctions on Russia for "malicious cyber activity."
Poroshenko's meetings in Washington DC will continue, and already include a meeting with World Bank President Jim Yong Kim and IMF Chief Christine Lagarde. According to Iryna Herashchenko, the Ukrainian President has used each meeting to inform his interlocutors about the presence of Russian troops and equipment in Donbas, violations of the ceasefire, aggression against the OSCE SMM, to raise the topic of occupied Crimea and sanctions against Russia.
Tags: News, Petro Poroshenko, Sanctions, Trump, USA