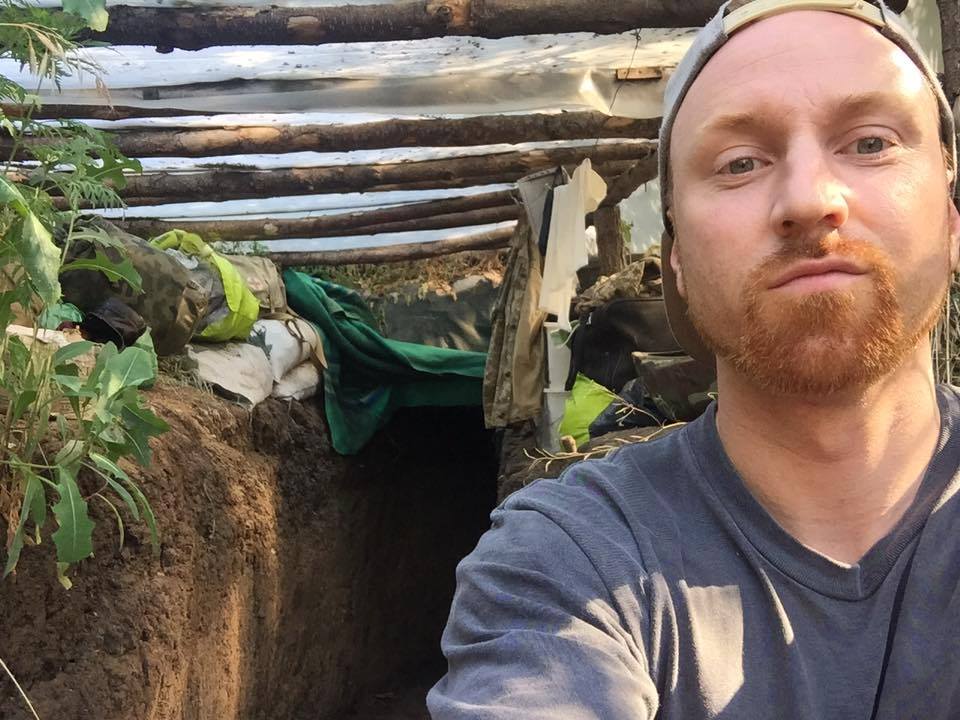 Stefan Bugryn at the frontline in Donbas. Courtesy image 
In 2016, I was working a comfortable career in advertising in Melbourne, Australia. Things were not out of the ordinary. That was until I came across a particular news article. Then my life changed.
Having grown up in the local Ukrainian community, I would follow the news of Ukraine and the sad stories that would come out in what felt like a daily basis. I would speak to my colleagues and friends at home in Melbourne, Australia, and sadly, most people didn't even know there was still a war raging on.
My indignation grew every day. Every story I read built something in me, until one day, I found one I couldn't ignore.
Posted on Euromaidan Press, the story was of a mother, Svitlana Chorna-Tereschenko from Cherkasy, who enrolled into the Ukrainian army after her son died in the battle for Donetsk Airport. I read the tagline; "War Mothers."
War mothers… I had never known there to be such a thing.
I could not stop thinking about it. The reality of this woman was so far flung from mine, I couldn't come to grips with it. I lived a comfortable life with a job in advertising on the other side of the world, but there were women like Svitlana whose sons were dying in an unnecessary and brutal war.
I decided enough was enough.
I approached a local producer, Steven Zelko, told him about Svitlana, and discussed with him the idea of filming a documentary about mothers in Ukraine who were affected by the conflict. At first, he thought I was crazy, filming in a war-afflicted country on the other side of the world.
But something had to be done, so we went to work.
In March, I quit my job, left my life behind, and made an initial trip in June to meet with the mothers of Zaporizhzhia. It was a very strange trip, going from an office job to the war zones of Ukraine, it felt like a dream. I met with soldiers, volunteers, mothers, priests, everyone who was involved with the war effort. Because of my Ukrainian descent, everyone took me in like family. They made me feel like I was one of them. The bond I had felt was incredibly strong from the outset.
In this trip, I found the three mothers who would become subjects of our film. They were:
Halyna – Head of the main volunteer center in Zaporizhzhia, Prival. Her son passed away in 2014 on the frontline, and in her sadness, decided to join the volunteer movement, and established one of Ukraine's biggest volunteer centers. She makes constant visits to the frontline to send supplies to the soldiers.
Yulia – Initially one of the founding members of the volunteer movement in Zaporizhzhia, Yulia felt like she wasn't doing enough to help her country, and later became a sniper on the frontlines. She has a son and daughter who await her permanent return once the conflict ends.
Svitlana – Mother of a son who sadly passed in 2014, she went through an arduous journey to retrieve her son's body, which involved traumatic negotiations with the separatist forces.
After returning to Australia to raise funds (we successfully received $18,000 AUD), I returned to Zaporizhzhia in October to live with Halyna and the volunteers at the Prival, and produce the film with a Ukrainian crew.

"When my grandchildren are older and they ask me where I was during the war, I want to be able to tell them I was here, helping the soldiers, helping Ukraine win the battle."
For 3 months, I traveled from Lviv, Dnipro, Kyiv, Zaporizhzhia, Mariupol, and all through ATO, and met with countless women to ask how the war had affected them.
I heard stories about women whose sons had died in horrific ways. I met mothers whose sons were prisoners of war. I met mothers whose sons have gone missing. I met mothers whose sons were risking their lives every day. I met mothers who themselves were risking their lives every day. I met mothers who could not speak of their sorrows. I met mothers who were dying for people to listen to their sorrows. For 3 months, I lived the sorrow of Ukraine.
For someone who mostly worked in offices in Melbourne, this was an incredibly daunting experience. On one occasion, visiting the frontline in June, one soldier pointed to the hills and said:
"Only around 600m away, the enemies have their guns pointed at us."
Such a simple phrase, but I could not believe these people had to live with it. My respect went beyond anything I ever expected. They knew a life I could never begin to understand.
I spent more time with the volunteers than the soldiers, and I began to learn their way of life. Around the end of 2016, there was a fatigue that I could see amongst some of the people. The war was reaching its third year, and the number of volunteers was slowly dropping. Despite this, the passion and patriotism behind these people were incredible.
On one occasion, I was in the common room of the Prival, with an older mother volunteer preparing a meal for the staying soldiers. Whilst we were chatting, I asked her, "why are you a volunteer?". She stopped what she was doing, looked me right in the eye, and bluntly told me:
"When my grandchildren are older and they ask me where I was during the war, I want to be able to tell them I was here, helping the soldiers, helping Ukraine win the battle."
I was in awe of her resolve, which I saw as the resolve of her nation.
I've since returned to Australia and have completed the first installment, which we're submitting to film festivals and distributors around the world. We're currently seeking funding for the second installment, which is a collection of stories of mothers in Lviv. If you want to find out more about the project, follow our official Facebook page.
To view a short clip from the film:

War Mothers (2017) – Teaser from Squid Ink Productions on Vimeo.
All photos courtesy of the author
Do you have a story about how the war in Ukraine changed your life? Share it with us. Send your story to euromaidanpress (a) gmail.com.