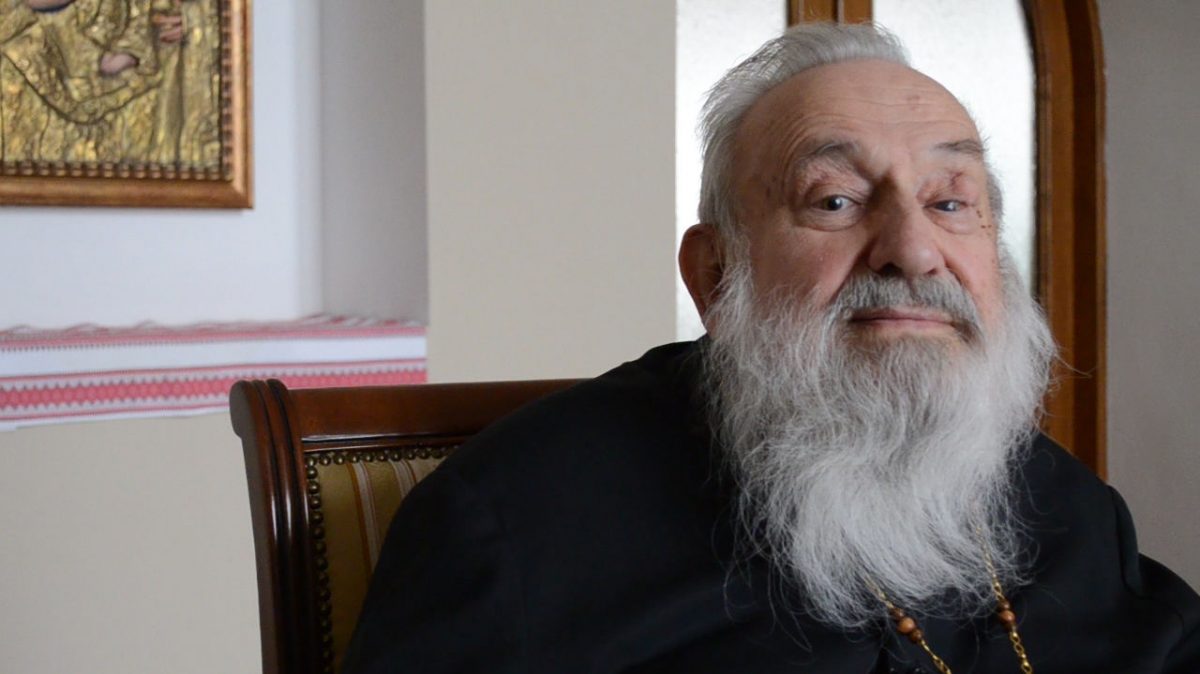 Cardinal Lyubomyr Guzar. Photo: zbruc.eu 
On 31 May 2017, Ukraine lost its moral compass. Lyubomyr Husar, the ex-leader of the Ukrainian Greek Catholic Church (UGCC), passed away at 84. Born in 1933 in Ukraine, the future Cardinal Lyubomyr spent a large part of his life in the USA, where he was ordained a priest and pursued theology, and Italy, where he headed a monastery. In 1993, he returned to his native Ukraine, where he inherited the Greek Catholic Church "on its knees" after 45 years of Soviet prohibition and led it to bloom. In 2001, he was elected as Patriarch of the UGCC and in 2011 gave up his power voluntarily. After that, he created the First of December Initiative Group, a union of intellectuals addressing the country in its hardest times. During the Euromaidan Revolution, the words of Lyubomyr Husar inspired millions of Ukrainians to fearlessly stand up for what is right.
Borys Gudziak, who is the the Eparch of the Ukrainian Greek Catholic Eparchy of Paris, and knew Lyubomyr Husar all his life, spoke so about him:
"He united Ukrainians, having become for them a spiritual father and a high moral authority.

 

He was loved by taxi drivers, listened to by the young and old, by entrepreneurs and artists, pious churchgoers and those who weren't parishioners  of the UGCC. He united members of his church and his nation, and strove to spread this unity further – worked towards reconciliation with the Poles and the Jews, dreamed about the cessation of this war and reconciliation with the Russians. 

 

His Beatitude Lyubomyr left us with the legacy of his two special features which make us think and reach for virtue. 

 

In a world and country where people thirst for power and seek to seize it at any cost, he gave up his power, let it go, astonishing the whole Ukraine with his renunciation in 2011.

 

He just let go of his power…

 

The Patriarch lived very modestly. He had few possessions, disliked luxury. […] This modesty was passed on in his communication. And he could communicate with everybody, in different languages, in different contexts."
Though Lyubomyr Husar regularly addressed Ukrainians, his words are relevant for people far beyond the country. We selected 12 quotations, the universal wisdom of which is relevant to people from any country.
God created us as free creatures. Nobody honors our freedom like God.But we don't have the real courage to be free. Because being free means being responsible. We talk about freedom, indulge in freedom, wish freedom, stress our desire for freedom, but in reality we fear it.
Corruption is a spiritual disease. It is not something financial.  If people were serious about corruption, actually saw it as it is, and it is a sin, then we would not need so many different commissions, different laws etc. Corruption would disappear by itself. The fact that corruption is so hard and difficult to get rid of shows that, unfortunately, the state of the soul of our people is not as we would wish it to be.
The Soviet Union didn't kill man spiritually but wounded him severely. And the healing process takes time.
I know that many people are disappointed that Maidan didn't bring quick changes. But the question of whether we are moving at a fast or slow pace is much less important than the question if we are moving or standing in place. Do we make a decision each time to become better than before, are we ready to change? 
Do your job, pursue your calling, do good, no matter who is in power and what challenges stand in front of us.
When you show a person "I believe in you, I trust you" with your deeds, and open the good of your heart, it transforms him. When a person thinks "I don't trust him," she really thinks about herself: I can't be trusted either, I will be deceitful too. Distrust of others starts from the distrust of oneself, from oneself's ability to respect others. 
All authorities must remember that their power is given by God, meaning that by themselves they have nothing and must only respect what they have received from God. There was Neron, there were Stalin and Hitler, there were kings and dictators who wanted to ruin the church – they are long gone, and the church is still here.
The authorities are afraid of freedom in hearts a lot more than food riots. Because the hungry can be bought, and the free can only be killed. 
Nationalism is loving what's yours and disrespecting what isn't, and patriotism is loving what's yours and respecting what belongs to others. There is a huge temptation of intolerance in nationalism, and this isn't Christian. You need to love what's yours and respect what isn't. 
You are very strong when you wish well, when you make an effort, when you unite, when you try to do good together, to live honestly, to live creatively. We have something only when we strive towards something great and pure. We will perish if we think only about fulfilling our own needs.
Unity is also a gift from God. But it seems to me that everyone wants to accept it on their own conditions. Nobody wants to change, they say – let the whole world change, but don't make me change. 
Many people think that peace is the absence of war. But peace is more than that. Peace is also the good relations between people, when we don't lie to one another, don't look for profit, don't wish evil. We should bear peace every day, every day we should establish contacts between people, seek good communication. 
Read more:
Articles by and interviews with Lyubomyr Husar:
Texts by the First of December Group, co-authored by Lyubomyr Husar:
A large English-language essay about Lyuboymr Husar by Antoine Arjakovsky: