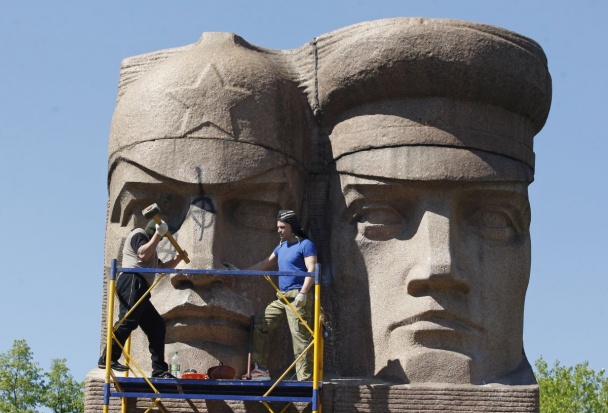 Representatives of far-right groups attempted to "decommunize" the Kyiv monument to chekists (Soviet secret police) on their own, unsuccessfully. Photo: tsn.ua  
Dismantled Communist monuments from all over Ukraine are to be gathered in a Museum of Soviet monumental propaganda on the territory of Kyiv's "Exhibition of Achievements of the National Economy of the Ukrainian SSR," now known as Expotsentr.
Ever since the toppling of the Lenin monument in Kyiv during the winter of 2013 amid the Euromaidan revolution sparked "Lenin showers" around Ukraine, calls have sounded wide and far that specimens of Communist monuments ought not be demolished but collected. These calls have intensified since the adoption of decommunization laws, after which not only Lenin monuments but all other memorials from the Communist era perceived to be glorifying the Soviet regime started being dismantled, although not without controversy. Especially controversial were the Soviet mosaics who many view to be works of art.
Now the decommunized monuments from all around Ukraine will find a home in what was once the "Exhibition of Achievements of the National Economy of the Ukrainian SSR," as the Kyiv City Council initiated the creation of a Museum of monumental propaganda there, Radio Svoboda reported. The opening is planned for the fall of 2017.
According to project manager Maxim Bakhmatov, the museum will present examples of monumental communist propaganda gathered from all regions of Ukraine. The items will be collected through reaching out to mayors who have exhibits on their hands, as well as private collectors, and will be showcased in an open and closed exhibition.
The territory of the "Exhibition" raised decommunization questions itself, as its buildings are both prime examples of monumental propaganda of the Soviet Union and have architectural value at the same time, according to Maksym Yakover, co-founder of the Foundation for studying monumental propaganda.
"Getting rid of symbols of the totalitarian past is only the first step of decommunization. The second and more important step is to reassess the totalitarian past. Our task is not to forget the Soviet past, but rather to remember it. Remember it as something that should never happen again. 'Never again' is what the exhibits of the museum should pronounce," said head of the Ukrainian Institute of National Memory, Volodymyr Viatrovych.
Deputy Mayor Volodymyr Prokopiv hopes that the future museum will enter the top 10 tourist sites of Kyiv: "We will get a place which will become a symbol of us turning over the page of our communist past, as all civilized European countries did," he noted.
The museum is envisioned to be a research project, aimed at the conservation and study of objects of art propaganda of the Communist era. Its organizers hope that it will become an open space for thinking about the Soviet past. The project's budget is estimated at $570,000-760,000 and will be financed through donations made to a charitable foundation. So far, 15% from the necessary sum is gathered.
Read also:
Tags: Decommunization in Ukraine, Kyiv, News