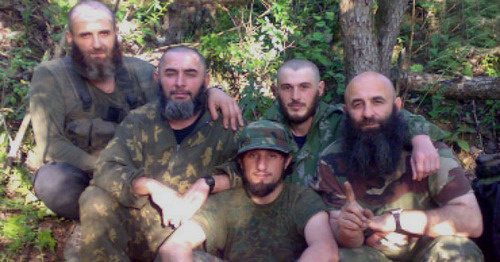 Some of Russia's North Caucasians fighting for ISIS (Image: kavkaz-uzel.eu) 
The Kavkaz-Uzel portal has just published a detailed, 20,000-word study about people from Russia's North Caucasus who are fighting in the ranks of the Islamic State in Syria, including details on their recruitment and activities before, during and after leaving their homelands for the Middle East.
Among the most important findings has been the dramatic increase in the number of North Caucasians in the ranks of the Islamic State not only during the run-up to the Sochi Olympiad when Russian security services are known to have helped some radicals to leave the North Caucasus but also in recent months when Moscow has trumpeted its opposition to ISIS.
In June 2013, when Moscow first acknowledged that there were Russian citizens fighting for ISIS in Syria, the FSB put their number at approximately 200. Now Russian officials, including Vladimir Putin, say there are 4,000 or more, a number that has grown even though Moscow claims that half of those who have gone have been killed in the fighting or returned.
The Kavkaz-Uzel news agency says that the number of people from Daghestan fighting in ISIS forces has risen from 900 to 1200 over the last year, that the number from Chechnya has gone up from a few hundred several years ago to more than 600 now, and that those from Kabardino-Balkaria have gone up from 60 in 2014 to a hundred or much more now. Other republics in the North Caucasus have experienced similar increases.
These numbers should be used with care: Local officials may have their own reasons for exaggerating the size of the threat. But one thing is clear: Moscow has not been able — or perhaps has not been willing — to take steps to block this flow of militants from its own territory even though, as the new study documents, at least some who go will return and cause problems.
And this study, together with reports about the killing of senior ISIS figures who were born in Russia, the Caucasus or Central Asia this past week (see svpressa.ru and svpressa.ru), underscores something else that many have not yet been willing to focus on.
The former Soviet space, with its specific history and current repressive but brittle regimes, is an increasingly important source of Islamist cadres for militant movements abroad – even as Moscow and other post-Soviet capitals proclaim themselves as frontline fighters in the war against terrorism. (Cf. windowoneurasia2.blogspot.com.)
---
Related:
Tags: International, Islamic State, Islamist terrorism, Putin, Putin regime, Russia, Russian special services, Russian state terrorism, terrorist attacks