It was a welcome sight. Ukrainians hosting a group of Russian visitors in their New York City headquarters this weekend. A short time ago, such a gathering would have been completely unremarkable. But today, 16 months into a Russia-initiated smear campaign against Ukraine's Euromaidan Revolution followed closely by Russia's brutal and covert invasion of Ukraine, it is both noteworthy and encouraging news.
When Ukrainians overthrew their corrupt Russian-puppet regime in February 2014, the Kremlin quickly swooped in with a multifaceted destabilization campaign to seize Ukrainian territory, annex Crimea, and to disseminate a fabricated narrative that Ukraine's Revolution of Dignity, a grassroots movement of people who were fed up with their corrupt government, was actually a CIA-led coup and/or junta that propelled evil ethnic Ukrainian Nazis to oust the legitimate president Viktor Yanukovych.
The Kremlin propaganda machine pumped its misinformation about Euromaidan throughout its state-owned media at home and abroad. While the rest of the world saw weeks that turned into months of peaceful protesters, hopeful and determined to be heard, beseeching the Berkut riot police to join them on Maidan Square in Ukraine's capital Kyiv, Russians were shown the violent clashes that occurred in the last few days. And those images of tires burning, molotov cocktails, barricades, and blood were blasted over and over again until Russians became convinced that Euromaidan must have been a horrifically chaotic, frightful and deadly brawl. This Kremlin narrative sucked the democracy out of the movement and left only violence.
Hostile feelings soon emerged all over social media and comments sections of news sites, evidenced by colorful and inventive language use in both Russian and Ukrainian. Russian speakers soon were using various new derogatory words to refer to Ukrainians, such as "Ukrop" ("dill"), while Ukrainian speakers had their favorite negative terms for Russians, such as "vatniki" ("quilted jackets"). And then "Putin-huilo" was born. In English this ubiquitous compound word means something like "Putin-dickhead." The Moscow Times published an informative and humorous piece on these new vocabulary words for those followed news of the conflict, particularly on social media.
While social media has been a great place for people to take out their frustration and anger, real and imagined, social media has proved to be essential in another important way. Even in wartime, and perhaps because of wartime, people especially want to memorialize and document their lives, particularly with photos. And so it turned out that these seemingly ordinary posts to Facebook, Twitter, YouTube, Instagram, VKontakte (Russia's version of Facebook) and other sites held critical information about what was really happening in Ukraine.
The two war report investigations released earlier this week, the Atlantic Council's Hiding in Plain Sight: Putin's War in Ukraine, and the official English-language edition of the Nemtsov report Putin. War, both make extensive use of social media postings as evidence to help establish Russia's extensive military engagement in Ukraine, refuting the Kremlin's repeated denials.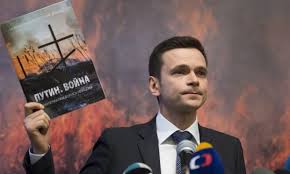 Colleagues of slain opposition politician Boris Nemtsov completed the report which he conceived in the months before his assassination. The team comprised of Russia's leading opposition figures, journalists and other professionals had trouble finding a printer in Russia, but finally managed to print 2000 copies. When Ilya Yashin, chief editor, friend and Nemtsov protegé, launched the report's release on May 12 in Moscow, only two of the 50 or so media organizations present were from Russia.
Abroad, where interest in the report is considerably broader, translations into German and English were widely anticipated. Since its initial Russian language release, Yashin and Leonid Martynyuk, frequent collaborator with Nemtsov on previous investigative reports, arranged with the Free Russia Foundation to have the report translated into English by Interpreter Magazine's Catherine Fitzpatrick. The first presentation in the United States was enthusiastically received in Washington DC before the Atlantic Council. The following day, Yashin and Martynyuk came to New York.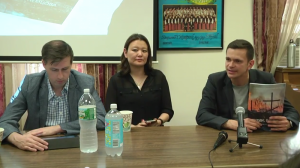 Their New York hosts were members of the Ukrainian Congress Committee of America (UCCA). UCCA President Tamara Oleksiy together with New York Coordinator of the Free Russia Foundation Vlad Burlutsky introduced and welcomed Yashin and Martynyuk who each gave a talk about the report, its findings, as well as the hostile climate in Russia for supporters of Ukraine.
Ukraine and Russia watchers already know much of the contents of the Nemtsov Report. However flawed or incomplete, Western media has covered the many Russian military and fake humanitarian convoys as well as Russian soldiers' interviews. But relatively few Russians have seen the documentation. The Nemtsov Report was conceived as a way to educate and inform ordinary Russian citizens, who get most of their news from state-owned media.
But the Nemtsov Report was posthumously written to accomplish even more. Given that Nemtsov was working on exposing Putin's war in Ukraine when he was tragically assassinated, distribution of the completed work has become both a tribute and a legacy to the man as well as an opportunity to remind the world community to keep pressure on the Putin regime to bring Nemtsov's killers to justice.
Yashin began with a stark reminder of how dangerous life is for critics of Putin in Russia today. He noted that it was three months to the day after Boris Nemtsov was gunned down in the shadow of the Kremlin government offices that prominent journalist and opposition politician Vladimir Kara-Murza Jr. collapsed with multiple organ failure and lay in an induced coma in Moscow hospital. Despite the suspected poisoning, Yashin believes Kara-Murza, a determined, strong and healthy man who loves life, would pull through, as Israeli doctors watched over his medical care.
Yashin then discussed what was known about Nemtsov's murder and the state of the investigation in Russia. He movingly recounted that Nemtsov was shot twice on February 27, and as he tried to get up, the killer finished him off with two more bullets. Nemtsov died almost instantly, Yashin said.
Of the several murder suspects, Yashin stated that all of them have known ties to Ramzan Kadyrov, Chechnya's loose cannon/warlord. whom many suspect of having made a devil's bargain with Putin. A prime person of interest, Ruslan Geremeev, whom Yashin called Kadyrov's right-hand man, disappeared before he could be questioned. Yashin stated that he wants to question Kadyrov himself. "We're realists too. We know Putin is Kadyrov's protector." Although many recognize Kadyrov's signature in the assassination, Russia's investigators are too afraid to confront him. The murderous atmosphere in Russia is something they've seen before, recalling journalist Anna Politkovskaya's murder and many others. Yashin made clear he believes the same people are responsible for silencing critics and they have yet to bear any consequences.
So it's very important that the investigation continues, not to forget, not to let [the investigation] be silenced. These murderers pose a threat to Russia, to peace in Europe and really to civilization. We need to hold the murderers accountable. This is for his [Nemtsov's] memory.

Nemtsov was great patriot of Russia. He did a great deal to make Russia a modern, civilized and democratic country. At the same time he genuinely loved Ukraine, its culture and its language. The war was a deep personal tragedy for Nemtsov. It truly upset him that his people could have been dragged into a war with Ukraine. So he looked for a way to let people know what was really happening. He wanted people to know that Putin was lying about there being no Russian troops involved or that this was an internal civil war. He wanted to explain to people in a simple and straightforward manner that this was a travesty, harmful to Ukraine and its people, but also harmful to Russia's own interests. This war is the result of Putin's anti-Russian ideology, one that is leading both to Russia's isolation and to economic crisis. The only one who benefits from this war is Putin and his close circle of elites. For everyone else, it's extremely harmful.
The details of the report have been summarized and analyzed elsewhere. The main contribution of the Nemtsov Report is that it presents in one place the numerous, substantive and verifiable evidence of Russia's direct and critical role in (a) initiating the conflict in Ukraine, and (b) contributing to every subsequent success of the misnamed "separatists" in the eastern Ukraine region known as the Donbas. There is no excuse now to use hedges such as "allegedly" or "purportedly" Russians, or to fumble over the awkward "pro-Russia separatists," "pro-Russians" or "rebels." Those at war with Ukraine are not meaningfully Ukrainians, as the Kremlin wants the world to believe, but are primarily Russians and significantly Russia-led. In short, the war in Ukraine is a Putin creation using Russian military, equipment and leadership.
So as we lend our support to Ukraine, let's also support those Russians who are risking their lives to get the truth out about their leader's shameful and illegal conduct. As I write this, there are reports that a major Russian offensive may have already begun west of Donestsk in Maryinka and south toward Mariupol. This is a serious escalation which can only lead to more devastating consequences for Ukraine and those critical of Putin's war. Let's at the very least be grateful that Russians and Ukrainians alike call a spade a spade, a war a war and a Russian a Russian.