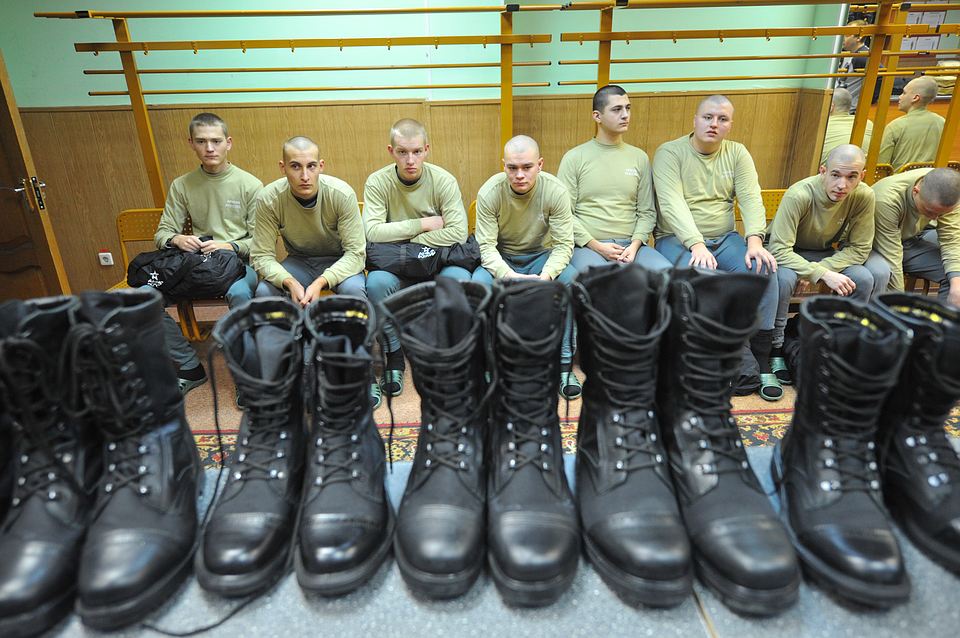 The declining size of the prime draft age cohort in Russia everywhere except in Muslim areas and the continuing economic crisis are pushing Moscow toward a more professional and less draft-based military, experts say; but the country's size and foreign policy priorities mean that there are currently no serious plans to do away with the draft.
An article in the current issue of Kommersant-Vlast by Aleksandra Dzhordzhevich and Anastasiya Kurilova surveys these problems now that Vladimir Putin has announced a spring draft quota of 142,000 and an expansion in the size of the Russian military to a level near where it was at the end of Soviet times.
This half-year draft figure is approximately half of what it was in 2000, a shortfall that has been largely made up by an increase in the number of those volunteering to serve as "contract," that is, professional, soldiers. Some are making this choice because of the absence of work in the civilian sector; others because of an upsurge in patriotism, experts say.
There are three changes in this round of the Russian draft from last fall's. First, deferments have been restored to those studying in technicums [technical colleges – Ed.]. Second, young men in occupied Crimea will be drafted. And third, the Russian Far North will now be subject to a military draft only once a year, not twice as elsewhere.
Valentina Melnikova, the head of the Soldiers' Mothers Committee, says that problems with the draft itself after declining in the 2000s have increased again since 2012-2013, with "the main problem" being "the health of the new draftees." Many young men are being taken because their "documented" health does not reflect the real situation.
Given the economy, this situation must be corrected, she continues, because each month that a draftee has to spend in hospital because of ill health costs the government approximately 100,000 rubles (1,800 US dollars) not counting any operations or other medical procedures that must be carried out.
Many young men and their families are worried that draftees will be sent into combat situations even though Russian law says this will not happen. At the same time, many wonder whether the government will eventually raise the upper age limit at which they can be drafted or change the length of service at some point.
The Russian military's increasing reliance on professional soldiers has other consequences, some good like a reduction in dedovshchina among them, as shown by the positive changes in those units where professionals have replaced draftees and some less so, because young men with more education are more resistant to integration into the services.
The situation in the North Caucasus is particularly fraught now that Moscow is increasing draft quotas there after drafting only very few or none at all in some places (in Chechnya in particular) for most of the last two decades. But there are still far fewer men from the North Caucasus being drafted than in neighboring Russian regions with far smaller draft-age cohorts.
For example, during last fall's draft, 500 men were drafted in Chechnya, 300 in Ingushetia, and more than 4,000 in Rostov oblast. To the extent that happens again, there is likely to be anger among both the North Caucasians and the Russians.
The North Caucasians are likely to be upset because without military service, young men cannot hope to serve in the force structures, a major employer in that region and elsewhere as well; and the Russians are certain to be upset because they are paying a higher "tax" than Muslims, the result of the reluctance of many officers to have too many Muslims in their units.
---
Related:
Tags: dedovshchina, International, Military analysis, Putin regime, Russia, Russian military, Russian military draft