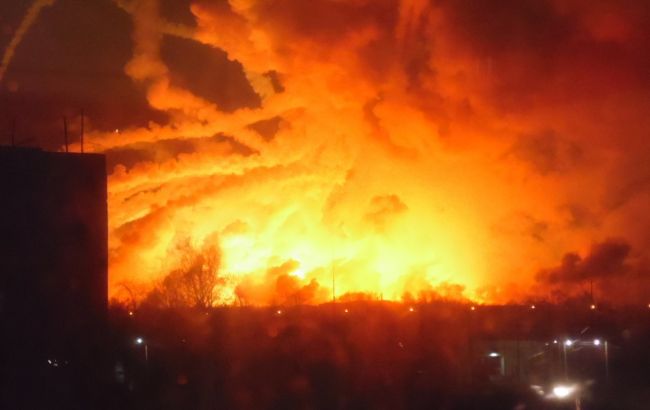 According to official information, about 125,000 tons of ammunition were stored near Balakliia photo: ipress.ua 
On 23 March, at 2.45 a.m., an explosion was registered at missile and artillery storage facilities located near Balakliya, Kharkiv Oblast. According to official information, about 125,000 tons of ammunition were stored there. Volodymyr Groysman, Ukraine's PM, has left for the place of action this morning to "ensure the safety of civilians."
Follow the developments in our liveblog: Ammunition depot on fire, 20000 evacuated. 84 attacks, 1 KIA, 1 WIA #DonbasReports
The investigation is still ongoing, but some facts are already known:
Ukrainian officials claimed that this explosion is a subversive action. Anatoliy Matios, Ukraine's chief military prosecutor, stressed that the fire broke out at two sites of one of the facilities, which is a clear sign of subversive action. However, the investigation is also considering criminal omission, even though "it does not seem likely."
According to Stepan Poltorak, Ukraine's defence minister, the fire near Balakliya might have been caused intentionaly, according to preliminary data. "Explosions occurred exactly where tank shells were stored," Poltorak emphasized.
State Security Service of Ukraine opened a criminal investigation of the explosion.  This has been reported by Olena Gitlyanska the press secretary of the SSU. Later, Vasyl Hrytsak, the SSU head, announced that the Service has found witnesses of the subversive action. According to their story, "explosives were thrown from the flying device."
Special commission of the defence ministry is operating at the scene. It is headed by Ihor Pavlovsky, Ukraine's deputy defence minister, according to ministry's press service. It is set to investigate the explosion further. Meanwhile, Minister Poltorak assured that all measures are being taken to extinguish the fire and to prevent casualties among civilians.
The evacuation for soldiers and local residents was started due to harsh humanitarian consequences. Ammunition touched by fire caused aftershock explosions which were damaging the civilian buildings, according to the report by Hromadske. More than 20 thousand people in 10-kilometer zone were relocated. Fortunately, there are no casualties. In order to facilitate the evacuation, President Petro Poroshenko instructed Heads of regional state administrations and Kyiv city state administration to take urgent measures to help the residents of Balakliya district affected by the fire.