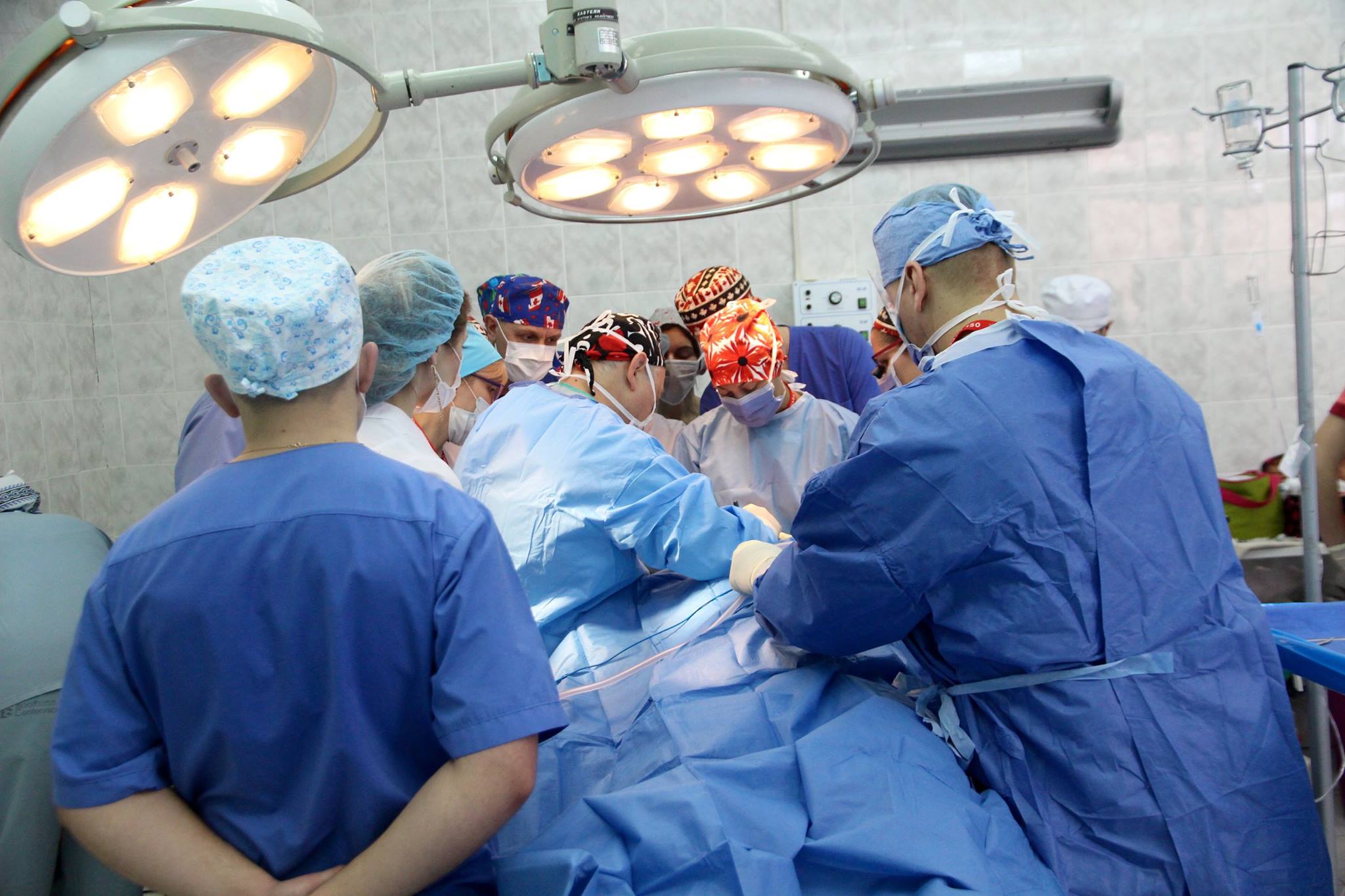 The medical mission's first day of operations. Photo: Anka WC 
The fifth Canadian medical mission began its work in Kyiv on 24 February 2016. It's the largest since the initiative launched in 2014, involving 26 surgeons, anesthesiologists, nurses and a physical therapist, as well as 6 members of the US Army Medical Service Corps, who joined the Canadian mission for the first time. They all came on a volunteer basis to work together with Ukrainian doctors to help operate, treat, and diagnose soldiers. The US military professionals are observing how the Canadian mission works in order to do orthopaedic master classes in Ukraine in the future.
This mission, like the four before it, are sponsored by the Canada-Ukraine Foundation (CUF) and is headed by the Canadian doctor Oleh Antonyshyn, Head of the Adult Craniofacial Program at Sunnybrook Health Sciences Centre and Professor of Plastic Surgery, University of Toronto. The team is assembled from across Canada and will treat facial and upper extremity trauma, post-traumatic craniofacial deformities, soft tissue defects, and scars. Over the four previous missions, the medical staff performed 240 operations on 127 Ukrainian activists and soldiers wounded during the Maidan revolution in 2014 and the subsequent war in Eastern Ukraine.
Each mission lasts for about a week, during which the Canadians try to help as many patients as possible, who have little opportunity to be treated in Ukraine. The Canadians mainly accept the most difficult cases that require cranial and facial operations, as well as hand therapy. The patients are invited for checkups when the mission comes back. This time, the plans are to operate some 40 patients.
However, it's unlikely that these large-scale missions can continue for a long time. Speaking to newpathway.ca, CUF president Victor Hetmanczuk told that they will need to reevaluate their strategy and scale the mission down. "We would like to send teams of 5-6 people to hospitals in Lviv, Odesa, Kharkiv, and Dnipro to share our expertise. The Americans are having a videographer on their team who will prepare teaching videos for the Ukrainian side and for the American side," he told.
Victor Hetmanczuk, President of the Canada-Ukraine Foundation, informed that the Foundation will soon launch an advanced training program for nurses in Ukraine, "Advanced practical guidance for clinical work," that was born as Ukrainian nurses observed the practices of Canadian nurses during the missions. In Ontario, there are 46 best practices that are being used to improve nurses skills after they got their degree. Speaking at a press conference in UCMC, Victor told that such training courses are held in many countries, including Italy, Belgium, and Australia with a total duration of 3 years. "The program is aimed at developing medical care standards, practical use of evidence, sharing knowledge in nursing, facilitating the clinical decision making, filling knowledge gaps and reducing the financial expenditures of hospitals," he noted. Victor hopes that Canadian standards on PTSD will be introduced into the nursing curriculum in Ukraine, which would work towards institutional change in the Ukrainian hospital system.
Tags: Archive, Canada, Help Ukraine, Medics