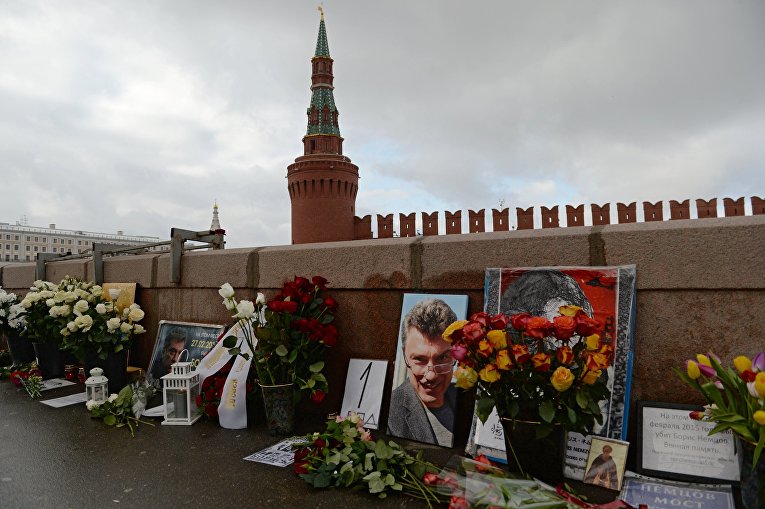 The bridge where Nemtsov was shot in Moscow is filled up with flowers each day, which are cleared by the municipal services. Photo: Valery Melnikov, RIA Novosti 
February 27 will mark exactly six months since the death of my close friend and colleague, Russian and Ukrainian journalist Aleksandr Shchetinin. And the following day, February 28 will mark the second anniversary of the murder of Russian political figure Boris Nemtsov.
At first glance, it might appear that there is no connection between these two events. Moreover, until now whether the death of Aleksandr was murder or suicide was undetermined. On August 28, 2016 he was found in his own apartment in the Podil section of Kiev with a single gunshot wound in his head (a pistol lay under a table). The Head of the Main Directorate of the National Police in Kiev, Andrey Krishchenko, noted that regardless of the appearance of a suicide, the police are investigating the matter as a murder.
"Proceedings are opened under Article 115 'premeditated murder.' Until all the facts are established, until they are not subjected to analysis, forensic medical examination – we will treat this as premeditated murder," he declared.
Since then no additional details of the investigation have been made public.
Immediately following Aleksandr's death I wrote about the remarkable strength of character and zest for life with which Sasha faced every hardship – and there were many hardships. The Russian regime took everything from him. For supporting Ukraine Aleksandr was forced to sever relations with his website Novyi Region ("New Region") thereby losing a large part of his business. His accounts in Russia were blocked under regulations against financing terrorism, and then his whole site was declared extremist by Russia's Supreme Court.
Read more: Another death of a Russian opposition journalist: Alexander Shchetinin remembered by Kirillova
Later Aleksandr learned that should he and I return to Russia we would be charged with treason. Eventually, Sasha lost any possibility of returning home which meant not being able to be with his friends and his children from his first marriage. This was truly hard for him. Novyi Region in its new format suffered frequent financial problems, but Sasha survived these and other problem with exceptional optimism based on his belief in the righteousness of his choices and his love for Ukraine.
But there is something I did not mention in the obituary so as not to cast a shadow on Sasha's memory so soon after his death. Since then, this information has appeared many times in the media, so it's no longer a secret. At some point before I met Sasha, before "Maidan" and the war, Novyi Region itself was in large part a cog in the Russian propaganda machine. Aleksandr himself had good connections in Moscow, and his Ukrainian editions in large part adhered to the Russian agenda. So as a person with direct knowledge of this agenda he made a choice in the end (the sincerity of which is beyond doubt), and not only began to fight Russian propaganda in Ukraine, but also exposed Russian agents in that country.
Read also: How journalism died in Russia. A Russian journalist describes
For example, he was well-acquainted tie the team of Aksyonov and other members of the "administration" of occupied Crimea – so well-acquainted that he could easily reveal which of them were FSB agents and which were GRU. He once admitted to me that using Skype he wrote the following to one of the Russian agents working in Ukraine: "I give you 24 hours to leave Ukrainian territory.' And no one in Kyiv ever saw this agent again."
Afterward, Sasha even joked that the FSB might kill him "like Litvinenko," but at the time no one took these jokes seriously.
We can't know for certain whether Sasha's death was connected with his work at the time, but we do know that the possibility cannot be ignored. On cannot ignore the fact that on the very day that Shchetinin's fate was known, the very first line of an article which appeared on a Russian propaganda site was:
"The pendulum has swung. And now for the second month in a row the conditions are ripe for the 'liquidation' of Russian journalists who have sworn loyalty to "nen'ka (Ukraine). A month ago the editor of UP excoriated a Belarusian journalist with Russian citizenship – Pavel Sheremetov."
In the following paragraphs, the writer transparently hints that all Russian journalists supporting Ukraine should beware of reprisals. And by the way, my name is also on this list. The article was reprinted by several publications, including the pro-Russian Donbas media from which it quickly disappeared. We must recall that Sasha's death became public on Sunday. Normally big articles of this sort that carry explicit threats require as a minimum coordination with site editors who are not accustomed to working on their day off. Nevertheless, this material appeared with stunning speed, as though its authors had a head start before Shchetinin's death.
Of course, all of these factors still do not comprise direct evidence that Aleksandr was murdered, just as "indirect" forms cannot be ruled out (incitement to suicide, pushing the idea, increasing pressure). However, over the past two years in Russia too many strange deaths have been observed, sudden suicides and unsolved murders to ignore. Here is an incomplete list of such incidents that have taken place since
May 26, 2015: Vladimir Kara-Murza, Jr. was admitted to the First City Hospital with low blood pressure and suspicion of cardiac insufficiency, and remained in an induced coma for several days. Later it was discovered that experts discovered heavy metal in his body. Incidentally, following the murders of Nemtsov, Kara-Murza and the former Premier of Russia, Mikhail Kasyanov, travelled to Washington to hand to Congress the so-called "Nemtsov File" with the names of politicians and journalists openly calling for persecution of the murdered opposition politician. Kara-Murza also spoke in favor of sanctions against Moscow following Russia's annexation of Crimea.
November 5 of the same year one of the main creators of Putin's propaganda machine, Mikhail Lesin, was found dead in his hotel room in the center of Washington. It's true that the American authorities stated that the death was an unfortunate accident, but this did not silence the many questions surrounding the circumstances of Lesin's death, such as why was he in the United States, and precisely what had he intended to hand over to the American authorities.
December 25, 2015 teenager Vlad Kolesnikov, who had been persecuted for his support of Ukraine committed suicide. This was a true suicide. As a person who had been close to Vlad I can confirm that he had occasional suicidal thoughts, although he always said he suppressed them. However the very fact that the entire system, his school, the police, neighbors, and even his own family turned against this very young person makes it abundantly clear that this young person was a victim of Putin's Russia.
2016 was rich in mysterious deaths from the beginning. On January 3 the Head of Russian Military Intelligence (GRU), Igor Sergun, died unexpectedly (officially – a heart attack). He managed the annexation of Crimea and was sanctioned by the US, the European Union, and Australia. It was also he who organized the visit to the GRU in June 2013 of General Michael Flynn who recently was forced to resign from the White House due to his excessively close relations with the Russians. Just a few days before Sergun, on December 27, 2015, the person who directly commanded the forceful seizure of the peninsula, Major General Aleksandr Shushkin, Deputy Chief of Staff of the Russian Parachute forces, died from "heart stoppage."
In February there was a series of suspicious deaths, but these were connected to another Russian "Special Operation" – the infamous "substitution of urine samples." On February 14, 2016 the former Executive Director of the Russian Anti-doping Agency (RUSADA), Nikita Kamaev, died unexpectedly shortly after informing a journalist of "The Sunday Times" about his intention to disclose secret information about doping in Russian sports since 1987. The cause of death, as might already be guessed, was another "infarction." Less than two weeks earlier the former Chairman of the Executive Committee of RUSADA and ex-Head of the organization, Vyacheslav Sinev, also died.
The morning of July 20, 2016 in Kiev well-known Belarussian and Russian opposition journalist Pavel Sheremet perished when his car exploded, and as noted above during the night of August 27–28 Aleksandr Shchetinin either killed himself or was murdered.
Read more: What the murdered Ukrainian-Belarusian journalist Sheremet stood for
On October 16, 2016 in Donetsk well-known leader of the Donbas Militia, Arseniy Pavlov ("Motorola") was blown up in the elevator of his own home. Before that other prominent separatist field commanders died, such as Pavel Dremov, Aleksandr Bednov, and others. According to one version "Motorola" was liquidated by his own people on orders from Moscow because he was uncontrollable.
Read more: Donbas warlord Motorola killed in Donetsk
At the very end of December in Moscow 61-year-old Rosneft department head Oleg Yerovinkin died. During the period 2008–2012 he was Chief of Staff for then Vice-Premier Igor Sechin. According to preliminary reports he also died of "heard stoppage." It was reported in the American Press that Yerovinkin was one of the most important sources of former British intelligence officer Christopher Steele for his "dossier" alleging that Russian intelligence possesses compromising information on Donald Trump. His death is even more suspicious in light of the fact that it coincided with the arrests of FSB cybersecurity specialists who appear to have been agents of the USA. One is left with the impression that the information was received by the Russian secret services via a common leak.
2017 began with preparations for the assassination of the Deputy of the Verkhovna Rada (Supreme Council) of Ukraine, chief advisor of the Head of the MVD Anton Gerashchenko, which was thwarted by the SBU. According to official information, the terrorists planned to bomb Gerashchenko in the same manner that Pavel Sheremet was killed. A few days after the plan was foiled Gerashchenko declared that Sheremet was murdered on orders from Russia. In his words Ukrainian law enforcement authorities concluded that inside Russian territory there is a sabotage-terrorism center with the mission of organizing crimes in Ukraine.
Meanwhile in Moscow at the end of January the ex-leader of the "LNR" terrorists, Valeriy Bolotov, died. According to INTERFAX, he died from a heart attack. The militant's wife suggests that he was poisoned with a cup of coffee. Exactly one week later, on February 8 in the Donbas another terrorist leader, Mikhail Tolstykh, known as "Givi," died.
Read more: Another warlord killed: Mystery grows as series of deaths in Russian-backed enclaves continues
A short while earlier in Moscow on February 2 Vladimir Kara-Murza was again hospitalized in critical condition with symptoms suggestive of poisoning. Blood tests and also hair and nail samples were sent to France and Israel for toxicological analysis. A few days ago the lawyer for opposition figure Vadim Prokhorov filed a brief with the Investigative Committee demanding that a charge of attempted murder be brought.
One February 20 in the chancery of the Russian diplomatic mission in Manhattan the Permanent Representative of Russia at the UN, Vitaliy Churkin, passed away. The cause of death once again was given as "heart attack." We should not rule out that in this case death was natural – at least so long as convincing evidence does not appear to indicate that Kremlin loyalist Churkin planned to provide some sort of information to a foreign intelligence service. However, yet another reference to a "heart attack" after everything enumerated above leads many to doubt this version, even in such a case.
In sum, reading through this list one may see that not only opposition figures and journalists, but also refugees, informers, potential informers, loyal but overly fanatical militants, and those who simply "know too much" die at the hands of the Kremlin.
For those who calculate how to adopt the most convenient and safe behavior it's important to understand – such a calculation is impossible. Any contact with something as evil as the Kremlin leads to the death of the right and the wrong, one's own and others, the noble and the base. The difference lies entirely in the kind of life a person lives before death.
It's possible to sell every last vestige of conscience, to justify terrorism, lies, occupation, seizure of foreign lands, as did Churkin, and at the same time be mortally afraid of appearing at any moment objectionable. It's possible to give criminal orders as did the defunct GRU Generals, or to carry out those orders as did "Givi" and "Motorola," or to take part in other non-military crimes of the Kremlin, as did Lesin – all the while living in fear of discovery, future dismissal, office intrigues or a stray bullet.
But one can live an honorable and principled life, as did Boris Nemtsov or Pavel Sheremet, or make the unconditional and sacrificial choice to correct earlier mistakes, as did Aleksandr Shchetinin. Such choices make life bright, intense, honest, and decent such that it outshines even the most horrible death because only such a life is stronger than death.
---
Related:
Tags: criminalization of Russian state, journalist intimidation, Kseniya Kirillova, murders, Nemtsov, Putin regime, Russia, Russian journalism, Russian special services, Russo-Ukrainian War (2014-present), Shchetinin, witnesses