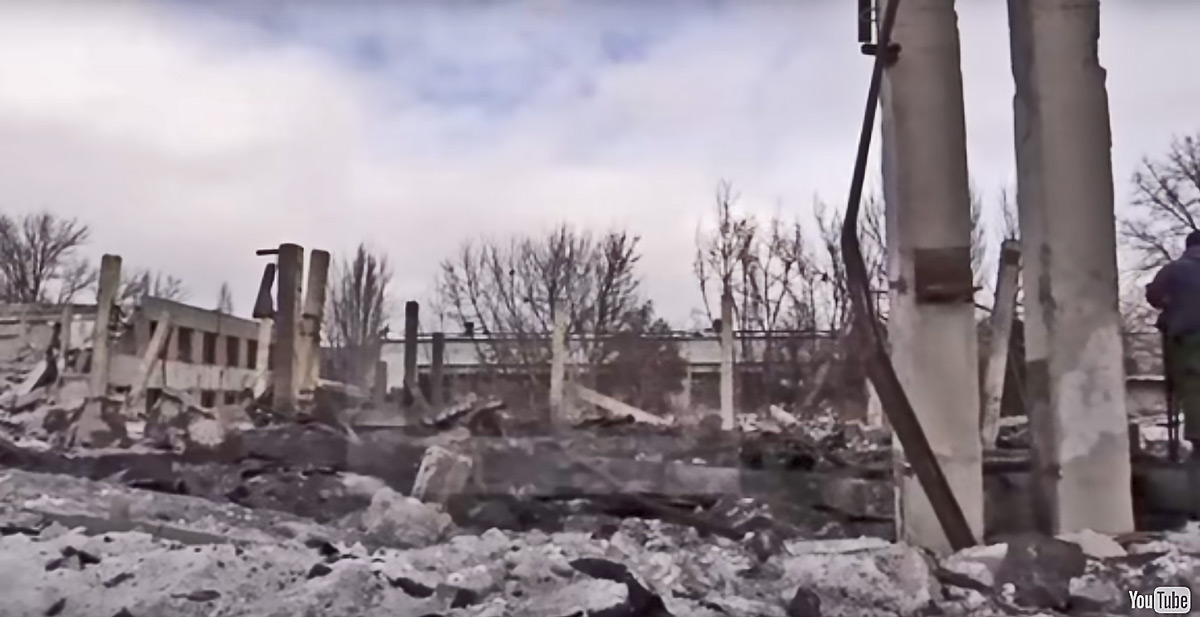 Aftermath of the explosion at Donetsk Chemical plant on February 14, 2017. Credit: Youtube video 
In this series, we are teaming up with the tireless social media activist who goes by English Luhansk on twitter to produce open source updates about the military situation in Donbas. We analyze reports from Donbas local twitter accounts and translate it into a comprehensive overview of what's going on on the ground. 
Yesterday's digest can be found here: 
Donbas report: 67 attacks, one Ukrainian soldier wounded, Russian writer turns mercenary
Overnight into February 15, north Donetsk could hear sporadic sounds of the cannonade, it was also heard in Yasynuvata and Makiyivka, cities north and northeast of Donetsk (all time EET, GMT+2).
02:00 Makiivka Vostochnyi: From the west, not loud single booms are heard for quite a long time. Probably, our silence is coming to its end
06:25 Yasynuvata: "Good morning to all, however the night cannot be called quiet. And not far booms have started"
At 08:57 an explosion at Donetsk State Chemical Plant rocked the city:
08:57 Donetsk: Lots of reports on a massive explosion (see further)
Since then sparse explosions were sometimes heard at long pauses in Donetsk until 3 pm; artillery fire was heard in Starohnativka (south of Donetsk); outgoing salvos were recorded in Horlivka (northeast of Donetsk):
10:10 Donetsk: Avtomagazin has heard it, not so powerful as an hour ago
10:25 Novhorodske: Several more far-off explosions, Donetsk direction
10:31 Starohnativka: The whole morning "holiday fireworks" [=artillery] have been heard, now louder then softer.
10:32 Horlivka: Horlivka shelled somewhere from 09:25 to 10:10
13:02 Yasynuvata: "It has rumbled good again"
13:14 Starohnativka: They boom seldom, but loud
13:31 Avdiivka: Perfect silence
13:55 Debaltseve: About 12:00 a strong explosion occurred, car alarms went off in the courtyard, 1 hr after the boom repeated
14:30 Donetsk: Ka-boom, I thought it seemed, but my they write on my timeline it was
14:30 Yasynuvata: Those booms are too often [=one more boom]
14:34 Makiivka Gvardeyka: Some powerful boom has passed through. Not like salvo or impact
14:51 Novhorodske: Today is the day of far deep explosions. Again a wave has hit from somewhere…
At 15:00 artillery fire activated in Donetsk, the cannonade was heard in Donetsk and in cities to the north until 21:00; the shelling in Starohnativka lasted not that long:
15:01 Avdiivka: From Makiivka, artillery is working by times, unknown where it goes, but not at Avdiivka, quiet here
15:15 Donetsk Kyivskyi district: 2 booms at a short pause. The 3rd. And here comes the 4th boom
15:15 Donetsk: Ka-booms started, the rest of explosives?
15:20 Donetsk: "More than 10 salvos northwest of Kalininskyi market"
15:22 Donetsk Tekstilschik: One can hear booms, strong wind here, but I think it's incoming
15:24 Donetsk: "Strange sounds similar to salvos, powerful, what's that?"
15:37 Makiivka: A couple more loud booms, west
16:13 Starohnativka: The rumble became more frequent and strong
16:18 Donetsk Kalininskyi: "The house is shaking"
16:18 Makiivka: Another boom
16:19 Donetsk: "The impression is that orcs dispose something at the range" "Boom from Gvardeyka direction"
16:19 Donetsk: Another "booom", car alarms went off
16:19 Donetsk: Again something has boomed?
16:21 Donetsk: "It has rumbled loud just now, I even jumped"
16:30 Makiivka Zelenyi: [Boom] has been heard. Far rolling ka-boom
16:45 Donetsk: Seldom, strong booms from Promzone direction (north)
16:45 Makiivka: One more [boom]
16:48 Makiivka: More [booms]
16:54 Donetsk Proletarskyi district: There have been 2 booms at a short interval, barely heard here…
16:56 Donetsk Proletarskyi: Now louder, rolling
16:56 Makiivka: Loud booms
16:56 Donetsk downtown : Again a loud ka-boom, panes trembled, car alarms howl
16:56 Makiivka: It booms somehow tough
16:56 Donetsk: Again [=boom]
16:57 Donetsk: It's very loud
16:58 [Avdiivka]: Battle at Promzone
17:05 Donetsk: Another powerful ka-boom. It is the 6th [loud boom over the day]
17:21 Donetsk: And more, something not too strong [has shelled]
17:24 Makiivka Vostochnyi: They rumble in the west, maybe from the bypass road
17:41 Donetsk: At 5 pm there was a massive explosion north direction, on Pushkina car alarms went off
19:25 Yasynuvata: Kruta_Balka–Vasylivka: the rattle started, [accompanied by] underbarrel grenades
19:28 Donetsk: Intense fighting northwest. Mortars are heard working, small arms
19:29 [Yasynuvata]: Direction of ponds [DFS] sounds very noisy
19:38 Donetsk Shakhtarska: It booms somewhere pretty strong, the direction is unclear due to the wind
19:44 Donetsk: Mortar rounds are heard, from Putilovka?
19:45 Makiivka: Booms [are heard from] Mineralne direction, seemingly, Russian artillery is shelling from Kordon pond
19:50 Donetsk: The 'noise' doesn't cease at Spartak [=ongoing battle – mortars, small arms]
20:15 Avdiivka: Oh, sounds [of battle]
20:20 Donetsk: Rumble in directions of Spartak, Yasynuvata checkpoint, Mineralne
21:05 [Makiivka]: I was outdoors. Single strong booms for about 1 hour northwest of Gvardeyka. Now they are quiet
Explosion in Donetsk
A massive explosion occurred on the premises of the Donetsk Chemical Plant in Kuybyshevskyi district at 08:57.
Numerous reports by local residents followed the explosion:
3/X 08:57 #Donetsk #Kyivskyi ds @Urriarachentsev Tangible boom. A plume of smoke is rising in the west#donetskblast
[edit]

— English Lugansk (@loogunda) February 14, 2017
8/X 09:02 #Makiivka @PriestEtlau Makiivka [heard it] too, was like an explosion#donetskblast

— English Lugansk (@loogunda) February 14, 2017
12/X 08:57 @666_mancer [vk]#Marinka: many ppl felt a strong boom#Krasnohorivka: boom

— English Lugansk (@loogunda) February 14, 2017
A video of the devastating aftermath at Donetsk Chemical plant emerged later:

"DNR" claims Ukrainian 152mm projectile hit oxygen cylinders in the maintenance workshop area at the Donetsk Chemical Plant. However, there were no reports of incoming artillery fire in Donetsk. Moreover, according to the Main Directorate of Intelligence of the Ministry of Defence of Ukraine, a disregard for explosive handling safety caused the explosion while "militants" were collecting and sorting scrap metal.
Ukrainian military report no casualties
On February 14 the Anti-Terrorist Operation (ATO) Headquarters recorded 52 attacks on positions of the Armed Forces of Ukraine in the Donbas.
Donetsk sector:
Kamyanka, Troitske, Novoselivka Druha, Nevelske, Pisky, Avdiivka came under mortar fire. Zaytseve, Pisky, Opytne and Novhorodske were attacked with small arms. BMP-2 conducted fire on Avdiivka.

Mariupol sector:
Vodyane was shelled with 120mm mortars (banned by the Minsk agreements). Small arms were applied against Pavlopil, Chermalyk, Lebedynske, Hnutove and Shyrokyne. Enemy BMP attacked Shyrokyne and Vodyane. A sniper attacked Novotroitske.

Luhansk sector:
Novooleksandrivka and Novozvanivka were fired with large caliber machine guns and small arms.
There were no military casualties among Ukrainian military units on February 14 according to the ATO HQ.
OSCE reports fewer ceasefire violations in both Donetsk and Luhansk regions
The OSCE Special Monitoring Mission to Ukraine (SMM) has released its report based on information received as of 19:30, 13 February 2017:
Fewer ceasefire violations in both Donetsk and Luhansk regions compared with the period between the evenings of the 11 and 12 February, mainly in the Avdiivka-Yasynuvata-Donetsk airport area.
The SMM's access for monitoring disengagement areas of Luhanska, Zolote and Petrivske remained restricted, "Its freedom of movement was restricted on numerous other occasions, in particular in areas not controlled by the Government," the report reads.
Military equipment on the move in Luhansk Oblast
Journalist Oleksandr Belokobylskyi reported on his Facebook at 14:51:
In Kadiyivka, tank columns are pulling back from the frontline, local residents report. To Luhansk and I hope further home, to Russia
Tanks in such reports may refer to any tracked military vehicles.
A video from Luhansk was posted later, reportedly filmed on 30 Rokiv Peremohy street in Luhansk at 16:20, it shows a military column of MT-LB towing vehicles and Ural trucks heading northeast:
Trade blockade of Donbas continues
The civil blockade of the railroads connecting the Donbas with its occupied parts continues.
The OSCE special monitoring mission has mentioned their blockade-related observations in their latest report:
On 12 February, in government-controlled Hirske (63km west of Luhansk), the SMM observed two unarmed men in camouflage fatigues who remained near a tent at the site of a railway track blocked by tree trunks. The SMM noted that one police officer was present at the scene.

The head of a railway station terminal in Yasynuvata told the SMM that no cargo trains had arrived from government-controlled Kostiantynivka (60km north of Donetsk) in the past three days.

In "DPR"-controlled Yenakiieve (41km north-east of Donetsk) a manager at a steel plant told the Mission that if the blockage of railway traffic to and from areas not controlled by the Government continued, the plant's two blast furnaces would become inoperable within a month.

Three representatives of a power plant in government-controlled Mykolaivka (95km north of Donetsk) told the SMM that the blockade affected coal supplies to the plant which provided heating for about 15,000 people.
Alchevsk Metallurgical Plant has suspended iron smelting on February 14 due to lack of iron-ore raw materials as a result of the blocking of railway tracks, the Interfax-Ukraine news agency reports. The Ukraine-registered ironworks owned by Akhmetov's ISD corporation are located in occupied Alchevsk. The plant is dependent on Ukrainian ore mining enterprises.
Tags: Blockade, Donbas war (2014-present), Donetsk, explosion, Luhansk, News, Russo-Ukrainian War (2014-present)