BACKGROUND
The citizenship question with Russia's annexation of Crimea (March 18, 2014)
According to Article 4 of the Russian law from 23 March 2014 "On the Acceptance of the Republic of Crimea into the Russian Federation and the Creation of New Federal Subjects – the Republic of Crimea and the City of Federal Significance Sevastopol," citizens of Ukraine and stateless persons who were permanently residing in Crimea as of March 18, 2014 are recognized as citizens of Russia, unless they declare within one month (by April 18, 2014) their desire to maintain another citizenship or to remain stateless.
Within only a month, Crimeans were forced to make a difficult choice: to take Russian citizenship, granting them their existing rights in Crimea, and a Russian passport, or to refuse a Russian passport and identify as nationally Ukrainian. According to several reports, the process for retaining Ukrainian citizenship was very vague and intentionally bureaucratic. To increase the pressure placed on citizens to take a Russian passport, the Russian Federation approved a law which would mean that all citizens of Crimea who opted to retain their Ukrainian citizenship had their right to remain indefinitely on the territory revoked.
This new legislation brought in by the Russian Duma discriminated against those who did not conform to the Russian identity imposed upon them. In fact, the entire transition process from Ukrainian to Russian citizenship was highly coercive in nature. The bureaucratic opacity of the whole process meant that many who did not want to assimilate were left with no other option. 
What is life like for Ukrainian Crimeans who have refused to take Russian citizenship, who have not yet received a Russian passport and stateless persons?
Ukrainian legislation stipulates that all documents issued in Crimea by representatives of the Russian Federation shall be deemed invalid.
Crimeans who have officially renounced Russian citizenship, and those who simply do not ask for a Russian "Crimean" passport have encountered obstacles in daily life. Some are pro-Ukrainian activists, others are ordinary residents of Crimea who do not express their position publicly.
Sanction No.1: Persecution for a pro-Ukrainian position
Mykhailo, an activist of the Ukrainian Cultural Centre in Crimea, has not received any new Crimean documents.
He, as well as other Crimeans who officially renounced Russian citizenship, were immediately put on a "special" list of the Russian occupationary security services in Crimea. If pro-Ukrainian sentiments are expressed openly, persecution becomes systematic, namely arrests at the border, detention, and intimidation.
"For example, we travelled to Armyansk and took some pictures there in vyshyvankas (embroidered shirts). We were detained without explanation, taken to the police station and interrogated.

You know what they said? "Well guys, you might be found somewhere without your head, so you'd better leave us your fingerprints so that we can identify you!"
Mykhailo adds that he has often been summoned to appear before the prosecutor, where officials explain that he must be careful not break the law on extremism or the rules on holding meetings in the Russian Federation. This usually happens just before major Ukrainian holidays.
"The border guards make us wait for hours. Actually, the interview goes quite fast, but no one understands why we have to wait so long. It's stressful to stand there, guarded by an armed border guard."
Persecution continues against activists who didn't renounce their citizenship within the time limit (one month), or haven't yet received a Russian passport. Human rights activists believe that many ordinary citizens are arrested because of their pro-Ukrainian position. They addressed an open letter to the Ukrainian authorities in Kyiv, calling on them to protect Volodymyr Balukh, who has been in a Crimean prison since December 8, 2016.
 "Volodymyr is accused of hiding ammunition in his mother's home. But, the search itself was conducted with gross violations. Volodymyr was led away immediately and could not follow the search. Prior to that, the Ukrainian flag that he had hung before his home was illegally ripped off three times." says activist Olha Skrypnyk.
Antonina has also suffered for her beliefs. Not long ago, she was interviewed by a journalist and the article was published in a Ukrainian newspaper. We have changed Antonina's name for security reasons. She also asked us not to publish the name of the city where she lives with her family.
"Our neighbours read the story and began shouting at us. They yelled at my child (he's 9 years old-Ed.). Of course, it was all about Ukraine, Crimea, and finally they shouted violently: "Get the hell out of here, you khokhly!" (derogatory Russian term for Ukrainians-Ed.)

Some vandals also damaged our property. They poured tar all over our front gates, and spray-painted "Death to the banderites" all over the place. We called the police, filed a claim, but they refused to institute criminal proceedings.

Please don't publish my name. It's more or less back to normal now. I can go out and nobody bothers me; my husband goes to work every day. Our daughter is very sick so it's very hard for us to leave."
Sanction No.2: Restricted access to healthcare
Activist Mykhailo says that persecution for ideas and beliefs is just the tip of the iceberg. It gets even more difficult when "refusenyks" need to see a doctor or a specialist.
"Last year, I got really sick… fever and cough, so I went to Hospital No.7. I didn't have a referral from a doctor as I don't have insurance, and I don't have insurance because I don't have a passport.

I had to turn to a doctor that I knew personally. He diagnosed pneumonia, and I was treated at home by my doctor friend. If you're seriously ill, you have to go to a private clinic. They've sprung up like mushrooms!"
According to current regulations, medical services should be available to everyone residing in Crimea, but only if they show a mandatory health insurance policy. Those who do not have such documents cannot get an appointment at a state hospital.
Olena also renounced her citizenship, but she hasn't received her Russian passport or her residency papers. She has a small child that she wanted to register in kindergarten and the local clinic.
"It was so funny when I went to register in the clinic. I was pregnant. They must have brought in about a dozen people to the reception desk, but they couldn't figure out what to write in their medical records. I had neither residency documents nor a Russian passport.

It took me ages to explain my status to them – I have a residency permit in Crimea stamped in a Ukrainian passport. They didn't want to believe me…even though I tried telling them that there were thousands of people like me in the same situation in Crimea."
The head of the Crimea Human Rights Group, Olha Skrypnyk maintains that such practices are discriminatory.
"It's virtually impossible for Crimean residents who refuse to take Russian citizenship or a Russian residency permit to get medical insurance. These people can't get free medical care, and aren't covered for some pay medical services."

Access to health insurance and medical care is one way to coerce Crimean residents to ask for a Russian passport.

Refusing to provide medical services or specialized medical care is a threat to people's health and even their lives. Such discriminatory practices are unacceptable!"
Sanction No.3: Dismissal from work
After March 2014, Crimean "authorities" consider all Ukrainians as foreigners even if they have been registered in Crimea for a long time.
"To get a job, Ukrainian, and foreigners, must have a labour patent. The situation is hopeless without one." says Mykhailo.
Candidate of biological sciences from Yalta Guri Korniliev was fired on August 8, 2016. He believes that his dismissal is due to his rejection of Russian citizenship as his superiors repeatedly asked him to withdraw his statement renouncing Russian citizenship:
 "Yarosh (tutor for young scientists-Ed.) told me that as I had voluntarily refused to take a Russian passport I was clearly demonstrating an "anti-Russian position" and "that I had no moral right to work at a Russian company", and should go and work in Ukraine."
He had the same conversation with other dismissed employees who had also refused to take a Russian passport.
Guri Korniliev declared that two other employees of the Nikitsky Botanical Garden had been fired for taking a pro-Ukrainian stance.
"The director of the Nikitsky Botanical Garden informed us that he allegedly has to justify in writing to his superiors why his company employs foreign citizens!"
Employers who hire Ukrainians are actually fined – for example, if an employer has not notified the Migration Service of an employment contract with a foreigner, or if the company hires a Ukrainian citizen without a special work permit or labour patent.
Sanction No.4: Impossibility to re-register vehicles
Antonina complains that as she does not have a Russian passport she cannot re-register her car or get Russian license plates.
"The two letters – AK – are temporarily withdrawn and new Crimean numbers are issued – RF region 82. That's not good for me as I can't travel to the Ukrainian mainland as often as I wish."
She said that during one trip she was stopped at the border checkpoint where Russian customs officers gave her a "kind of voluntary option… some sort of deportation."
"You could say that they forced me to change the registration in my passport. I had to register with a friend in Mykolayiv (mainland Ukraine-Ed.). My son and I go there quite often. The Russian border guards allow my son to travel with his migration card despite the fact that his father has a residency permit.

So, now I come into Crimea on my migration card as a foreigner and can stay 90 days and my car is allowed in only on a temporary basis."
Sanction No.5: Refusal to provide banking services
If a Crimean turns up at a bank with a Ukrainian passport and no official Crimean residency permit, no one will talk to him.
Yuriy Formus, a resident of Yalta, asked the Black Sea Bank for Reconstruction and Development to pay a state court fee. The bank refused to serve him when he showed his Ukrainian passport. He was officially told that the bank only services people with Russian or foreign documents.
Howeve, Elena points out that even Crimeans who are issued a residency permit have problems with the banks.
"Persons with a residency permit can't get a bank card in Crimea… I mean I can open a bank account at a local bank, but I can't get a card. That really complicates matters as my salary is automatically credited to my account.

If you want to get residency by setting up a private business enterprise you'll have to provide tons of documents, and you'll also have problems opening a bank account."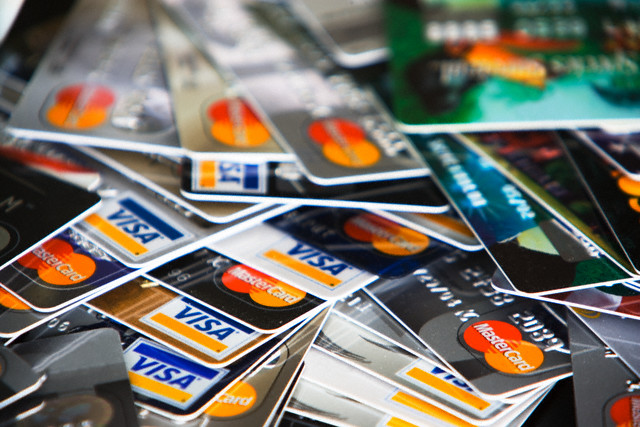 Sanction No.6: Living without a residency permit
Elena tells us about another major obstacle. In Russia (and now in Crimea), if a person does not own a house or an apartment, he must sign a social rent contract, that is, conclude an agreement on low-rent housing with the municipal administration.
Elena's parents don't own a home and live in a communal apartment. When Elena got her residency permit, she was automatically registered in her apartment. But, when her parents wanted to join her, they were refused.
"The authorities refer to the fact that Ukrainian citizens are registered in this apartment, namely my child and I. I've been living there for 20 years, but that didn't help our case at all!"
Elena decided to leave her apartment, and when she tried to register in a different flat, she was told that only owners were allowed to register residency.
So, now Elena and her child are living "in limbo". In fact, she must search for the owners of the apartment who will then register her and her child.
Russian legislation does not offer any solutions to such surreal situations. When Crimean Ukrainians run up against such legal "holes", local authorities simply turn a blind eye.
"They just pretend that we don't exist…" says Elena.
Crimean residents cannot see a way out of this grotesque situation. Very few agreed to express their views openly.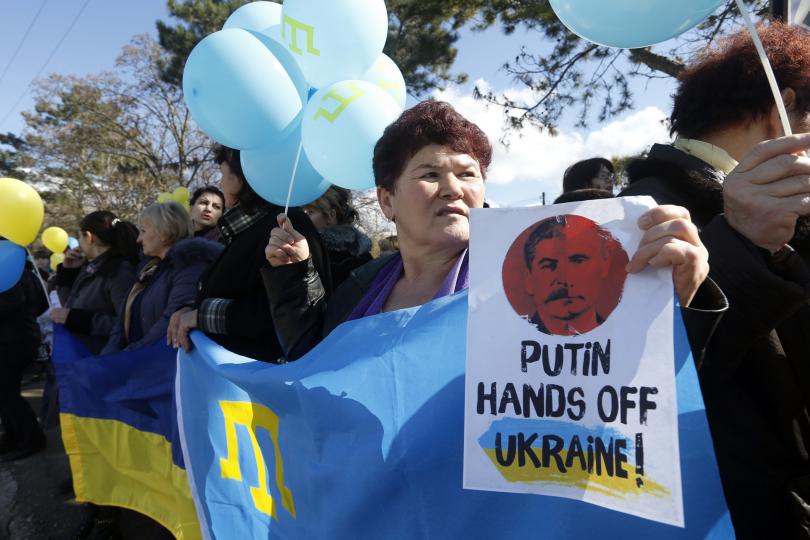 In conclusion, I'd like to finish this article with an anonymous statement made by a Ukrainian woman living in Crimea:
"The only solution to these problems is de-occupation. Otherwise, we'll either be relocated somewhere or forced to leave our homes. My Mom is for Putin, and so are my in-laws… I can only rely on my good friends… and Ukraine, my country that we believe in and live for."
---
Related: