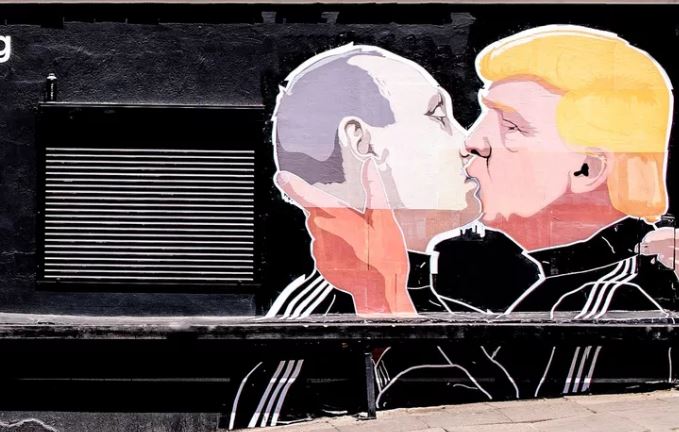 A mural of Putin and Trump in Vilnius. Image: Facebook/Keulė Rūkė 
The USA's Treasury Department has allowed American companies to interact with Russia's Security Service, the FSB, in order to receive the licenses and permissions needed to export "certain information technology products" to Russia, a statement on the Treasury Department's site reads.
The sanctions, which were introduced by the Obama administration on 29 December 2016, prohibited local US companies from interacting with the FSB, as well as sanctioned nine entities and individuals linked to GRU, Russia's largest foreign military intelligence agency, and the FSB. Four high-ranking officers of the GRU were also sanctioned, as were three companies that "provided material support to the GRU's cyber operations."
The new order "authorizes certain transactions with the Federal Security Service that are necessary and ordinarily incident to requesting certain licenses and authorizations for the importation, distribution, or use of certain information technology products in the Russian Federation, as well as transactions necessary and ordinarily incident to comply with rules and regulations administered by, and certain actions or investigations involving, the FSB."
Thus, the Treasury's new order eases sanctions only on the FSB. Exporting goods to Crimea is still forbidden.
The Russian agency RBK previously reported that the December sanctions against the FSB complicated imports of electronics to Russia, because the FSB controls the import of all devices using encryption. To export electronic devices like smartphones to Russia, a company must submit a note about its encryption mechanisms.
The sanctions of 29 December 2016 were issued as a retaliatory measure after the emergence of reports of the US intelligence community linking the hacked emails of the DNC with Russia's GRU. Then, Barack Obama called Russia's "malicious cyber-enabled activities" a "national emergency" aimed at undermining democratic processes. Additionally, 35 Russian diplomats were ejected from the United States, and the Russian compounds in  New York and Maryland were closed.
The USA also introduced sanctions against the Russian Federation over its occupation of Crimea and participation in the conflict in Donbas. After Donald Trump, who was according to the American intelligence community supported by Russia, won at the Presidential elections, statements were issued suggesting that the US would cancel or ease sanctions against Russia.
With reporting by Meduza.io
Tags: #TrumpNash (Trump Is Ours), International, Russia, Russia-US relations, Sanctions against Russia, Trump, USA, Western appeasement