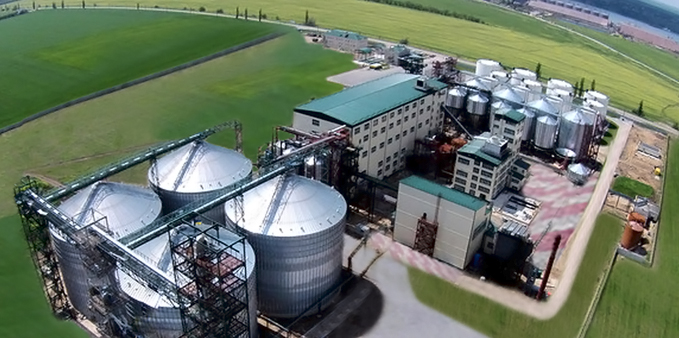 Allseeds is a new sunflower oil factory producing 240 million liters of sunflower oil per year. Photo: allseeds.com 
Although complaints about production termination are heard more than the reports about the launch of new frontiers, Ukrainian industry doesn't cave in. Foreign investment and loans have become the basis for new businesses. And they aim to reduce the need for imported goods and sell domestic products abroad.
1. Allseeds produces 240 million liters of sunflower oil per year
Region: Pivdennyi, Odesa Oblast

Opened: June 2015
The new oil-extraction plant LLC Allseeds Black Sea covers 28 hectares, and it processes up to 800,000 tons of sunflower seeds per year. Its grain elevator stores about 46,000 tons. The plant is near the port Pivdennyi in Odesa Oblast – close to where cargo loads on ships. The Allseeds group of companies invested $200 mn in the enterprise and the terminal for transshipment of oil. Foreign investments helped to implement the plant with modern Italian, German, Belgian, and Swiss equipment. An independent Dutch laboratory controls the quality of primary products at the plant.
2. Maize – the first national seed project
Region: Zaitseva, Dnipropetrovsk Oblast

Opened: June 2015
This new seed plant received UAH 100 mn of investments for its construction. German BHF Bank gave the third part of it as a loan under the guarantee of the European Bank for Reconstruction and Development.
Plant capacity is one-half to 1 million sowing units – and it is 10-20% of the Ukrainian market needs. It works in two modes: either starts a full standard technological cycle or performs three different operations at the same time with three kinds of seeds. Mais intends to build two more seed plants in different regions of Ukraine.
3. Bio gas plant provides green electricity to 800 households
Region: Rakytne, Kyiv Oblast

Opened: October 2015
The new biogas plant recycles organic waste and the energy from it goes to heating the local communities and greenhouses. They also plan to deliver ecological fertilizer for agriculture. So far, the plant produces only a fraction of its potential. However, it is already the most powerful biogas plant in Ukraine and one of the most productive for the eastern European countries.
The raw material for the biogas plant is pulp and other organic waste, which produce the gases which are combusted and transformed into electricity. Thus, two types of energy are produced – electric and thermal energy. According to calculations of engineers, 44 cu m of the gas produces 19 MW of electricity and the same amount of thermal energy
4. Interagrosystem is the first in Ukraine to produce fries
Region: Mena, Chernihiv Oblast

Opened: September 2015
This plant of semi-finished products is a joint Ukrainian-Turkish project. The Ukrainian side invested UAH 48 mn, the foreign partners – EUR 2.5 mn.
Potatoes grow on the company's fields and Interagrosystem purchases some of the needed amount from local farmers.
The production line operates in three shifts with 50 people involved. 100 more people plant, harvest and sort potatoes.
The plant will process up to 100,000 tons of potatoes per year and provide domestic cafes and restaurants with the semi-finished products for making French fries.
Nowadays Ukraine imports semi-finished products on UAH 50 mn
5. Puratos will export almost half of its production
Region: Odesa

Opened: 19 May 2016
Puratos International Group invested in a plant EUR 7 mn to produce margarine and dry mixtures for bakeries and confectioneries. 40% of all production goes for export.
The plant operates on environmentally friendly technology, and its equipment is also safe for the environment.
6. Ukrainski Lisopylky processes lumber which they previously exported
Region: Kostopil, Rivne Oblast

Opened: April 2016
The plant intends to produce pine-edged boards, which will be subsequently used for carpentry, furniture, and construction materials.
The capacity of the enterprise is 300,000 cu m of industrial wood. It creates 150 jobs per year and attracts EUR 20 mn of investments to the region. Ukrainians, Swedes, and Finns worked on creating this object. This is one of the largest investment projects in the Rivne Oblast in the last 7 years.
7. The Ternopil quarry will reduce Ukraine's need to import limestone
Region:  Halushchyntsy, Ternopil Oblast

Opened: January 2016
The project took $700,000 to implement.
Before the start of Russia's aggression in Ukraine, the country produced enough of its own limestone, and there was even an opportunity to export it to Russia, Belarus, and Moldova. After the illegal annexation of Crimea and the hostilities in Donbas, the connection to the quarries on the uncontrolled territories was cut short. Ukrainian companies ceased exports and started procuring limestone in the UAE, Russia, Romania, Slovakia, and Poland. This was a strong incentive for the development of quarries in other regions. One of those which took advantage of the new opportunities is the Ternopil quarry. 
8. TM Ondo offers a cheaper replacement for ceramic shingles
Region: Ivano-Frankivsk

Opened: August 2015
The new plant produces cement-sand shingles. Their cost is 4 times lower than ceramic ones but is 10-20% more expensive than metal shingles.
From US $1 mn investment, 2,000 sq m of production facilities was built and equipment by European company "Vortex Hydra" was purchased. They plan to be at full capacity and produce 250,000 sq m of tiles this year.
9. Japanese quality cables manufactured in Ukraine by Fujikura
Region: Lviv

Opened: April 2016
The Japanese company Fujikura Ltd., which manufactures cable networks for European automobile manufacturers, founded Fujikura Automotive Ukraine Lviv in November 2013. The factory specializes cables for Volkswagen automobiles, producing about a million cables per week.
It took UAH 87 mn of foreign investments to build the factory. Thanks to them, a production complex for manufacturing electrical components with a square footage of 7,000 sq m and an administrative building of 1800 sq m were built and 3,000 people were employed.
10. Biofarma will cover 100% of Ukraine's needs in plasma-derived medicines
Region: Bila Tserkva, Kyiv Oblast

Opened: June 2016
This new biopharmaceutical complex was swiftly built from scratch in 1.3 years thanks to $40 mn of investments from the American company Horizon Capital and Dutch Development Bank FMO. Thanks to this new factory, Ukraine will cover 100% of its domestic needs in plasma-derived medicines such as immunoglobulins, albumin, and Factor VIII.
The German company Linde Engineering designed the plant, and it meets the Good Manufacturing Practice standards mandatory for all EU countries. Another blood plasma processing factory is planned, which will require another $30 mn. 
Tags: economic growth, Economy, industry, Ukrainian economy