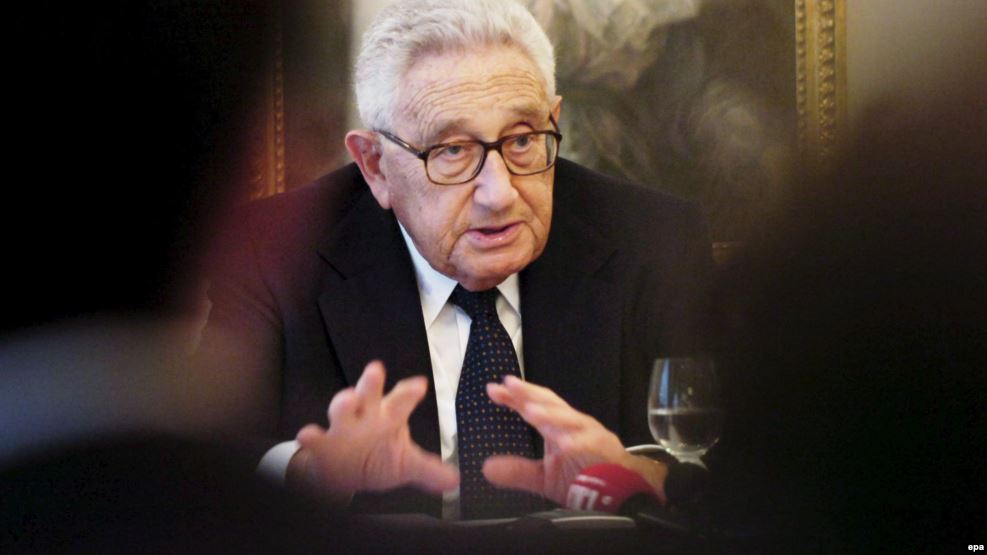 New information about the possible involvement of former US Secretary of State Henry Kissinger in the development of some plan of mutual understanding between the administration of Donald Trump and the Russian leadership sends us back to events of 40 years ago, when Kissinger, the main diplomat in the administrations of Richard Nixon and Gerald Ford, sought a détente in the tense relationship with the Soviet Union. But I would hesitate to draw parallels between Kissinger's tasks then and now.
The main conflict between Moscow and Washington at that time was the preservation of the spheres of influence by the two superpowers, which had been marked off after WWII. In order to keep the Kremlin from trying to extend its zone of influence, Nixon and Kissinger took the unprecedented step of dropping the full-scale support of the government of the Republic of China in Taiwan and recognizing the regime of Mao Zedong in Beijing. In this fashion, Nixon and Kissinger hoped to create an effective counterbalance to Soviet ambitions. It must be said that this tactic was not especially successful. The USSR, in fact, did agree to conduct disarmament talks with the United States, but absolutely did not refrain from enlarging its spheres of influence. Angola, Mozambique, Nicaragua, Grenada, Afghanistan — all this happened after the Chinese-American reconciliation. After that, Moscow was ready to penetrate Latin America, in addition to Africa and Asia.
Incidentally, some of these regimes established through Soviet interference have remained Russian allies right up to today — for example, the regime of Daniel Ortega. The war in Afghanistan put an end to the arms reduction as well. So the policies of Nixon and Kissinger during the Soviet area can be described with one all-encompassing word: fiasco. The real winner turned out to be Ronald Reagan, who was not afraid to help opponents of the Kremlin and who even sent a landing force to destroy the pro-Soviet (more accurately — pro-Cuban) regime in Grenada. And then the Soviet Union simply decayed, and its ugly effigy simply fell to the feet of the Americans. No Kissinger would be able to bring this piece of rotten rags back to life.
Moreover, the goals of Vladimir Putin cannot be compared to the goals of Leonid Brezhnev. Brezhnev already had a sphere of influence — as well as the resources to preserve and expand it. Putin does not have a sphere of influence — and he also lacks the resources to establish and preserve it. But this does not keep Putin from dreaming about Brezhnev's possibilities. The Russian president does not need some Crimea, or a piece of mutilated Donbas, or even Ukraine. He needs the Soviet Union with Moscow's post-war sphere of influence. With Putin, it is absolutely ridiculous to negotiate to "close eyes" to Crimea in exchange for withdrawal from the Donbas. Putin does not need a "neutral" Ukraine, dreamed up by the "pragmatists" on Trump's team. He needs an obedient Ukraine. An obedient Belarus. An obedient Kazakhstan. Obedient Baltic States. Obedient Central European states. I would like to see Kissinger's magic wand. Perhaps he really is a magician, and I have simply misunderstood his biography.
And most importantly, if Trump's administration is really ready for a serious conflict with China, it cannot count on the assistance of Russia, even if it agrees to all of Putin's demands. Russia has not been the Soviet Union for some time. The Soviet Union was an equal partner of the US, and China was their enemy and rival. Russia is only the junior partner of China. It can afford a confrontation with the United States, with the European Union, with Türkiye. But not with China. The confrontation with China is the end of Russia. And if Washington really fails to understand this in theory, then it will realize it in practice.
If Donald Trump really wants to succeed in his relations with Vladimir Putin, he needs to handle the Kremlin as did Ronald Reagan — with confidence, toughness, boldness, and without compromise. And he will win everything — and even more. But no one in the world can prevent Donald  Trump from repeating the political experience of Richard Nixon.
One only needs to remember how this experience turned out for the US president and for the relations between Moscow and Washington.
Tags: Henry Kissinger, Russia